While London, with all the pubs and history-heavy attractions, may seem better-suited for adults at first glance, there are actually many family-friendly things to do in the city. So whether it's your final destination or just an extended layover, there are plenty of things to do and see in this beautiful city. London is an expensive city to visit, so we've included some lower cost options amidst the classic (and often more pricey) attractions.
There are a few ways to save some money that shouldn't be overlooked! I highly recommend pre-booking any tickets online that offer that capability (many on this list do). You can also opt to purchase The London Pass (for 1, 2, 3, 6, or 10 days), which saves money by paying one smaller flat fee to access over 80 attractions for free. Here's a list of the top things to see in London, England with kids…
The London Eye
The London Eye is pretty much a giant Ferris wheel, so unless your child is incredibly afraid of heights they're going to love this attraction. Known as Europe's tallest Ferris wheel, it boasts the highest viewing point of the city. On a sunny day, the views are spectacular and you can have fun with your family looking for familiar buildings from the ride! Though your view won't be clear, it's also quite beautiful at sunset or in the evening when the city turns its lights on.
Pro tip: Don't make a reservation ahead of time in case the day ends up being overcast and rainy. It's quite miserable up there on a rainy day … and there are a lot of rainy days in London.
Tower of London
The Tower of London is a well-preserved Medieval castle that boasts many interactive, kid-friendly exhibits that detail the somewhat dark history of the castle-turned-prison. There's so much to learn about British history, including displays and tours like "Royal Beasts", the Beefeaters, the Fortress, Knight School, the Royal Mint, six ravens, and even an old zoo! It's not a cheap attraction and there is so much to see, including the Crown Jewels, so plan to spend the better part of the day there. Make sure you check out the official website to check for events that are happening during your visit!
Pro-tips: Take advantage of "Family Saver" packages when you purchase your tickets online ahead of time. If you've got a baby or toddler, consider bringing a wrap or backpack carrier instead of a stroller, as many of the surfaces are uneven cobblestones and stairs/steps. Finally, plan to arrive for opening and head to the busiest exhibit, the Crown Jewels, first before the lines get too long.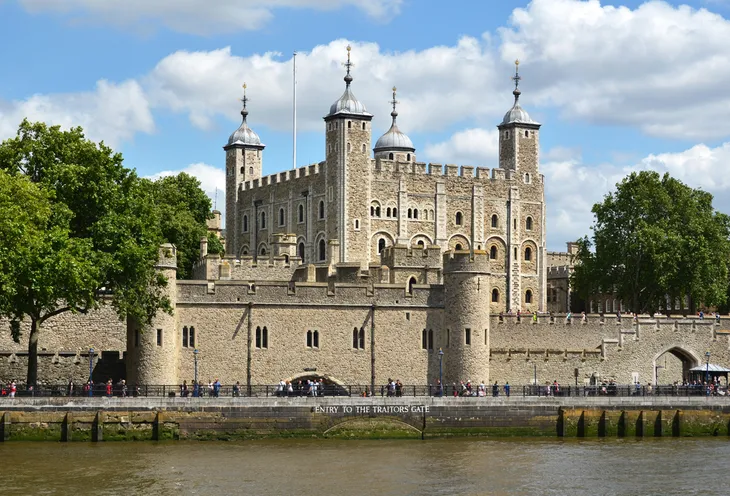 Walking Food Tour
Something my husband and I swear by is doing a walking food tour in every big city we visit. It's a great way to get the lay of the land on one of the first days in a new city and you get to experience "the best of" with a professional local guide who knows the culture and history (since food, culture, and history are so often intertwined). There are an overwhelming number of food tours in London, so if you're looking for something specific (like vegan, gluten-free, beer, etc.) take a look on TripAdvisor. Some of the best reviewed and child-friendly are Urban Adventures' English Tea and Desserts Tour (ages 6+ permitted), Eating Europe's East End Tour (ages 4+ permitted), the Secret London Bridge Tour (no age limit; ages <2 years are free), and any of the Chocolate Ecstasy sweets tours (no age limits).
Pro-tip: Ask the tour company before you book to ensure you pick a kid-friendly food tour since the walking distance may be too long for your kiddos or there may be pubs or bars on the tour that don't permit children inside.
Tower Bridge
Tower Bridge is London's number one icon. While visiting you'll learn more about the history, engineering, people, and architecture of the famous bridge, and experience the glass floor over London! The attraction boasts some amazing family-friendly events and features, including early hours for families with children with autism and other needs, family-only tours, and the "Family Trail" app which tours kids around the bridge in an interactive way using technology. Learn more about these family-geared activities here.
Pro-tip: The Tower Bridge dedicates one full day every month to unique family-friendly activities, so if you're going to be in London one of these days, plan on visiting that day!
Shrek's Adventure
A fairly new attraction in London, this Dreamworks tour is a kid-centered, interactive experience with 12 different live fairytale-themed shows. Families can walk through and "collect the special ingredients that you will need in order to find Shrek and make it back home safely", according to ShreksAdventure.com. While it may not be a classic London tourist activity, Shrek's Adventure may be just what your kiddos need to break up some of the history-heavy activities you've got planned.
Pro-tip: While this is a cool experience for younger children, it's not a classic London attraction. Shrek's Adventure is perfect if your kids need a break from the tother history-heavy attractions of London, but if they're enjoying the classics, skip out on Shrek this time around.
The Making of Harry Potter Tour
While you'll need to head outside of London to Leavesden to see this attraction, it's almost guaranteed to be a hit with adults and kids alike. Nobody is too old or too young to enjoy the Wizarding World! Visit the movie sets and check out the props and costumes at Warner Brothers studio. You and your kiddos can explore and take pictures at some of the most iconic places including Dumbledore's office, the Great Hall, and the Gryffindor dormitories. Enjoy a butterbeer, grab some souvenirs, and learn some of the best-kept secrets of the wizarding world.
Pro-tip: Make sure you allow yourself a whole day for this tour. The website states the tour takes 7 hours, including transportation to and from the studio (which is included with the price of your ticket).
Madame Tussauds
Is there anything cooler (and perhaps creepier) than a wax museum? Rub shoulders and take close-up photos with your favorite TV and movie stars, athletes, world leaders, writers, intellects, and artists. The figures are incredibly realistic and your child will love getting up close with their favorite A-list celebrities. It's a can't-miss attraction in London!
Pro-tip: If you're also planning on going to Shrek's Adventure, The London Dungeon, or Sea Life London, buy the appropriate ticket here, as you can save up to 60% off the attractions!
KidZania
Another attraction that may not be classically London, KidZania is a really cool activity-based "Indoor City Run by Kids". Children from ages 4 to 14 can try their hand at various professions, completing activities and tasks that earn them kidZos (the KidZania currency) that they can spend on leisure activities, save, or put into a bank account that earns interest! There are actually KidZanias all over the world, with more "cities" opening in Toronto, Canada, and New York, Dallas and Chicago soon, so if you're child enjoys their time learning at KidZania, you may just be able to visit one closer to home!
Pro-tip: Outside food and drink are not permitted, so plan to eat right before you go in and right after you come out to avoid overpriced concessions in the "city". Additionally, encourage your kids to use their kidZos on activities inside the "city" as past visitors have mentioned that the selection of toys that kids can spend their currency on at the end is quite limited.
Stonehenge
You can't miss out on visiting one of the world's most famous prehistoric monuments while in England! You'll learn more about the mystery surrounding Stonehenge and get to see reconstructed Neolithic houses. If you go with the regular ticket, you may have a longer wait and not be able to get particularly close to the stones during peak season (which are already roped off). Take advantage of the audio guide or purchase a guidebook for yourself to learn more about the monument – without the history, it's just a bunch of stones! If you're willing to pay a little bit more, a very small number of people are given inner access to the circle every day, early in the morning or later in the evening, by request. You can request those tickets here.
Pro-tips: Give yourself more than enough time to enjoy the experience without feeling rushed. Most of the poor ratings on Tripadvisor are from people who didn't realize the attraction is actually about 1.5 hours from London and didn't want to wait to get close to the stones.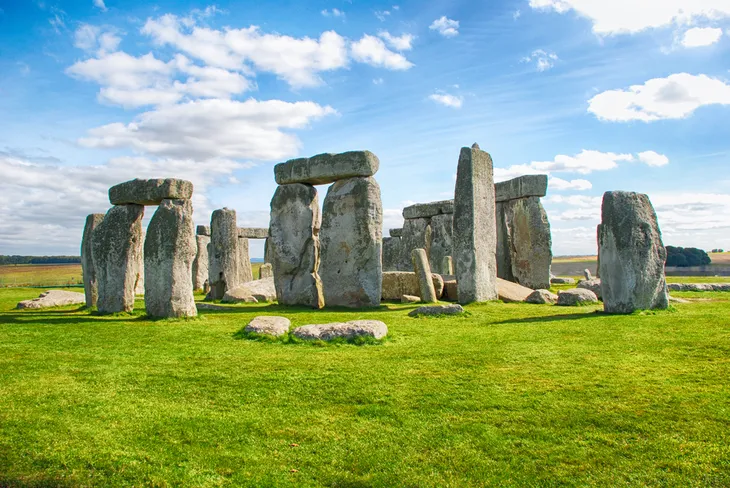 London Transport Museum
If you've got a child who loves planes, trains, and automobiles, visit this museum, which explores London's modes of transportation over the last 200 years. It's particularly well known for how family-friendly it is – check out all their kid-centric events here. Children get in for free, as long as they're accompanied by a paid adult ticket.
Pro-tip: Adult tickets are a bit pricey at £17.50, but are valid for 1 full year. Save some money by skipping the gift shop and cafe, and grabbing a meal or snack from a local market or grocery store instead.
Chelsea Football Club
If you or your kids love soccer, you can't miss out on the Chelsea FC stadium tour while you're in London. Even better, see a match if you can snag a ticket or two!
Pro-tip: If you want to see a game, check out ticket availability here as early as possible. Tickets go on sale about a month before the game and get snatched up quickly!
The Changing of the Guard at Buckingham Palace
Some kids will love this, while some may find it boring, but it's a classic can't-miss London attraction nonetheless! It takes place every day at 11:30 AM from May to July. If nothing else, your kiddos may have a laugh trying to get the guards to smile!
Pro-tip: Arrive and be in place by 11:00 AM at the latest so you can make sure you can actually see the event.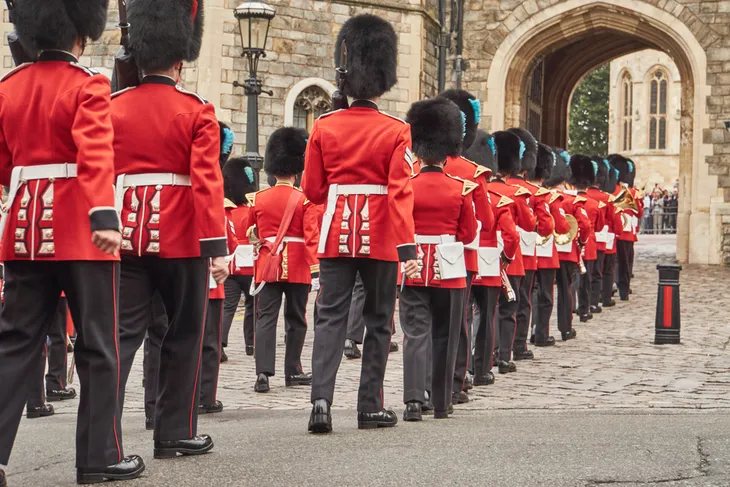 London and Colchester Zoos
The Colchester Zoo is undoubtedly the nicer of the two zoos, with plenty of animals, large constantly-being-improved enclosures, and friendly staff. If you're staying in London, you'll either want to rent a car to make the 1.5-hour drive or take a train and bus to get there. However, the London Zoo is a nice day out as well and certainly much closer to the heart of the city!
Check out the Colchester Zoo encounter times here before you go so your kids can see their favorite animals being fed!
Check out the London Zoo events and feeding times here before you go so that your littles can get the most out of their trip to the zoo!
Pro-tips: Pick a day with good weather – not too hot, not too cold – to visit to ensure that the animals are roaming their enclosures. Also, food and drink are quite pricey and not particularly tasty (like many tourist attractions), so bring your own picnic lunch to save some money.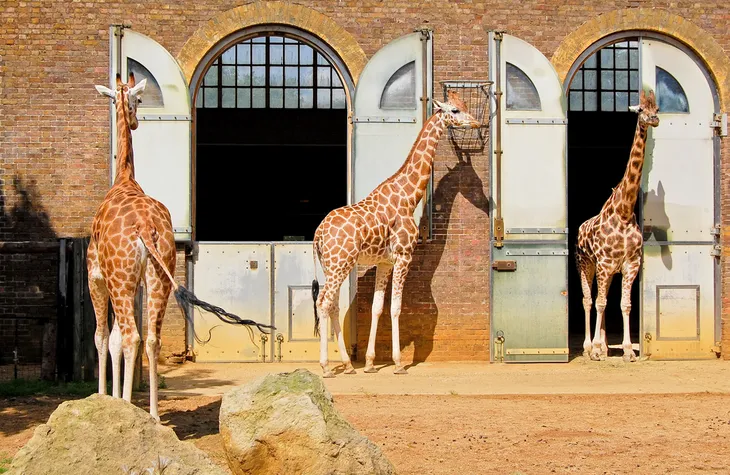 Thames River Boat Tour
The Thames River is quite beautiful and it's a great way to see the city from a different perspective. There are many different boat tours you can do that range in speed, route, size, and price. City Cruises is the most well known and best value company for sightseeing and dining cruises, speedboat rides, and special events cruises (everything from Christmas and New Years, to movie screenings, to Murder Mystery cruises). They offer many family-friendly options.
Another great option is a canal boat ride! Tour companies Jason's Trip and the London Waterbus Company are a little bit different than the above options, with the opportunity to see things off the beaten path.
Pro-tip: Check the weather before you book the tour. While it may be too far out to know what the actual weather is going to be, it'll at least help you dress for the day!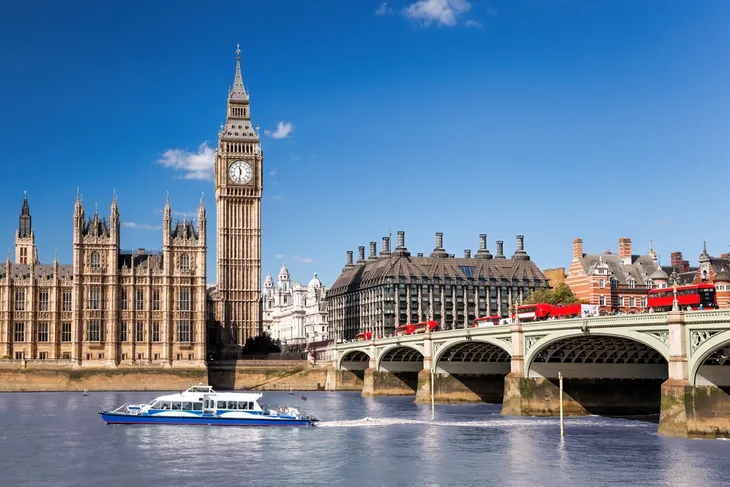 South Bank
Every big city has a noteworthy street or promenade and London is no exception. South Bank is more of a general area rather than a particular attraction, but it's worth a stroll to see attractions like Big Ben and the London Eye from afar, shop in the many little stores, listen to the busking musicians, and grab a snack, meal or drink at one of the many noteworthy restaurants or cafes. This is a great activity to do with your family, in part because you can choose how expensive or inexpensive the outing will be! South Bank even has its own website highlighting all of the events and places to see and visit, which you can check out here.
Pro-tip: Make a stop at the South Bank Centre food market on a Friday, Saturday, or Sunday to pick up some delicious lunch from vendors.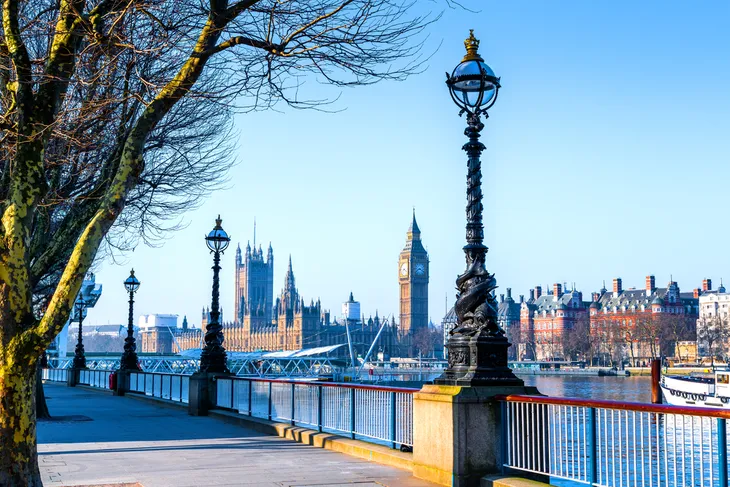 Shakespeare's Globe
This may not be a hit with all children, but if your child is particularly into theatre or you've got an older child who is learning about Shakespeare in school, you can't miss out on seeing a show, attending a company Q&A, or going on a family-friendly tour. You can check out all their offerings here.
Pro-tip: The Globe offers interactive storytelling workshops for children ages 5-12 based on some of Shakespeare's most popular plays for less than £10, which is a great way to expose them to the classics!
British Museum
The British Museum is one of the world's best museums for adults and children of all ages. Plus, it's completely free! They have programs, activities (including a free activity-filled backpack), special events, and even an app to enhance the experience – all for kids! They're guaranteed to enjoy the Rosetta Stone and Egyptian mummy exhibits and the digital discovery center. You can learn more about the many family-centric options here.
Pro-tip: Bring lots of water and some snacks – many reviews note the museum was quite hot when they visited!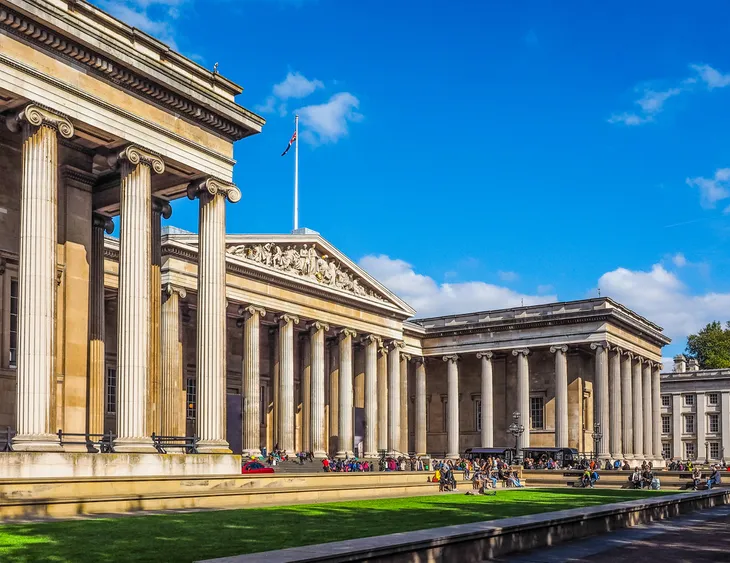 The London Dungeon
The Dungeon, whose tagline is "scream and laugh your way through London's darkest history", has underground shows, rides, and storytelling-based experiences based on 1000 years of London's darkest history and the accompanying chilling characters including Guy Fawkes, Sweeny Todd, and Jack the Ripper. The acting is incredible and characters really get into it, which results in an immersive, educational, and very enjoyable experience for all!
Pro-tip: If you've got a younger child, use your discretion. The recommended age is 12 and older, but there is no enforced age rule.
Natural History Museum
This museum with "answers to all your big nature questions" can't be missed while you're in London – it's as exciting for adults as it is children! There are exhibits on everything from mammals to ocean life (hello Megalodon), dinosaurs, space, human evolution, and an exciting ever-changing list of events. It actually won two Hoop awards in 2018 as well: Best for Free Activities and Best for Learning!
Pro-tip: Plan to spend a good 3 to 4 hours in the museum in order to see all the exhibits!. You don't want to feel rushed!
… And so much more!
You may be wondering why there are a number of classic London attractions missing from this list. The reason? They may be child-friendly (as in, children are permitted), but they aren't all going to hold the average child's attention for very long. With the high ticket cost of many London attractions, it's a bit risky to pay your entry fees only to find your kid is bored, complaining, or bouncing off the walls 15 minutes into your tour. However, you know your child and their interests best, so don't rule out any of the following attractions if you think your family will enjoy them.
Some of these attractions include Big Ben, Westminster Abbey, the Churchill War Rooms tour, The National Gallery, and the National Portrait Gallery.
If you're going to try to take in some of the less kid-friendly attractions of London, I definitely recommend getting the London Pass, which I mentioned at the beginning of this article, to reduce the risk of wasting money, which never feels good!