New York City is one of the busiest, most popular tourist destinations around the world! Comprised of 5 boroughs sitting where the Hudson River meets the Atlantic Ocean, its iconic sites like the Empire State Building, Times Square, and the beautiful sprawling Central Park, draw major visitors to the area! If you are planning a visit with your family, this list of 35 must see and do attractions is a must read!
These kid-friendly attractions are sure to make your trip to the big apple a very fun, and memorable experience for you all. From major city landmarks, to the wonderful green spaces and museums scattered throughout the city — your itinerary will be jammed pack with fun!
Visit One Of New York's Zoos
When your little ones ask to go to the zoo, there are a few options to consider when in New York City. Prospect Park Zoo (in Brooklyn), Queens Zoo (in Queens), Central Park Zoo (in Upper Manhattan), and lastly Bronx Zoo (in The Bronx). You can plan a visit any of them (depending on the area of town you may be in) but the Bronx Zoo, is considered NYC's best and biggest.
With more than 5,000 creatures, this go-to attraction is home to lions, tigers, bears, giraffes, gorillas — to name just a few. You can also visit snakes and crocodiles in the World of Reptiles, adorable snow leopards of the Himalayan highlands, an outdoor baboon reserve, the sea lion pool and an exhibit dedicated entirely to animals of Madagascar including lemurs! While every kid will have their own favorite part, no trip is complete without a ride on the Wild Asia monorail and one of NYC's elaborate and beautiful carousel, the Bug Carousel, which swaps out the traditional horses for giant insects!
Best of NYC Cruise
With feature attractions including Jacob Javits Center, World Financial Center, Battery Park, Ellis Island, Statue of Liberty, Wall Street, South Street Seaport, and Brooklyn Bridge – to name a few, going on a Best of NYC Cruise is a great way to see New York city from a different perspective!
You will cruise along all three New York City rivers, pass under 20 bridges, and see over 130 of the big apple's most iconic landmarks including the full Manhattan skyline. Visit Circle Line's website to book this unforgettable tour for you and your family!
Foods of New York Tour
What better way to experience a new city than through your stomach! There are a number of Food Tours that are offered throughout the city, taking you around to sample all of the best city eats!
Come hungry, because there will be plenty of delicious foods to sample as you are taken around on a half-day food, history, and cultural journey! There are bus tours and walking tours, so check out the website and see which tour (or tours) catch your eye!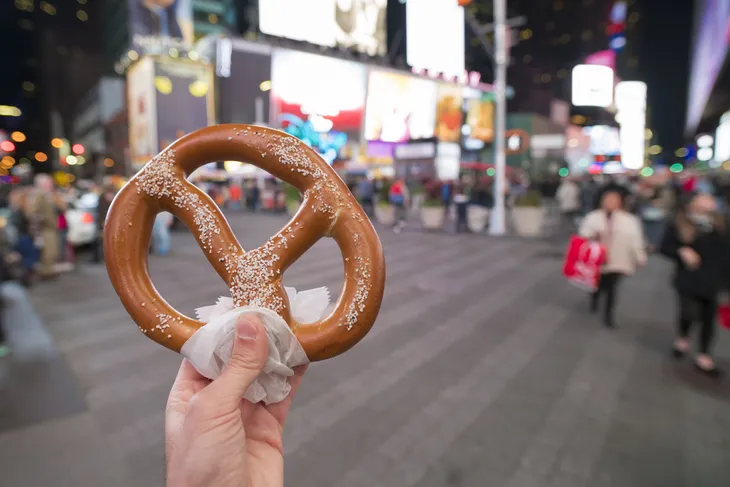 Big Bus Hop-On, Hop-Off Tour
There might be no better way to see the city than on a Big Bus tour, allowing you to hop on and off as you wish — seeing New York at your own pace! You will journey through 'The City That Never Sleeps' on this flexible tour, exploring the city and stopping at over 35 different stops that are conveniently located close to major landmarks and attractions.
Visit their website for tickets and to print of your own copy of the tours map routes. This way you can plot out which destination you would like to visit most, and others you might enjoy seeing if time permits. There is a guided commentary along the way, so you and your little ones can learn as you go. With stops including the Empire State Building, Times Square and One World Trade Center — to name a few, you will hit all the major stops!
Central Park
Every trip to NYC must include a visit to the beautiful Central Park. Central park is an urban park in Manhattan. It is located between the Upper West Side and Upper East Side. The park is 2.5 miles (4 km) long and 0.5 km (0.8km) wide, and is filled with lots of fun things to see and do, I could easily write an entire article on thing to do! From simply laying out a blanket on the Great Lawn for a picnic with a beautiful cityscape in the background, or take a spin round and round on the century-old Central Park Carousel.
To make your family's visit to Central Park complete, you must visit the Victorian Gardens. When the snow melts every year, Victoria Gardens, a delightful old-fashioned amusement park appears! You can expect nostalgic rides like the classic round swing, bumper boats, a train track, and other fun carnival games that mommy and daddy may remember. When the cold winter months return, this space is converted into an outdoor skating arena. From October through spring, it acts as Trump Rink that has public hours or you can even drop-in for a private lesson!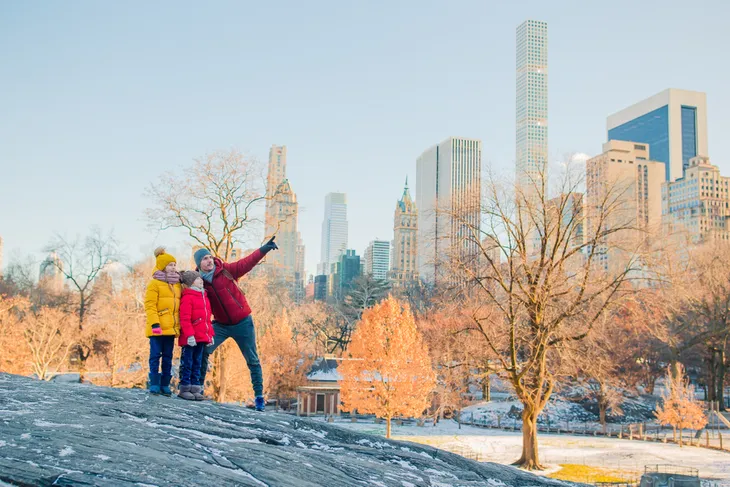 Museum Mile
There are lots of options when it comes to visiting a museum (or two) when you are in town with your family. You may have even heard or 'Museum Mile' — a stretch of major museums that runs alongside central park on Fifth Avenue. The museums offer some of the city's finest collections of art, history, design and culture from around the world.
Anchoring the downtown end of the Mile is the world-renowned Metropolitan Museum of Art, with its permanent collection of more than 2 million pieces of work including Sphynxes and real mummies in the museums Egyptian Wing! On the uptown end of the Mile is El Museo del Barrio, which is devoted to Latino (Puerto Rican) art and culture. Other stops along the Mile include The Jewish Museum, the Museum of the City of New York, the National Academy Museum, Neue Galerie, the Solomon R. Guggenheim Museum, and the Copper Hewitt National Design Museum.
Museum of Modern Art
There are a handful of other famous museums (not located on the Mile), including the popular Museum of Modern Art (MoMA). Located in the heart of midtown Manhattan, The Museum of Modern Art is home to an unparalleled collection of contemporary and modern art.
Though the Museum of Modern Art might seem a bit intimidating for a family excursion, many young visitors love the expressive, colorful works of masters like Pablo Picasso, Henri Matisse, Vincent van Gogh and Jackson Pollack.
American Museum of Natural History
If your little ones want to see an impressive collection of dinosaur fossils, you may want to visit the American Museum of Natural History. Located on the Upper West Side of Manhattan, it is one of the largest museums in the world! The American Museum of Natural History isn't just home to wonderfully colossal dinosaur, sea creatures (like the famed big blue whale in the Hall of Ocean Life) and artifact displays in it's Hall of North American Mammals and Hall of Biodiversity—it's also home to the Rose Center for Earth and Space.
The Rose Center for Earth and Space is a glass enclosure that houses the stunning 87-foot-diameter Hayden Sphere. Families can explore the 13-billion–year history of the universe, learn cool facts about planets, stars and galaxies and watch space shows. The Museum collaborates with NASA to keep all of its visual maps up to date.
Intrepid Sea, Air & Space Museum
Located at Pier 86 at 46th Street in the Hell's Kitchen neighborhood on the West Side of Manahattan is the Intrepid Sea, Air and Space Museum. While the highlight of most museums is what's inside, at this museum you can climb aboard this former aircraft carrier, which fought in World War II, the Cold War and the Vietnam War, and survived five kamikaze attacks!
Kiddos can even step inside the Bell 47 helicopter, navigate the interacting submarine, or steer the wings of an airplane in the Exploreum hall. The Space Shuttle Pavilion is another must see while visiting this museum as it houses the giant NASA orbiter Enterprise. In 2018, visitors can explore the history of USS Growler through "A View From the Deep" to learn about the world's first nuclear submarines.
Governor's Island
Governors Islands is a 172-acre island located in the New York Harbour, approximately 800 yards from the southern tip of Manhattan Island and is 400 yards from Brooklyn separated by the Buttermilk Channel. In the short amount of time it takes to reach this former military base, families will be transported to a world a million metaphorical miles away. With its Lush green lawns dotted with quaint Victorian homes, the typical city sounds of New York including horns honking and car alarms going off, are replaced by the sound of friendly bicycle bells.
Governors Island is NYC's backyard, and there is plenty of fun outdoor activities to do in this car-free oasis. From cycling trails, to play areas, to water sports, to ziplining, to grilling (yes, you can even rent a grill) to host a party or family reunion even — there is so much to do! There are always quirky festivals going on too, so take a peak at their website to see what is happening! Visit the Children's Museum of the Art's free art island outpost on the island every Saturday and Sunday during the summer for free hands-on art making workshops and art-viewing experiences!
Coney Island & Luna Park
Coney Island is a residential Brooklyn neighborhood that morphs into a relaxation and entertainment destination during the summer each year. Both locals and tourists visit, crowding its beach, the Wonder Wheel and Luna Park, and amusement park that features the famed Cyclone roller coaster.
You can't leave without having a Nathan's Famous giant hot dogs. Nathan's Famous is known for its July 4th hot-dog eating contest — so if you are in town during the first week of July, you must go to Coney Island and check it out! With all the amazing rides, street performances and circus sideshows, you are sure to have a full day of fun with the family here!
Children's Museum of the Arts
The Children's Museum of Arts is located at 103 Charlton Street in Manahattan (in its South Village District). Most of the amazing original sculptures, paintings and multimedia creations at the Children's Museum of the Arts are made fresh everyday by the artists — its visitors!
Little ones from across the city and around the world convene at this kid's museum and let their imaginations and creativity run free! They can take part in any of the daily workshops and studio activities. Your little ones will have a blast getting creative in this fun and supportive environment.
Brooklyn Children's Museum
The Brooklyn Children's Museum is located in the Crown Heights district of Brooklyn. It was founded in 1899 and is the first museum in the United States — and according to some, the first museum worldwide that caters specifically to children.
You can identify the building by its big yellow roof. It offers three floors of interactive exhibits and hands-on culture and science programs for children as young as 6 months old to 10 years old. There are a variety of programs offered to various age groups, as well as a number of permanent and changing exhibits on site offering boundless opportunities for sensory play and exploration that encourage children's social, emotional and physical development. Lots of fun and learning to be had at this historic children's museum!
Children's Museum of Manhattan
The Children's Museum of Manhattan is located in the Upper West Side of Manhattan. This museum offers a wide selection of programs and exhibits that are sure to activate different aspects of your kids' imaginations! At the "EatSleepPlay" exhibit, kids can crawl through a digestive system, help pump a giant heart, and burn energy by ducking lasers and balancing on a beam, all in the name of helping them build healthy habits.
At the "PlayWorks" exhibit, little ones ages four and under will have a blast while they interact with a talking dragon, climb on fire trucks and MTA busses and crawl through sandy and soft structures. There are a number of permanent exhibits as well as travelling exhibits — so check out their website to see what is going on while you are visiting NYC!
Statue of Liberty & Ellis Island
The Statue of Liberty is a colossal neoclassical sculpture located on Liberty Island in the New York Harbor. This iconic statue was a gift from the French on America's 100th birthday. Reservations are required to tour the Statue of Liberty's interior, however, you may wish to simply pass by on a ferry while making a stop at Ellis Island for an extra dose of Americana.
Ellis Island, located in Upper New York Bay was a gateway for over 12 million immigrants to the U.S. If you are interested in taking in a bit of a history lesson, this would be a great place to visit with the family!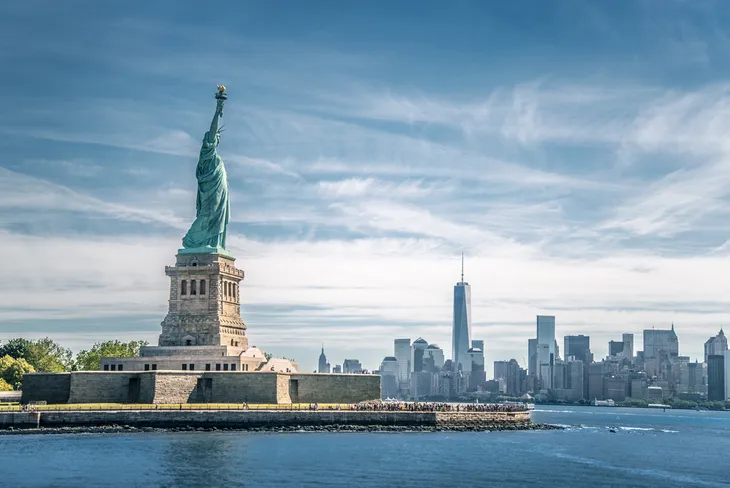 New York Hall of Science
The New York Hall of Science, also known as NYSCI, is located in Flushing Meadows-Corona Park in the New York City borough of Queens, in the section of the park that is in Corona. At this super-cool Queens museum, kids can get hands-on with hundreds of interactive exhibits and activities that bring science, technology, engineering and math to life in front of their eyes!
Built for the 1964 World's Fair, NYSCI is home to a revolving lineup of displays about light, 3-D printing, outer space and robots. It also features a Design Lab where kids can tackle activities at five stations: Backstage, Sandbox, Studio, Maker Space and Treehouse. Little ones can also climb on a rope web and play mini golf at the massive Science Playground and Rocket Park. This museum is worth the trek to Queens!
Liberty Science Center
The Liberty Science Center is an interactive science museum and learning center located in Liberty State Park in Jersey City in Hudson County, New Jersey. It may not be in the city, but it isn't too far away.
Let your little ones explore its four floors of exhibits. At the end of a long day exploring and learning, catch a film inside the IMAX studio, which on any given day can include features on robots, humpback whales or the Hubble telescope.
Gulliver's Gate
Gulliver's Gate is Midtown Manhattan attraction near Times Square's. In its 50,000 square-foot space, it is a massive — yet tiny attraction, as it is dedicated to a display of miniatures! It was a $40 million project that brought hundreds of tiny planes, trains, and automobiles that pass through the scaled down landmarks from around the world, including New York's very own Times Square. It will surely ignite imaginations and challenge your perspective!
It is much more than an impressive diorama; each ticket holder is given a high-tech key (that looks like a skeleton key) that reveals special secrets about the locations. Folks interested in seeing how the lights and motors work can also look into the control room, and, for an additional fee, can make themselves mini with the special 3-D printer. How fun!
Madame Tussaud's New York
Only a couple blocks away from Gulliver's Gate in Midtown Manhattan is Madame Tussauds. Madame Tussauds is a wax museum that is found in a number of major cities around the world. Here your little ones can meet and mingle with more than 200 life-like figure of their favorite stars.
Kiddos can take selfies with their favorite superheroes including: Iron Man, the Hulk and Captain America, or some of their favorite musicians and celebs including: Rihanna, Bob Marley, the Beatles, Jennifer Aniston, Scarlett Johannson, and even Marilyn Monroe — to name just a few. Little history buffs will be thrilled to meet Abraham Lincoln, JFK and Gandhi. For added fun, you can partake in The Ghostbusters Experience or the Marvel 4D Experience adding a cinematic experience and multi-sensory interactive fun to your visit!
Broadway Theater
Broadway theatre, commonly known as Broadway, refers to the theatrical performances presented in the 41 professional theatres each with 500 or more seats. It is located in the Theater District and Lincoln Center along Broadway in Midtown Manhattan. Broadway theatre is widely considered to represent the highest level of commercial theatre, and attracts in the last year alone had over 13 million attendance and grossed over $1 billion USD!
When the lights go down and the curtains go up, suddenly kids (and parents) are fully immersed in onstage make-believe and the magic happens before their very eyes. There are shows to suit all tastes, but performances often run two hours or more, so wait until your little ones can sit still long enough to enjoy the show without distracting other theatre goers. Be sure to check out what's on offer at the TKTS booths in Times Square, the South Street Seaport or Downtown Brooklyn—you may score discounts of up to 50% off.
Bryant Park
Bryant Park is a 9.6-acre public park located in Midtown Manhattan. It is often referred to as Manhattan's Town Square, famous for its lush seasonal gardens, free activities, world class restrooms, and al fresco dining! With over 12 million visitors each year, it is one of the busiest public spaces in the world, surrounded by some of New York's most beautiful, iconic skyscrapers.
Whatever time of year you plan to visit the city, Bryant Park offers plenty to enjoy throughout the seasons. During the winter you will find a skating rink and holiday market. During the warmer months, you can see Broadway in Bryant Park's free performances, ride on the famous 'Le Carrousel', partake in free children's programs, and snuggle up for summer night movies on the lawn! From spring through fall, the park also offers games and art supplies (on loan) to help make the most out of your visit.
Empire State Building
The Empire State Building is a 102-story Art Deco skyscraper located in Midtown Manhattan. When it was completed in 1931, it held the title as the tallest building in the world, but has since been passed. However, the Empire State Buildings still offers (arguably) the best views in Manhattan.
Visit the main deck located on the 86th floor. This open-air observation deck is the most famous observatory in the world, and has been the setting of dozens of movies and television scenes. The Observation Deck wraps around the building, providing beautiful 360 degree views of New York, including one-of-a-kind views of The Brooklyn Bridge, Central Park, Times Square, The Statue of Liberty, and much more. If your family members are brave enough, go up to the enclosed Top Deck on the 102nd floor, where your little ones will be shocked to learn they are standing nearly a quarter of a mile above the streets below.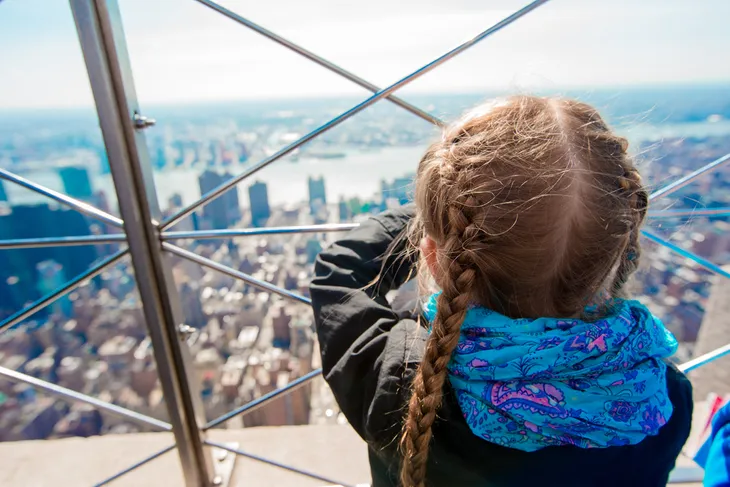 Brooklyn Bridge
While visiting The Big Apple, you must take a stroll across the Brooklyn Bridge — one of the oldest roadway bridges in the United States. The Brooklyn Bridge is a hybrid cable-stayed/suspension bridge. The mile-long stroll from end to end will offer you and your family spectacular views of downtown Manhattan, including the Freedom Tower, the Statue of Liberty, and Governors Island.
While you'll mostly be joined by the thousands of other tourists and locals crossing the East River, be on the lookout for occasional cyclists attempting to make their way through the crowds. If you're coming from Manhattan, be sure to reward your tired little ones with a scoop of strawberry at the Brooklyn Ice Cream Factory, conveniently located at the base of the bridge in DUMBO.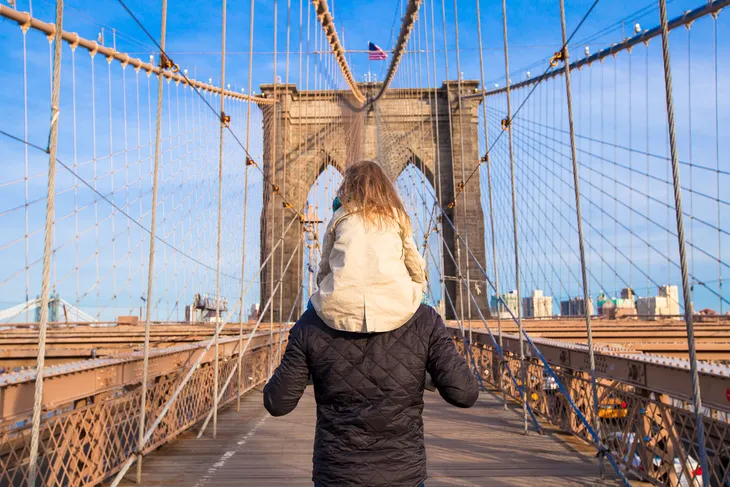 South Brooklyn Children's Gardens
The South Brooklyn Children's Gardens is a beautiful green space for children, their families, and the greater community to explore about while learning about their food sources, while they connect with nature through gardening. Little ones can get their hands dirty in the gardens as they learn where their food comes from and how to grow it!
The Garden functions as a cooperative, where its members decide on an annual growing plan and work together to grow the crops. The annual growing plan includes harvest days, where each family receives a share of each harvest. The garden's are open Friday, Saturday and Sunday from 10 am to 6 pm, so if you wish to visit, plan your visit accordingly.
Rockefeller Plaza
As you and your family strolls up Fifth Ave with the shopping bags in hand, make sure to drop by this iconic locale. In the wintertime, this spot draws major crowds who want to take a spin around the beautiful skating rink or admire the largest Christmas tree in the world. The handmade ornaments and other trimmings on the massive spruce make a great backdrop for a family photo.
If you are visiting the area in the warmer months, the plaza is still has many fun other fun things to see and do, including strolling through the farmers market (which runs every Wednesday through Friday from the end of July through the end of August) and visiting various other shops including every kids wonderland — the LEGO store!
Bronx Zoo Treetop Adventure
For all your little adventure seekers, look no further than the Bronx Zoo Treetop Adventure! You and your little ones can take in the scenes of New York City from a unique vantage point.
Kiddos can climb, swing, and even try their hand at zip-lining. Kids ages 7 and up can climb their way through obstacles course in the trees, or zipline over the Bronx river! All participants are required to wear Athletic-type lace up sneakers to participate, so keep this in mind before you visit!
Wave Hill
Wave Hill is a 28-acre estate located in the Hudson Hill section of Riverdale, The Bronx. It currently consists of public horticultural gardens and a cultural center situated on the slopes overlooking the Hudson River. This 19th-century estate is home to a historic mansion and public woodlands perfect place for a leisurely family walk or a guided nature walk.
Be sure to check the website for event schedules before visiting — there is a good chance there may be an art project or family festival going on! If you are a family of early risers, be sure to stop by on a Saturday morning before noon to enjoy free entry!
Yankee Stadium
Yankee Stadium home of the MLB New York Yankees, is located in the Concourse neighborhood of the Bronx in New York City. It is also the home park for the New York FC of Major league soccer. If you have any sports fans in the family, you may want to bring your little sluggers here or to Citi Field — home to the MLB New York Mets!
Sport baseball caps and jerseys for your team of choice and get to the stadium early—both teams often hand out free swag like water bottles, bobble head toys, T-shirts, etc. Enjoy a fun day at the ball park, cheering on your favorite players while munching on tasty ballpark hot dogs and popcorn!
New York Botanical Garden
The New York Botanical Garden is a botanical garden and National Historical Landmark located in the Bronx, New York City. It is a 250-acre park that has over one million living plants in extensive collections around the grounds. There is easy access to this park via public transit – finding parking during peak visiting times around the garden may be very difficult.
There are fun activities available for the whole family. There is a 'Craft Your Own Garden Adventure' where everyday at the Garden, families can embark on an adventure to discover a world of plants, and allow little ones to explore and make lifelong connections with nature. Each season brings new opportunities, so no matter what time of year you visit, there will be something new and exciting to explore. There are also Drop-In Nature Exploration and Drop-In Gardening Activities available too, where children can explore the wonders of science and nature and get their hands dirty digging in the soil, sowing seeds, watering the seedlings, and harvesting ripe produce daily!
New York Aquarium
The New York Aquarium is the oldest, continually operating aquarium in the United States! It originally opened in Castle Garden in Battery Park, Manhattan back in 1896, however, since 1957, it has been located on the boardwalk in Coney Island Brooklyn!
You and the family will have a whale of a time at the Wildlife Conservation Society's home to marine life! You will find plenty of fish, starfish and the mammals and birds that live among them. Otters, seals, penguins, sea lions and sharks — so much to see! Be sure to visit the Aquatheater for an interactive sea lion show. There are even a number of family programs available — including a sharks after dark family overnight experience! So be sure to check their website for what programs are available when you will be in town!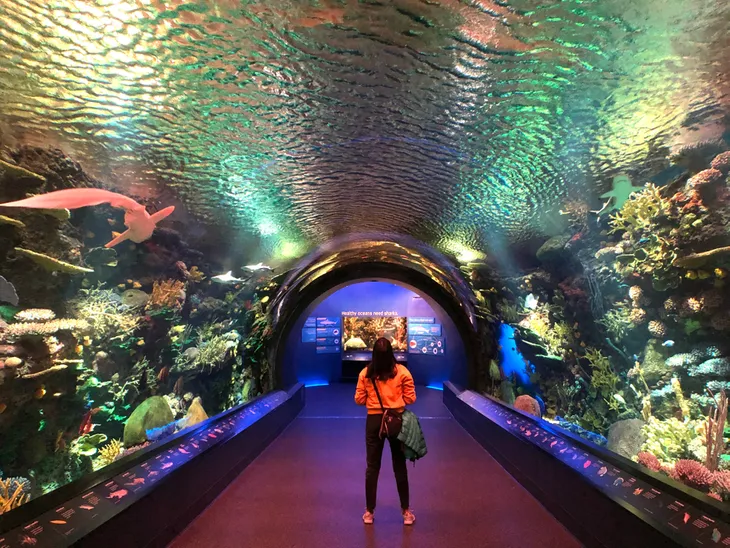 McCarren Park
This Brooklyn park straddles the two hipster-neighborhoods of Greenpoint and Williamsburg and continues to be a family favorite place to be! There are baseball, football and soccer fields, dog runs, a track, tennis courts, a skate park and so much more.
McCarren Park is home to the McCarren Park Pool and Play Centre. So, bring your bathing suits in the summer and take a dip, or in the winter, bring your ice skates for an afternoon of skating with the family! You can even watch a movie under the stars, so pack some blankets and snack for a family movie night the little ones will not forget!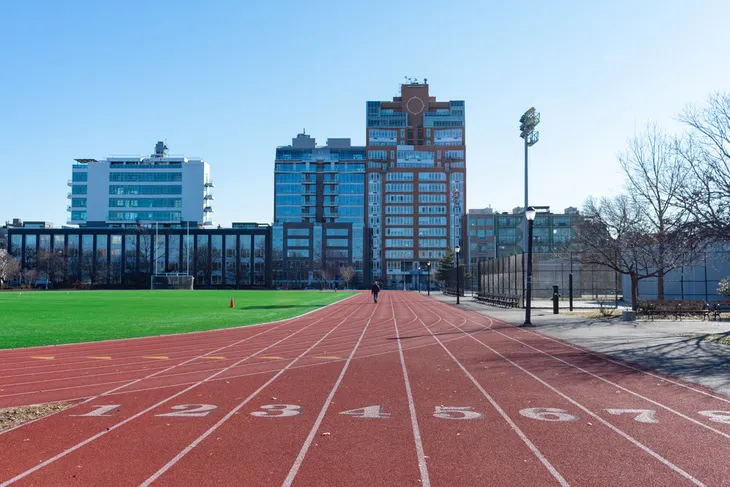 LeFrak Roller Rink at Lakeside Prospect Park
Prospect Park's all-in-one recreation center that proves to be a popular spot for Brooklyn families and it's visitors no matter what the season. From and icy wonderland to a summer-fun hot spot, there is plenty of fun activities for the whole family to enjoy. Bike along the park's shaded paths, or take a spin around its 16,000-square-foot roller rink! Don't worry if you don't have your own equipment — you can rent everything you will need right onsite.
There are even courses your little ones can take to improve their roller skating skills or engage in a roller-hockey lesson. Pack your kiddos swimsuits, because you won't be able to leave without dashing through the 20 water jets of the LeFrak Center's awesome Splash Pad feature (for those who are under 12).
Hudson River Park, Pier 25
Hudson River Park is a waterside park located on the North River (Hudson River), and is the part of the Manhattan Waterfront Greenway that extends all the way from 59th Street south to Battery Park in Manhattan. It is a 550-acre park that stretches 4.5 miles (7.2 km) filled with hours of waterfront fun right in Tribeca!
Hudson River Park is a wonderful place for children to play, explore, learn, and have new experiences. There are lots of free activities for children during the summertime, including fishing clinics held on multiple piers. Little ones will enjoy the massive playgrounds, take a ride on the carousel, engage in a friendly game of mini put, and splash around in the parks water features. Check out the park's website for additional details on all the fun spots to visit within the Hudson River Park.
Brooklyn Bridge Park
Brooklyn Bridge Park is an impressive 95-acre park located on the Brooklyn side of the East River in New York City. There are 6 piers located in this park. When it comes to panoramic views of lower Manhattan, you will want to go to Pier 1. It is a beautiful waterside where you can take a scenic stroll, and also features a playground for little ones to enjoy. Pier 2 consists of a variety of sporting fields and a roller rink! There is also fitness equipment, swing sets, picnic tables and seasonal kayaking programs located here. Pier 3 is the perfect place to lay out on its large central lawn protected from the wind and sun, or enjoy getting lost in the exploratory labyrinth parkland. If you like the beach — head to Pier 4. Visitor can travel down to the waters edge and launch non motorized boats, or simply enjoy the tidal pools.
Pier 5 is comprised of sports fields, playgrounds, and bike paths — making the ultimate hub for active park goers. You can also visit the fishing stations, or the Picnic Peninsula for a BBQ with the family, followed by a stop at the Ample Hills Creamery for some of their famous ice cream. Last, but certainly not least is Pier 6 — which is a popular destination for both adults and children! You can check out one of the playgrounds, play in a beach volleyball game, and other prime attractions.
Speaking of attractions, when it comes to out-there carousels, NYC's certainly takes the cake, both in sheer quantity and in elaborateness. But the best of the bunch might be Jane's Carousel, the renovated 1922 structure that boasts 48 hand-carved horses—and since it's protected inside a giant glass enclosure in Brooklyn Bridge Park, it spins year-round. You will find this north west of Pier One. One more attraction to mention — venues such as Brooklyn Bridge Park, Bryant Park, The Intrepid and Pier A Park all offer great outdoor movie screenings that the whole family will love during the summer.