If you've been thinking about taking a trip to Disneyland, you've most likely been planning and saving for a while. This 85 acre park gets about 44 000 visitors per day, so this is a trip that takes a lot of preparation.
There is a large amount of Disney information out there, and it can at times seem overwhelming. Here are 13 things you need to see and do to have the perfect Disneyland trip.
On Site Hotels
If possible, choose to stay at one of the Disney on site hotels. This will really simplify your trip. While it may be a bit more expensive than getting an off site hotel, the benefits greatly exceed the cost. The hotels are all themed, and make for great photo ops.
You can also attend the character breakfasts, giving your child an extra chance to meet some of their favourite Disney characters. The on site hotels will also offer you "magic hours" where you get to have access to the park one hour before it opens. If you have kids that hate big crowds, this extra hour can be a life saver.
Disney Snacks
Sure, you're there for the rides, but the snacks are amazing too. Try and plan the really special Disney snacks into your day. One of the most popular is the Dole Whip, a pineapple treat that can be eaten as soft serve, as a float, or served on a spear with just the fresh fruit.
Other themed snacks that are popular are the Mickey Beignets, churros, and giant turkey legs. These treats can be found at different locations within the park, so make sure you scout out ahead of time where to go to get your preferred snack.
Movie Themed Attractions
One of the main draws of Disneyland is that you can ride movie themed attractions. Fan favourites are The Pirates of the Caribbean ride, the Indiana Jones ride, as well as the Guardians of the Galaxy and Finding Nemo rides.
Make sure you ask your kids ahead of time which themed rides they are most interested in, and show them YouTube videos of the rides beforehand (especially if they are nervous about rides) so they can get an idea of what to expect.
Private Cabanas
This is a great idea to reserve if your kids like to be poolside. These are available at select resorts within Disney, and do cost an extra amount. The great thing about the cabanas is that you don't have to keep running up to your room to grab things.
The cabanas come with seating and tables, fans, a fridge, and even a tv with cable access. There is also a safe in the cabana so you can stash your valuables when you want to go swimming as a family.
Space Mountain
This ride is one of the most iconic, recognized rides of Disneyland. This ride is fairly dark, and while it is not one of the higher speed roller coasters it does seem like it goes fast once you get on. Make sure you prepare your children for what it will look like so they are not scared.
There are no big dramatic drops in this indoor roller coaster, making it one of the best rides to get classic Disney photos for the ride.
Parades
Even if you don't have young kids, the parades are really enjoyable to all ages. Disney does a great job at spreading the parades out, and having them at different times. Make sure you check the times for the parades that your children would most enjoy.
There are Pixar parades, Paint the Night parades in the evening, and other musical parades. Parades are also a great way to enjoy the park if you have children who are afraid of the rides, but still want to experience the magic of the Disney spectacle.
Shop
If you're on a budget, it's hard to justify shopping while on vacation. If you can, put away a bit of money for the Disney shops. There are different stores all over the park, making it easy for you to find a small momento for you and your family. You can grab the classic mouse ear hat, or Disney themed clothing for your kids to wear.
The stores are also a great resource if your child loves dress up. It's a great idea to stock up on princess dresses for Halloween while you are there. Certain stores also offer Disney collectibles. If you know a Disneyphile, this is a really special place to browse for gift ideas.
Live Shows
The live shows are another great way for your family to experience Disney if you have kids that don't enjoy rides, or are perhaps feeling a bit worn out from walking around the park all day. Catching a live show allows you and your kids to rest, while still being entertained.
The Frozen show is one of the most popular of the live shows, and your children will be free to sing along and dance to their favourite songs.
Packing Your Own Items
This is one of the most important things to do at Disney. Theme parks can be expensive, and Disneyland is no different. Things that you could get for cheap at your drug store will be insanely marked up in the Disney stores.
Make sure you bring a backpack, or get a locker at the beginning of the day. Bring your own refillable water bottles, sunscreen, band aids, umbrellas or rain jackets and even food and snacks if possible. Planning ahead and packing your own things will allow you to save a lot of money that can now go towards fun purchase items like gifts.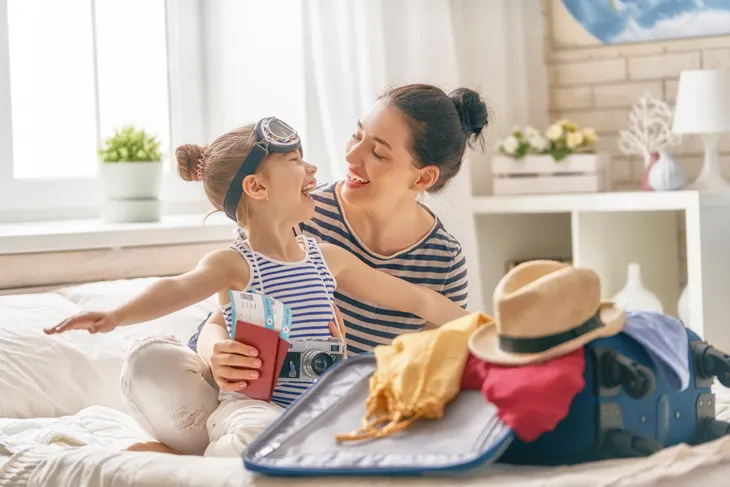 Haunted Mansion
This is another classic Disney attraction that is both nostalgic, and great for older children. It is home to 999 ghost, ghouls and goblins, and is a great choice if your kids don't scare easily. There is plenty to see in the mansion before you even get on the ride (this is a great time to take pictures).
The ride itself consists of "doom buggies" that travel through the mansion with minor scares happening throughout the journey. If you are there at Halloween or Christmas time, the mansion will be decorated and geared towards those holidays for an added bonus.
Fireworks
The fireworks might be hard to justify if you have really young kids, but are worth the late night if you can handle it. The fireworks can be seen from some of the resorts in Disney, so it's a good idea to check for that info before you book your hotel.
The fireworks are truly spectacular, and are set to the Disney music that you know and love. If you are planning to visit Disney on a holiday, the park has special themed fireworks for July 4th, New Years, and Halloween. You can always bring noise cancelling headphones if you fear that your child won't like the loud noise of the fireworks.
Pre Plan
This is the most imperative part of what you need to "do" at Disney. A lot of your enjoyment is dependant on how much you plan ahead. The first thing you need to do is get the Disneyland Mobile App on your phone. This is so important, and will give you so much info and tips to enjoy the park to the fullest. You can even go so far as to book restaurant reservations depending on what ride you will be at around lunch and dinner time.
Make sure you utilize the fast passes. There will still be a small wait time, but it will be nowhere near as bad as waiting in the regular lines. If you have toddlers, you should be fine with just using the strollers that you can rent at Disneyland. They maneuver fairly well, you really only need your own stroller if you have an infant or a child that has a specific need of your normal stroller.
Characters
This is one of the most magical parts of Disney. You'll never forget the awe in your child's face as they meet their beloved characters for the first time. They are also usually the cutest photo ops at Disneyland. If you are at a resort, try to attend the character breakfasts. If you are coming from outside the park, make sure you use the Disneyland Mobile app (yes, you really need this app) to map out the locations of where your favourite characters are.
There are also meet and greet stations that you can visit that have specific characters that your kids love. Meeting characters is usually one of the main things that kids seem to remember about Disneyland, so make sure you plan ahead to find the ones you want to meet!