Beautiful Seattle! Located on Puget Sound in the a Pacific Northwest, this beautiful city is surrounded by water, mountains, evergreen forests, and contains thousands of acres of parkland for you and your family to roam. With iconic buildings like the Seattle Space Needle, and many wonderful museums and parks to visit, your itinerary will certainly fill up quickly!
So, to help make the itinerary building a bit easier, here is a list of the 25 best things to see and do if you are planning a visit to Washington State's largest city in the near future with your little ones in tow. Kiddos and parents alike will have an absolute blast, and will all enjoy making wonderful lasting memories of your visit to beautiful Seattle!
The Seattle Aquarium
The Seattle Aquarium is located on Pier 59 on the Elliot Bay waterfront in Seattle, Washington. It opened its doors to the public in 1977 and has been a popular destination for tourists as well as local families. There are a number of exhibits featured at this aquarium, including: Birds and Shores, Marine Mammals, Pacific Coral Reef, Tropical Pacific — to name a few, little ones will see creatures from birds, otters, seals, an array of fish, jelly fish, and even a giant pacific octopus!
Step through a short tunnel and into the Underwater Dome — a one-of-a-kind exhibit! It features an 360 degree view into a huge 400,000-gallon tank filled with hundreds of fascinating Puget Sound fish! There is a daily Diver Show — where divers take to the water (three times daily) wearing special masks that allow them to talk back and forth with Aquarium interpreters on the outside of the exhibit to answer questions from the audience! Don't forget to visit the Family Activity Center — an educational center dedicated to expanding your knowledge about orcas (killer whales). At this family center you and your little ones can participate in hands-on activities, watch videos, and more to learn about what can be done to help protect these amazing creatures. So, come check out the aquarium — and note: families with children under the age of 3 get in free!
Pike Place Market
Encompassing 9 acres from Pike St. north to Virginia Street and from 1st Ave west to Western ave is where you will find the Pike Place Market is another must-visit spot while in Seattle. Also, overlooking the Elliot Bay waterfront, the market is one of the oldest continuously operated public farmers market in the United States. The market opened on August 17, 1907 and ever since farmers have played an integral role in the success and longevity of the market. Take your family for a taste of what is in season at the farm stands, and listen to motown or bluegrass classics while you peruse through the crafts market.
The market has winding alleys, stairways, and even a historic arcade that will capture they interest and attention of your little ones. You can even follow the smell of baking bread down the cobblestones to a European bakery for some freshly baked goods. Shop your way through the cute shops with comic books, collectibles, vinyl records, books, and other small treasures for a truly memorable experience — no matter what time of year you are in town!
The Museum of Flight
The Museum of Flight is a private, non-profit air and space museum located in the southern end of the King County International Airport in the city of Tukwila, just south of Seattle. It houses over 175 aircraft and spacecrafts, tens of thousands of artifacts, millions of rare photos, a world-class library, and dozens of exhibits and experiences that bring mankind's incredible history of flight to life for you and your little ones.
You are free to wander on your own, or the museum does offer lots of exciting in interactive tours and experiences that can turn your visit into an adventure. Visit the 3D Movie Theater and experience the wonder of aviation and space flight, or partake in The Pilot Experience (if visiting on the weekend) for a one-hour experience in aviation and learning what it takes to become a pilot. For children ages 10 and up — explore the inside of a space shuttle crew compartment on the Shuttle Trainer Tour, or take the whole family on a one-hour behind the scenes tour of King County International Airport, on the Boeing Field Tour. There are also flight simulators, live history theatrical reenactments, learning centers with hands-on learning experiences and challenges, and a handful of other tours that you can enjoy! Check out their website to plan your visit!
The Woodland Park Zoo
The Woodland Park Zoo is a zoological garden located in the Phinney Ridge neighborhood of Seattle, Washington. There are lots of family-friendly activities to do at this zoo. At Willawong Station you can enjoy a walk-through bird experience where you can get up close and personal and feed the birds. Your little ones may also enjoy the Family Farm Contact Area where they can pet a selection of domestic farm animals and learn more about them in a supervised area.
Giraffes, Tigers, Gorillas and Rhinos — are just a few of the amazing wild animals you will see during your visit! The zoo even offers premium animal tours for exclusive, behind-the-scenes tour of select exhibits — a pretty cool opportunity! With the Seattle CityPass you can save on the top five attractions including the Woodland Park Zoo! Children 0-2 years old are free! Visit the Woodland Park Zoo website for all the details!
The Pacific Science Center
The Pacific Center has a mission to ignite curiosity and fuel passion for discovery, experimentation and critical thinking! There is no better place to bring your curious little ones to open their mind and learn! See live planetarium shows daily (free with purchase of admission), or visit any of the permanent or special exhibits on display.
Launch rockets and create electric circuits in Tinker Tank, or be immersed in a lush Tropical Butterfly House filled with beautiful, free-flying butterflies. For a little virtual reality fun visit the VR Microtheatre for a 7-minute virtual movie experience in the Ackerley Family Exhibit Gallery. Speaking of reality, visit the What is Reality exhibit where you can meet face-to-face with technology innovators and scientists and confront them on a broad variety of mind-bending topics, and challenge our understanding of reality.
Seattle Space Needle
The Seattle Space Need is an observation tower, and famous landmark and tourist attraction of the Pacific Northwest. With incredible views of the water, mountains and city, there is no better way to see Seattle than from this panoramic perspective! The towering structure stands 605′ tall and has a 520′ saucer-shaped 'top house' offering 360 degree indoor and outdoor views of downtown, Mount Rainer, Puget Sound, and the Cascades and Olympic mountain ranges.
The Space Needle even recently began being totally transformed (for the first time in half a century). To further elevate the visitors experience. The renovation includes a breathtaking multi-level floor-to-ceiling glass viewing experience and an outdoor observation deck with open-air glass walls and benches. Two observation levels will now be connected by a wood, steel, and glass staircase that will connect the upper-level to the world's only glass rotating floor below! The first phase was completed in spring of 2018. So bring your family and see if they are brave enough to step out on the rotating floor to see Seattle far below their feet!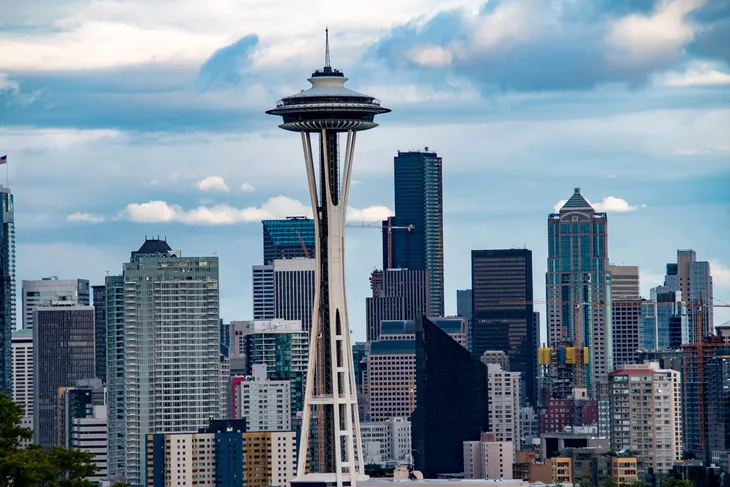 The Argosy Cruise Harbor Tour
Another wonderful way to see and experience Seattle is from the water! Come test your sea legs on one of 6 sightseeing tours available guaranteeing spectacular views and majestic backdrops — so be sure to pack your camera to for some wonderful family photo-opts!
The tours vary in length from 1 hour to 5 hours. The Harbor Cruise is 1 hour in length, and is free to children 3 years old and younger. On this narrated cruise you and your family will learn about Seattle's history, while enjoying the beautiful Emerald City skyline, Elliot Bay and the surrounding Olympic and Cascade Mountains. For more information and information on some of the longer tours, visit the Argosy Cruise website. Also, look into using your Seattle CityPass for this tourist attraction!
The Seattle Children's Museum
With a number of fun-filled programs and exhibits to see, the Children's Museum would make another great stop on your families tour around Seattle! Their daily calendar includes fun, interactive and new programs that will ignite curiosity and delight in your little ones. The museums educators, artists and performers will teach through play, and create learning opportunities through the natural curiosity of the children who visit.
When it comes to exhibits, there are a wide selection of them that spread throughout the over 22,000 square foot space. All exhibits are open for exploratory play, and throughout the day the museum educators will provide additional programs that your little ones are welcome to join. Current exhibits include: COG City (kids can learn about cause and effect, and the science behind motion), Discovery Bay (each part of this exhibit offers touchable, movable, testable adventures), Dunn Lumber Construction Zone (kids can put on their gloves and hardhats and get to work building), Global Village (kids can take a mini trip around the world), Imagination Studio (and art studio where kids can paint, create with clay, and design and build in a recycled sculpture area) and Metropolitan Market (where kids can put items in their child sized shopping cart, while learning about nutrition and various food groups) — to name a few. So much more fun thing to see and do here, so check out their website for all the details!
Tour Seattle Underground
Now, this is a bit of a different tour — a bit darker, but very fascinating — touring Seattle underground! The Seattle Underground is a network of underground passageways and basements in downtown Pioneer Square, Seattle that were at ground level when the city was built in the mid-19th century. Then, after the streets were elevated, these now underground spaces fell into disuse.
The shops, bars and hotels from Seattle's earliest years lay abandoned below the city streets, and have in more recent years become a popular tourist attraction. I wont give away all the history — I will save it for your tour — but it honestly is a very interesting historic story, that the whole family would certainly enjoy hearing! So, look into getting a guided tour of Seattle Underground during your visit to the city! The original Bill Speidel tour (the man who began the campaign to save the neglected Pioneer Square area) departs from Doc Maynard's Public House in Pioneer Place Park. Look for the glass and cast-iron pergola, a cable-car stop built in 1909, and the huge totem pole. The tour is about 75 minutes in length.
Museum of History and Industry (MOHAI)
The Museum of History and Industry would make another fun stop on your family's tour around Seattle, Washington. Its permanent exhibit, True Northwest: The Seattle Journey takes you though the real Seattle story from an age when Native American cultures first came in contact with European's transforming the region into a major global hub.
Here you will find out how the city rebuilt after a devastating fire, made a fortune in a legendary gold rush, reshaped its natural setting, and boomed during two World Wars! If you already caught a bit of a history lesson on the underground tour, there are other permanent exhibits to choose from including the Bezos Center for Innovation and the Maritime Seattle exhibit! Be sure to visit the museums website to find out what upcoming exhibits will be on during the time of your visit!
Seattle Great Wheel
No trip to Seattle would be complete without taking a spin on Seattle's waterfront Ferris wheel! The Seattle Great Wheel is a giant Ferris wheel located at Pier 57 on Elliot Bay in Seattle. Towering at 175 feet tall, this held the record for the tallest Ferris wheel on the West coast of the United States when it opened in June of 2012.
Typical rides on this gondola-style Ferris wheel last between 12-20 minutes. If you visit in the winter ride times typically last between 10-15 minutes. Each cabin requires a minimum of 4 or 6 person to keep the wait times to a minimum. Every ride is at the very least three full revolutions of the wheel! There is even a VIP cabin available that features a glass bottom floor, surrounded by 4 leather seats and a stereo system! How fun! You can always upgrade a regular ticket to the VIP experience at the ticket booth on the pier if you bought online — you can just pay the difference!
Seattle Public Library
On a rainy morning or afternoon, you may like to spend a little time indoors at the Seattle Public Library. Officially established in 1890, this system of libraries consists of 26 branches in total — most of them are named after the neighborhoods in which they are located.
The plaza at the Central Library comes alive with music, dance, drop-in art making and of course I can't forget to mention awesome books for you and your little bookworms to enjoy! This happens every Thursday in August — but check out the website for schedules and to see any other featured events going on during the time of your visit.
Enjoy Some Water Rentals!
There are a number of different places where you and your family can take out some water rentals for a little fun out on the water! They will have all the gear you need to have a fun and safe trip on the water. There are a number of places that will rent out single kayaks, double kayaks and even stand up paddle boards!
There are also a number of water tours that will not only excited but educate you and your little ones. Ballard Kayak is a top-rated rental company in the city of Seattle. Check out their website for a full list of rentals, tours, and prices! Green Lake Boat Rentals offers an even wider selection of boat rentals including: single kayaks, double kayaks, stand up paddle boards, water bikes, quad pedal boats, row boats and even sail boats! Visit their website for more detail and prices. Don't forget to pack your sunscreen, sunglasses and hats!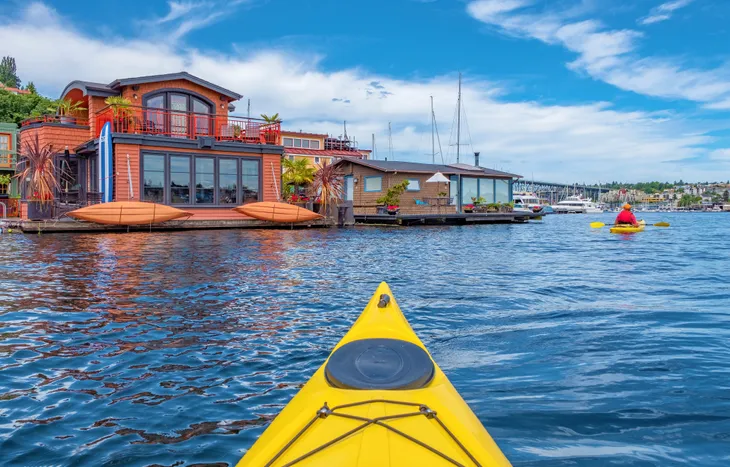 Seattle Pinball Museum
Take your kids to the ultimate entertainment center with unlimited play for one price! Featuring classic and modern pinball games, the Seattle Pinball Museum will have your little ones (and the big kid in you) delighted! The museum opened its doors back in August of 2010 with the desire to share the games with other local collectors.
The museum regularly updates its website with a full list of games that it offers — so if you are a pinball aficionado, you will be able to see if some of your favorites are available to play! You can also check out admission prices and hours of operations before you plan your visit. You will notice the museum is not open during the morning and is closed on Tuesdays!
Ballard's Farmers Market
On a beautiful sunny day, what could be more enjoyable than strolling through a local farmers market? Open since 2000, Ballard Farmers Market is Seattle's first all year-round neighborhood farmers market that sells produce exclusively from Washington state farmers.
For 15 years now, every Sunday this Market has operated along the historic cobblestone stretch of Ballard Avenue NW between 22nd Avenue and Vernon Place, and in the spring of 2016 the market has expanded onto 22nd ave, extending to NW Market Street! The market is centrally located, so there is plenty of access by bus, bikes, or foot traffic. You will find parking available on surrounding streets, and note that parking meters are all free on Sunday! Bonus. So go for a stroll and buy some of the local goodness!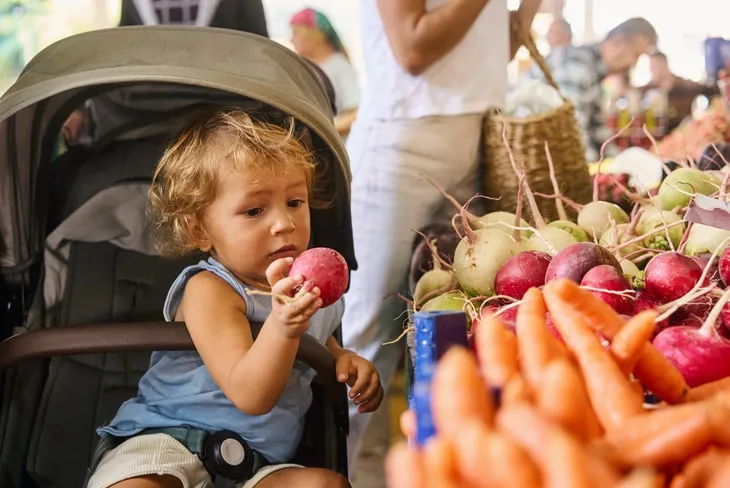 Seattle Children's Theater
Founded in 1975, the Seattle Children's Theater is the second-largest resident theater for young audiences in North America. Its mission is to provide children of all ages access to professional theater, with a focus on new works, as well as theater education.
The Seattle Children's Museum houses two resident theaters — the Charlotte Martin Theater and the Eve Alvord theater, at which there is often two plays being performed at the same time for different ages of audiences. From the Very Hungry Caterpillar to the Velveteen Rabbit to The Diary of Anne Frank — there are a number of shows every season, so be sure to check out the theaters website to see what is on. There are a number of accessible and sensory friendly performances to — see online for these details too!
Olympic Sculpture Park
Take the family to be in awe of the wonderful sculptures featured at the Olympic Sculpture Park in Seattle. Created and operated by the Seattle Art Museum, this park is free, and open to the public since January of 2007. The park consists of a 9-acre outdoor sculpture museum and beach.
You can even enhance your families visit to the park with an one-hour flat-rate private tour, led by a knowledgeable guide who will provide you with an insider's view of the park, learning about the landscape design, site history and selected sculptures found in the park's spaces. Three weeks notice is required to reserve a private tour, so visit their website to book ahead if this is something you would be interested in. Otherwise, you are more than welcome to stroll through the park at your own pace.
Theo Chocolate Factory Tour
Yes, there is a Chocolate Tour in town! What kid (and sweet-toothed adult) would not enjoy this tasty tour! On the Theo Chocolate Factory Tour you will learn about how the cocoa fruit undergoes an amazing transformation into what we know and love as chocolate! There is a bit of an environmental lesson involved discussing some of the challenges that the cocoa farmers face.
But the best park of this tour, of course, is sampling all the tasty products! The first half of the tour is seated, and the second part you will spend inside the factory observation room, where you all will see the making of a chocolate bar from the original cocoa bean! Little ones can even participate in a the Kids' Chocolate Bark Class! So check out all the details on their website and plan your visit today!
Visit GameWorks!
GameWorks Seattle is a family-friendly entertainment and dining complex that delivers indoor fun for guests of all ages 365 days a year! With over 180 interactive video, ticket and prize games, your little ones will have blast running around and playing in this 20,000 square foot facility.
The facility features over 120 of the latest, most popular arcade and video games, as well as other interactive activities including: laser tag, bowling, and billiards — to name a few. There are daily deals, so be sure to visit the website to see what is on the day you plan to visit.
Hit Up The Beach!
On a hot and sunny day maybe you can take a break from all the sight seeing and head to the beach for a little R&R. Seattle has many wonderful beaches to choose from, including: Alki Beach Park Matthews Beach Park, and Madison Park Beach — to name a few.
Alki Beach Park is a 135-acre park located in the West Seattle neighborhood that consists of the Elliott Bay Beach Alki Point and Duwamish Head. This historic beach park has plenty of picnic tables, a restroom & a monument to the area's first white settlers. Matthews Beach Park is a 22-acre park in the Matthews Beach neighborhood of Seattle. It is a popular freshwater swimming beach in the summer, and is also open during the winter months. Lastly, Madison Park Beach is a perfect seasonal swimming beach offering sunbathing, swimming raft, diving boards and a children's play area. So, pack your suits for a day playing in the sand and surf!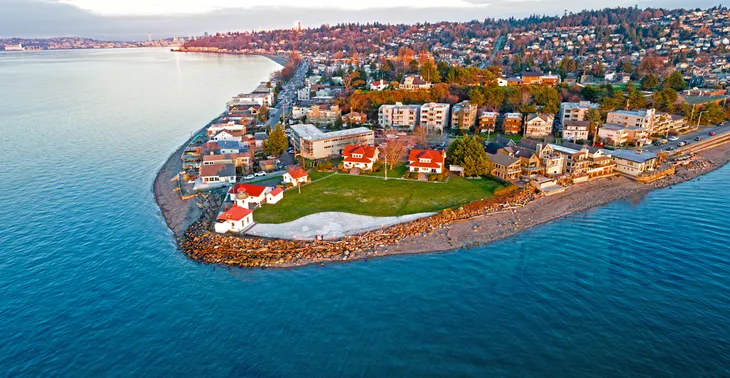 Visit a Local Playgroud & Kiddie Pool!
If you are looking for a spot for the kids to burn off some energy or to quickly cool off in between seeing the sights, you may want to visit any of the city's parks and wading pools instead!
Some notable parks to mention include: Volunteer Park, Dahl Plyafield, Lincoln Park, East Queen Anne Playground, Green Lake Park, Highland Park Playground, Powell Barnett Park, Wallingford Playfield, E.C. Hughes Park, and Ravenna Park. There are also wading pools you may wish to visit including: Delridge Wading Pool or Wallingfor Playfield Wading Pool. All of these options have great reviews, so see which is closest to you!
Center for Wooden Boats
The Center for Wooden Boats is a Seattle museum that is dedicated to preserving and documenting the maritime history of the Pacific Northwest area of the United States. This museum is very hands-on where every visitor has the opportunity to engage in heritage experiences.
Kids can pick up an oar and go for a row, enroll in a workshop to open their minds to the skills and experiences enjoyed by mariners throughout the century, or pick up a tool to fasten a plank or caulk a seam! So visit the CWB to reconnect with the physical world and help preserve traditions and skills that have survived through the ages!
Artists at Play Playground at Seattle Center
Artists at Play is an imaginative, artists-created playground that offers plenty of free fun for children of all ages. Located between the Museum of Pop Culture and the Seattle Center Armory, this park is recommended for children ages 5 to 12.
It has a 30-foot Climbing Tower, a Labyrinth with a Rebus at its center, a human-powered ADA-accessible Carousel, children-inspired musical instruments, listening stations, sound swings, play mounds and "story lines" offering lots of child-friendly fun! Be sure to make a stop at this 3-acre plaza that truly reflects the community's imagination and creative spirit!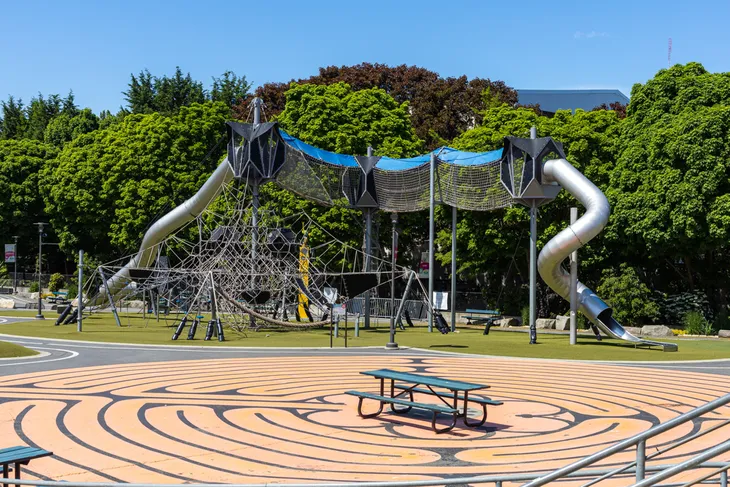 Museum of Pop Culture (MoPOP)
The Museum of Pop Culture, or MoPOP mis a nonprofit museum dedicated to contemporary pop culture, founded by Microsoft co-founder Paul Allen back in 2000. Another popular tourist attraction featured as part of the Seattle CityPass , the whole family is guaranteed to have a great time at this wonderful facility.
With 750,000 visitors through its doors annually, the MoPOP has a number of exciting exhibitions and events going on throughout the year. Its largest exhibition ever stages is the MARVEL: Universe of Super Heros, that features more than 300 original artifacts including iconic artwork, costumes, and props from films like Captain America, The Avengers, Jessica Jones and much more! To see what is going on during your visit, visit their website and plan your visit! Also note: children 0-4 years of age are free!
Seattle Center Fountain
Last but certainly not least, you wont want to leave Seattle before you visit this super cool fountain! The International Fountain is a concrete fountain and sculpture that was designed by two Tokyo-based architects and installed in the Seattle Center.
As the centerpiece of the broad open space and lawn, it has been transformed from its early days of hard iron nozzles and surrounding sharp-edged, white rock into a much more child-friendly fountain bowl where they can venture right up to the side of the smooth silver dome. This is a beautiful spot, perfect for lounging for people young and old. Pack your swim suits and get wet at this Seattle Center attraction! Happy Touring!