Traveling with a toddler can be a very anxiety-inducing thought for some parents. It's shocking how someone so small can require so much stuff! What's even more shocking…it's all completely necessary! Although it may seem like a very daunting feat, it IS possible. Not only that, but it can also be really fun and enjoyable.
It just requires a little extra planning and preparation, especially if this trip is a road trip. To help parents start planning their next road trip with the family, here are some essential tips for traveling with a toddler and/or infant. These will hopefully make the next family vacation as stress-free as possible.
Make a Checklist
When you are rushing around trying to get out the door and onto the road, it is easy to forget something very important. Being well-organized makes what can be a very hectic time less hectic. Start preparing and packing a few days before you travel. Keeping a running list of all the things you will need to bring, or starting setting things aside on a table or dresser as you think of them.
Don't forget to do this for yourself too! It is easy to get preoccupied thinking about what your toddler will need, and forget about your own must-have items. I find it helpful to make a list with categories: grownups, kiddo, diaper bag, overnight bag (if we plan to stop for lodging), baby gear, medical supplies, cleanup supplies, electronics and valuables, food and drink, in-car entertainment, and last but certainly not least, last-minute packing reminders.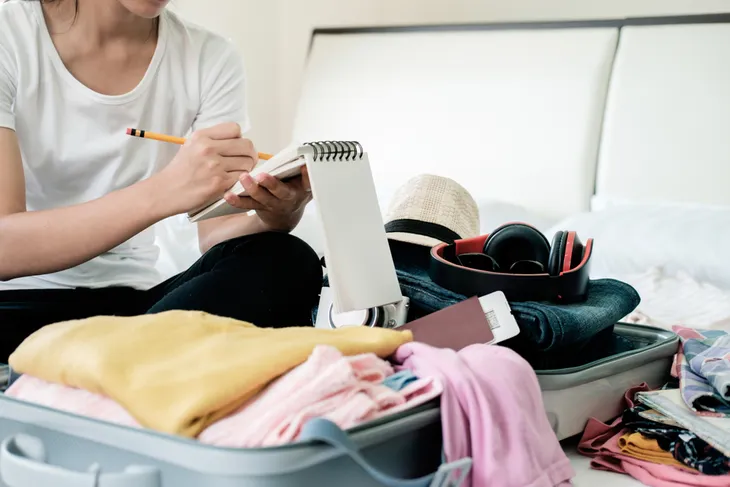 Drive at Night (or Time Trip Around Nap Time)
One of the most helpful tips I can offer is for you to drive at night, when possible. This is great for many reasons. First, and most importantly, your toddler could sleep the entire way without you having to worry about feeding them, entertaining them, listening the them cry because they want out of their carseat, or having to make frequent potty break stops!
Driving at night can also mean less traffic, making the duration of your trip shorter overall. If driving at night is not an option, or if you have any concerns of falling asleep at the wheel, try to schedule your departure time right before your child would normally nap. Either way you choose, make sure your little one is fed, in a clean diaper and comfortable clothes, and hopefully this will allow them to sleep comfortably for the first lag of your road trip!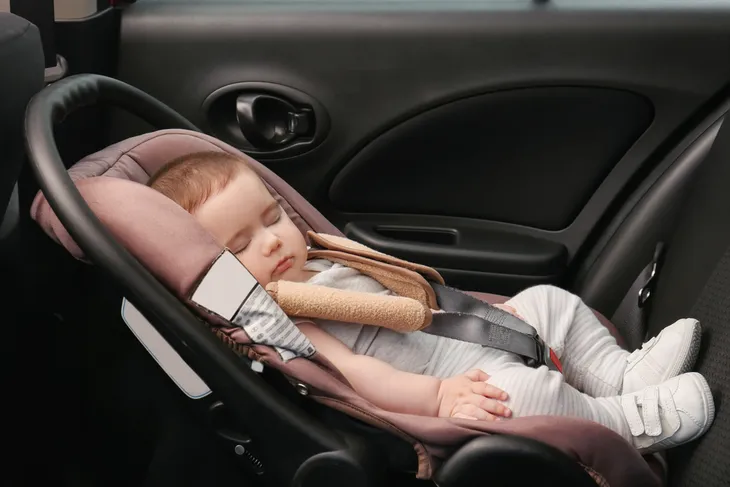 Bring New Toys
Toddlers always seem more keen to play with toys that are new to them or not played with on a regular basis. Make sure you have a selection of unfamiliar toys within arms reach to keep your little one distracted and well entertained while they are awake. Even if you plan to drive through the night, make sure you keep the toys easily accessible — be prepared in case they wake up!
If you have a friend or family member who has a child around the same age, ask to borrow a few of their toys. Or, if you can stand it, bust out those annoying toys with all the buttons and flashing lights — you know, the ones that always mysteriously seem to need to have the batteries replaced 😉 These are great alternatives, that don't require you to shell out for more toys, and will certainly do the trick and entertain your little one for a while!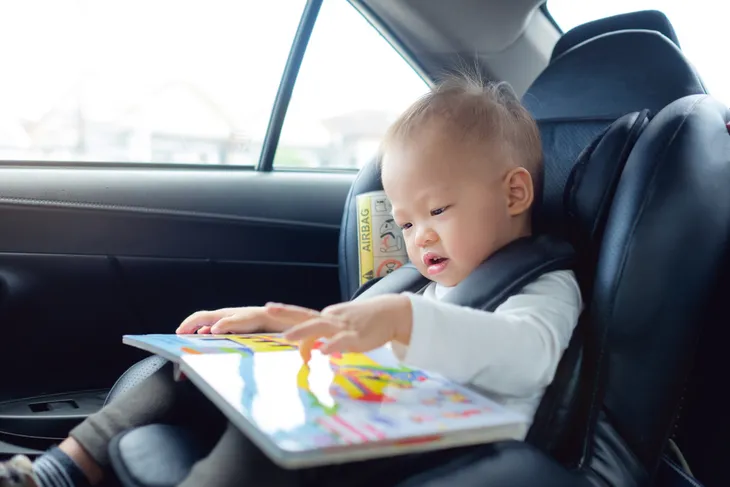 Pack A Cooler
Before you set off on your journey, make sure you have a variety of good, healthy snacks to keep you and your toddler full and content! Pack a cooler with pre-portioned snacks that are easy for your toddler to eat on their own. To keep the mess to a minimum, invest in spill-proof snack containers and spill-proof sippy cups. These are worthwhile items to invest in, that many parents would agree are must-have items when road-tripping with a little one in tow!
When you are deciding what snacks to bring, avoid sweets! Resist the temptation to keep them going on a long trip by feeding them sweet treats. You will only wire them up and make it less likely for them to nap.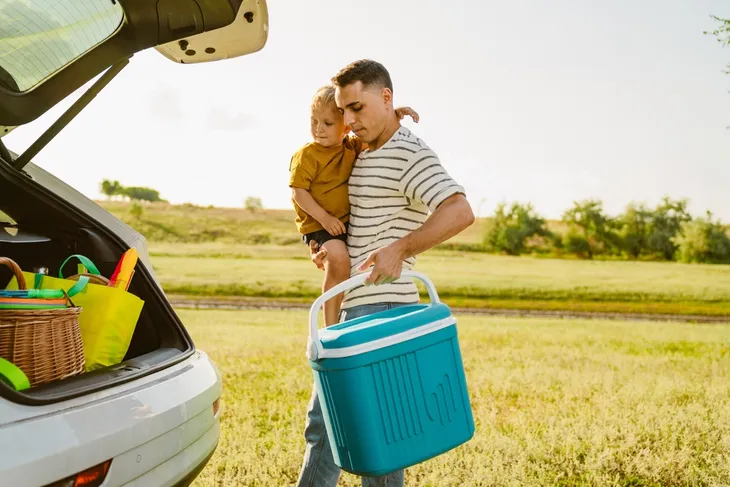 Dress Your Toddler In Comfortable Clothes
Whether you plan to drive through the night, or arrive late (when they would normally be down for the night), I highly suggest putting your toddler in their pajamas. Alternatively, put them in comfortable stretchy pants and a comfy shirt, that could suffice as pajamas. This way, you could seamlessly transfer them from sleeping in their carseat into their bed when you stop for the night.
Make sure your toddler isn't wearing anything bulky. Car seat straps should be fastened snugly as close to their body as possible. If you are concerned your child will get cold, keep a blanket handy to place over them while they are snugly fastened in their seatbelt for extra warmth and comfort.
Leave Room Next To The Car Seat For You
If you are driving during the day or night, leave the seat next to your child's car seat open for you to hop into the back when the need arises. When you are packing your car, try to keep this in mind (if you have the space to do it).
If your little one is beginning to get agitated or fussy, being able to hop into the back to help settle them and keep them occupied, might be a life saver. You will have a very sore neck and cause yourself to get very car-sick if you have to keep turning around from the front seat to comfort your child. Experience speaking!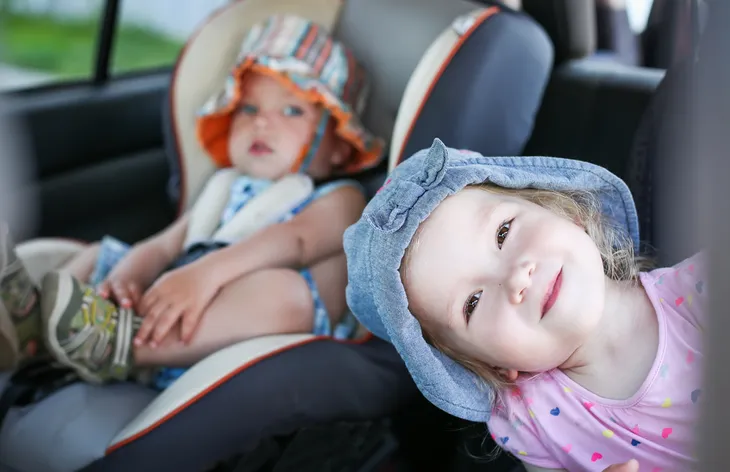 Have A Changing Station In The Car
Another reason to keep the back seat beside your toddler clear, is to allow you to set up an in-car diaper changing station! It may seem unnecessary when you know there are changing stations at rest stops and gas stations along the way, but having a change station set up in your car can be greatly beneficial in many ways (if space is permitting).
The bright lights and loud (frightening) hand dryers in rest stop restrooms can cause your toddler to be overstimulated, making it difficult for them to go back to sleep. Remember less stimulation makes for an easier transition back to sleep! Having a quiet, more comfortable, dimly lit change area in the backseat of your own car, can be quite the life saver.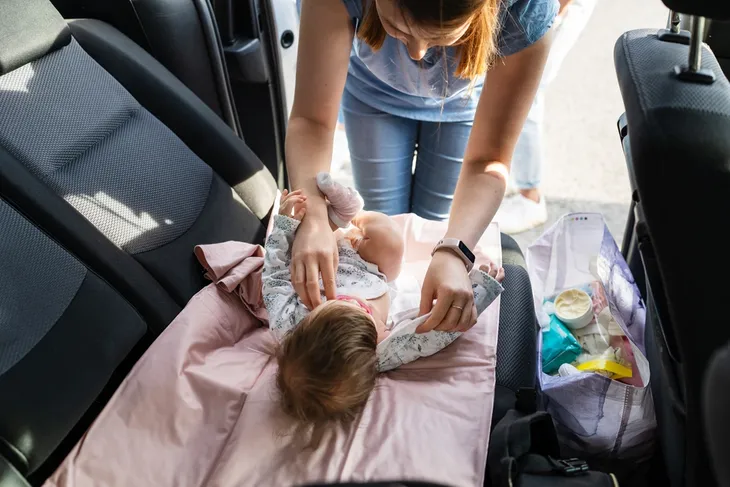 Pack A Portable Potty (For Potty Training Toddlers)
No need to let potty training derail your road trip travel plans. A plastic potty will do the trick! Line the potty with a disposable plastic bag that can be secured to the seat. Next, place an open clean diaper on top of the bag-lined potty seat, and allow your child to do their business right into the diaper. The bag will be there as backup, and will allow for quick and easy disposal. When you just passed the sign that says the next rest stop wont be for another 30 miles, this little potty will do the trick!
Prepare ahead! When you start your journey, have the potty set up and ready to use when nature calls. Remember to set it back up after each use, too! If you offer a reward system for your toddler as they learn to use the potty, you can continue to use that system while you travel, or you could up the ante and introduce a special travel-only reward for added motivation.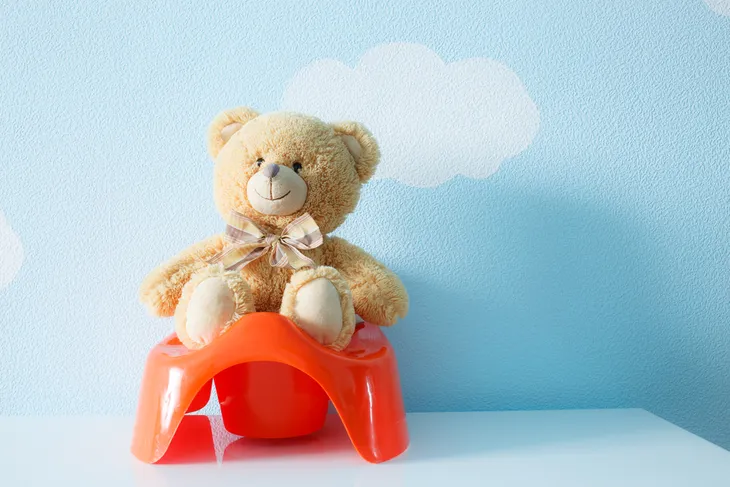 Pack Pull-Ups, Just incase…
Many moms are against using pull ups during potty training, but when there is a long road trip involved, I feel this is the prime time for exception to that rule. Many parents ask themselves, should we just put the potty training on hold while we are away? Or will that set my toddler back? A valid concern for all parents.
I feel it is worth continuing with your efforts! You can explain to your little one that a long road trip is not a typical circumstance, and that the pull up — or as we like to call it 'special underwear' — is only being used in case mommy can't get them to the potty fast enough. Hopefully they will understand the pull up is temporary precaution for mommy's sake — and will hopefully still motivate them to tell you when they have to use the bathroom so they do not to soil their 'special underwear'.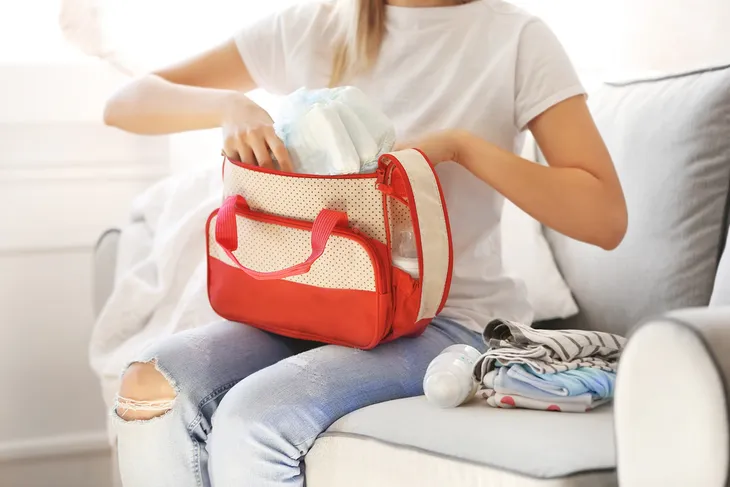 Prepare Car Games And Activities
Whether it is just the grown ups playing or if your toddler can get involved, it is always helpful to have some fun car games to help pass the time and keep you alert while driving at night or on a monotonous roadway.
The alphabet game, 20 questions, I spy, I'm going on a picnic, or road trip travel bingo (to name a few) are a fun options! These are great family-friendly games that don't require anything more than your imagination, or at most a sheet of paper and a pen!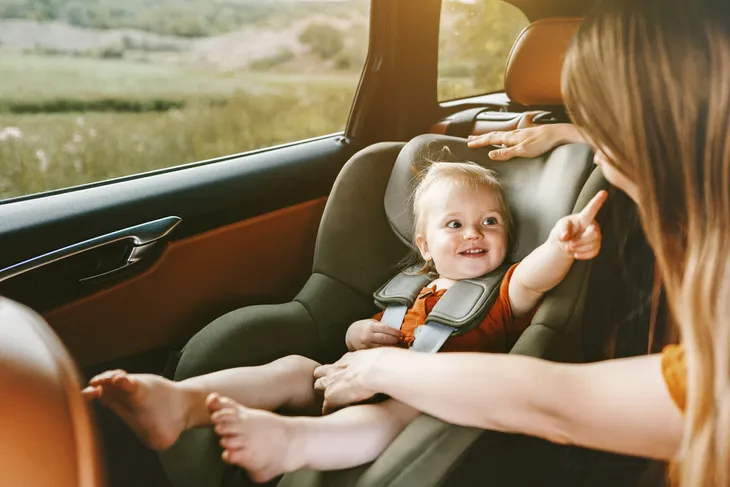 Have A Back Up Plan
When your child is crying or getting super agitated and all else seems to be failing, it might be time to resort to your back up plan. Your 'backup' might be something like you don't like to let your child have at all (or too often), but is something that you know will instantly calm them down and buy you time until your next scheduled stop. For our family, it is the iPad.
If you just need to make it through another hour stretch, this might just do the trick! A few days before you leave, load up your iPad with kid-friendly tv show or movies that will help keep them quiet and occupied when you are at your witts end. If your child is old enough or knows how to play games on your cell phone, this is another option to keep the peace on a long winded trip.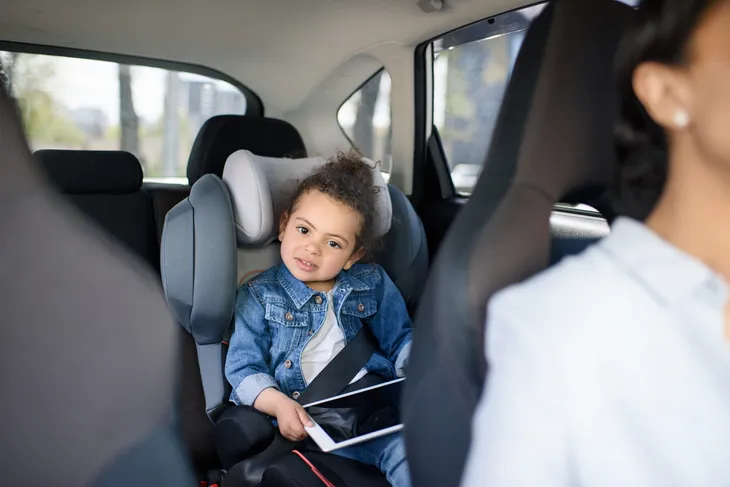 Install A Window Shade
Whether you are driving during the day or through the night, a window shade for your toddler can be a very handy item to have. Daytime sun coming through their window can quickly cause them to overheat, making them uncomfortable and irritable. An easily retractable window shade will quickly become your best friend. Keeping their ball cap and sunglasses handy is another good tip for traveling on bright sunny days!
At night time the window shade can help shield your sleeping-child's eyes from the street lights and lights of other vehicles, which can be very bright and distracting. Similarly, if you need to stop to fuel up, the bright lights at the gas station may cause your child to wake. If you don't have a window shade, you could try rolling a towel, small blanket or t-shirt in the window, so the light won't shine directly onto your toddler's sleeping face.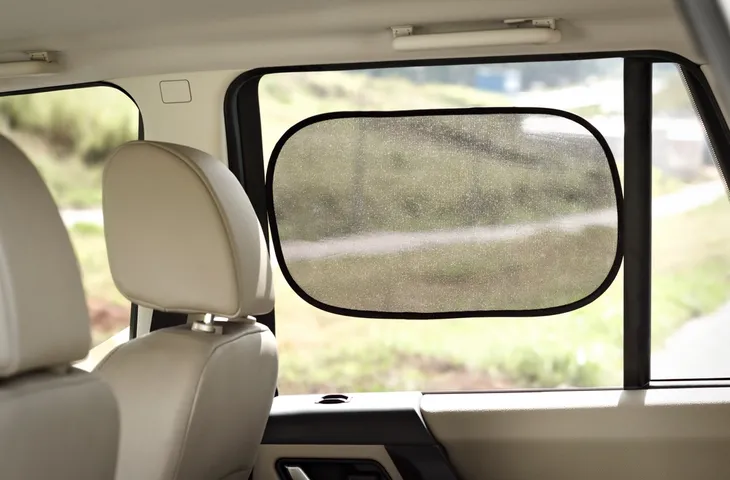 Expect The Unexpected
When traveling with a toddler, anything can happen. Expect the unexpected, and accept frequent stops may be imminent. You never know if they will be car sick, have a disastrous diaper blow out, or have a complete temper tantrum and spill their milk all over themselves and the back seat of your car. We can remain optimistic, and hope that our toddler is an absolute dream, but we can never be certain how things will unfold.
Don't get too stuck on stopping at specific times. Although it may be a nice goal, if your child is having a melt-down and you need to stop, at least make it useful. Fill up your gas tank, use the restroom facilities, and stretch your legs. Just take it for what it is worth. Soon enough you will arrive at your final destination and you will be able to relax!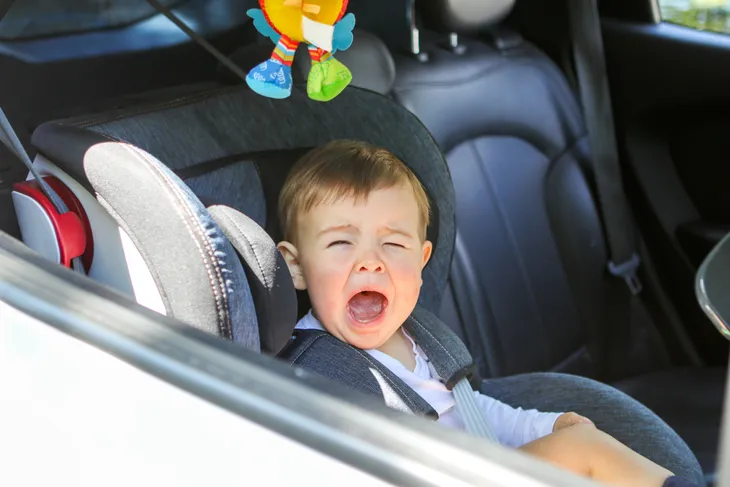 Book Lodging In Advance
When you know that you will need to stop for the night, it pays to book ahead. Trying to be spontaneous like you were before children came along, doesn't pay off when a toddler is in the mix. When you are tired and hungry, and have a toddler melting down in the backseat, finding last-minute accommodations can be an avoided source of extra stress.
Don't forget to request a crib! When you are selecting your accommodations, ask if they have a crib available. If so, remember to phone ahead to confirm your reservation, and ask if they could please set the crib up in your room prior to your arrival. This will save you from having to organize this at check in, and allow you to transfer your little one down for the night as quickly and quietly as possible.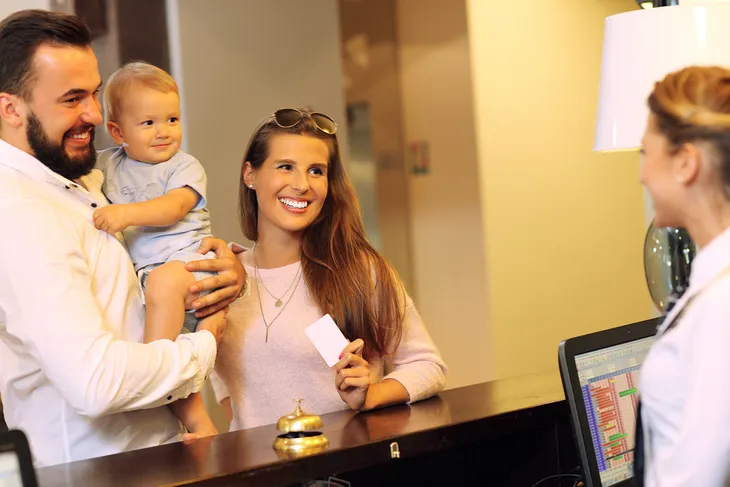 Pack An Overnight Bag
If your trip is too long to do in one day, and you need to stop and find lodging for the night, it is incredibly helpful to pack a separate (smaller) luggage for the night with our families necessities. You will already have your hands full with your little one, if you can avoid unpacking your whole vehicle-full of luggage, this will be a huge timesaver and weight of your shoulders.
Keep this overnight bag easily accessible. Pack pjs and extra changes of clothes for the whole family for the next day. It doesn't hurt to pack two outfits and pairs of pajamas for your toddler, just in case there are any spills or mishaps while on the road. This way you don't have to dig through the remaining luggage to find something else that is clean for them to wear!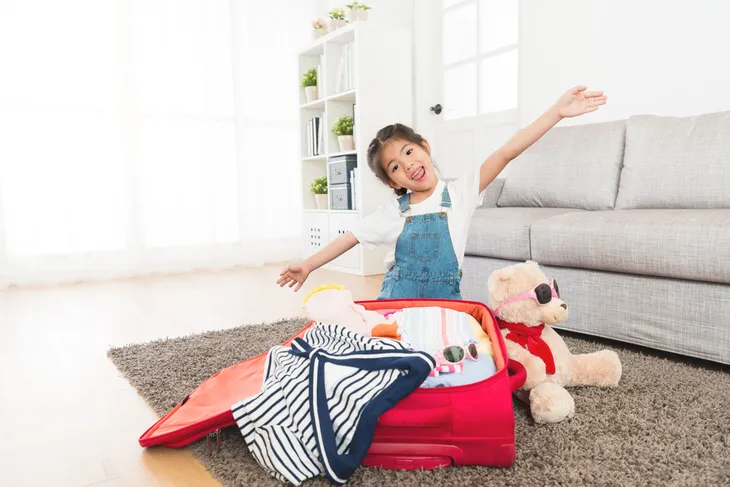 Organize Your Car (Keep Important Items Easily Accessible)
Every road trip starts with game of luggage Tetris. A lot of thought goes into the packing and placement of the luggage inside the vehicle. Start by loading the items that you will not need until you arrive at your final destination, and finish with items that you need to keep easily accessible.
Keep a cooler with beverages and snacks within arms reach, as well as a bin of books, toys and other entertainment items that you will need handy for when your toddler starts to fuss.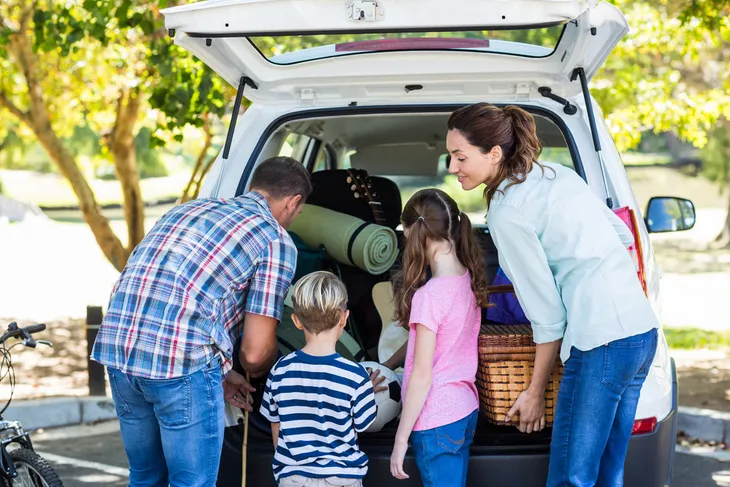 Don't Forget Clean Up & Medical Supplies
You never know what is going to happen when you are on the road. Messes are inevitable, so be prepared with clean up supplies! Make sure you bring loads of wipes, hand sanitizer, kleenex, disposable bags for garbage (or potential car sickness), and paper towels for spills.
I also like to bring a stain remover pen for stubborn stains that you will not be able to get to right away. Whatever the mess may be, keep these supplies close by so they are ready to use when you need them! Keep your medication and first aid supplies on hand, too. Make sure the contents are secured in a child-proof container, but store it somewhere convenient to reach.