Hawaii is a dream destination for many travelers. The tropical island state is actually made up of a collection of islands in the Pacific Ocean, over 2,000 miles from the shores of California. While all of the islands are beautiful and worth visiting, the capital city of Honolulu is definitely the main attraction. You'll find dozens of amazing things to do in (and around) the city, despite its relatively modest population of just 350,000. The word "Honolulu" literally means "sheltered harbor" or "calm port" in Hawaiian. Indeed, this city is a major Pacific Ocean hub for international business, finance, and even military defense. You'll find an eclectic mix of cultures, food, and traditions here — Asian, Pacific, and Western cultures all combine in Honolulu.
12. Atlantis Adventures
While there's plenty of things to see and so on the actual island, you might as well check out Honolulu below the surface too. In order to do that, you need to check out Atlantis Adventures. It's an underwater tour company that offers submarine tours of the waters surrounding the city. The 48-seat sub offers amazing views of the local coral reef — plus you'll probably spot plenty of fish, eels, stingrays, and maybe even a shark or a shipwreck.
The only downside is that tickets aren't cheap — over $130 for adults and almost $70 for children. Many visitors promise that it's worth the money, though, since you'll never see Hawaii from this perspective staying above ground. If you have thalassophobia (or just don't like the claustrophobic feeling of being a submarine), Atlantis Adventures has normal cruise tours around Honolulu too. You can book tickets for either experience in advance on their website.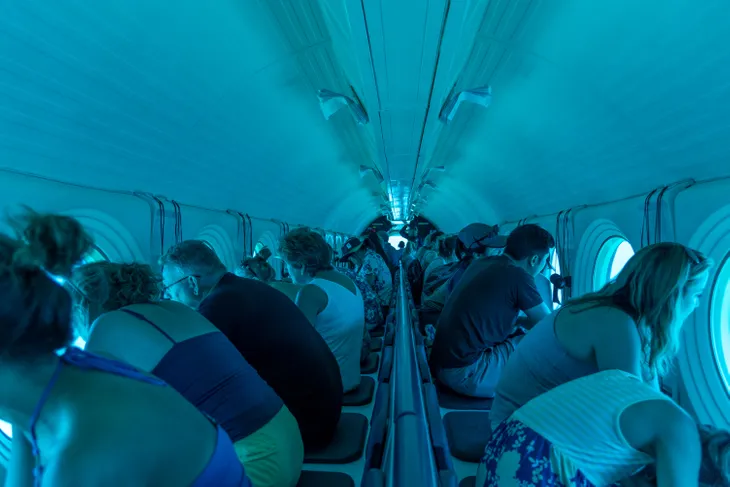 11. Ala Moana Center
Ala Moana Center is a beautiful open air mall. When it comes to shopping for souvenirs (or anything else, for that matter), Ala Moana probably has you covered. It's located just Northwest of Waikiki Beach, making it extremely accessible. You'll find high end stores like Chanel and Versace, alongside regular brands like Nordstrom and Nike. There's also plenty of local shops catering to tourists, where you'll find authentic Hawaiian crafts, clothing, and other trinkets.
Ala Moana has over 350 stores and restaurants, so a shopping trip there can easily fill your day. Luckily, there's a great Japanese Village food court to provide fuel for your shopping excursions. Admission to the mall is free, obviously, but previous visitors warn that there aren't a lot of deals to be found. You're essentially paying the 'tourist tax' to shop here (plus the higher-than-average prices that almost everything in Hawaii has, due to its remote location).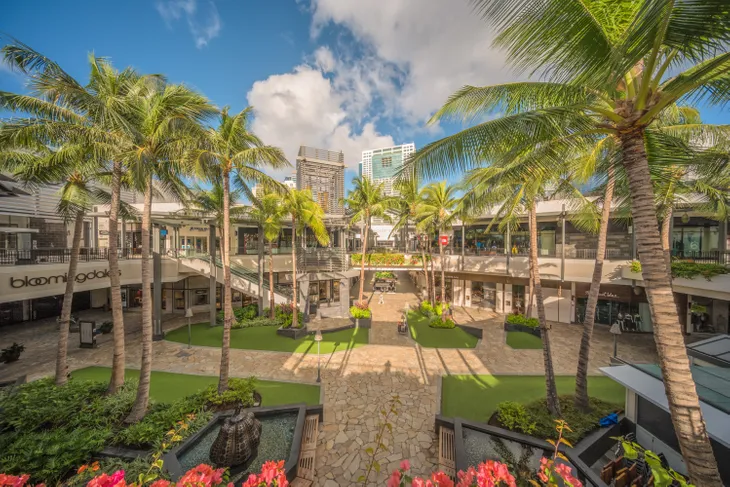 10. Monoa Falls
If you're more of an outdoorsy type than someone who enjoys shopping malls, then check out Monoa Falls. It's roughly five miles from downtown Honolulu, making it a perfect way to escape the city without having to go very far. Come prepared, though. You'll want proper footwear for the hike (no flip-flops), some bug spray, and a water bottle. Once you arrive, there's a 1.5 mile hike through the rainforest to get to the falls themselves.
The 100-foot-tall waterfall is a sight to behold. The surrounding greenery will make you think you've travelled back in time. In fact, you won't be surprised to learn that some of Jurassic Park was shot here. While visiting the Falls is safe (no velociraptors), it can be a bit wet and muddy at times. It also gets crowded on nice days, so you should try to plan your hike for before 10:00 A.M. There is no entry fee, but there's a $5 parking fee. Luckily, you can also get to Monoa Falls by bus from downtown Honolulu.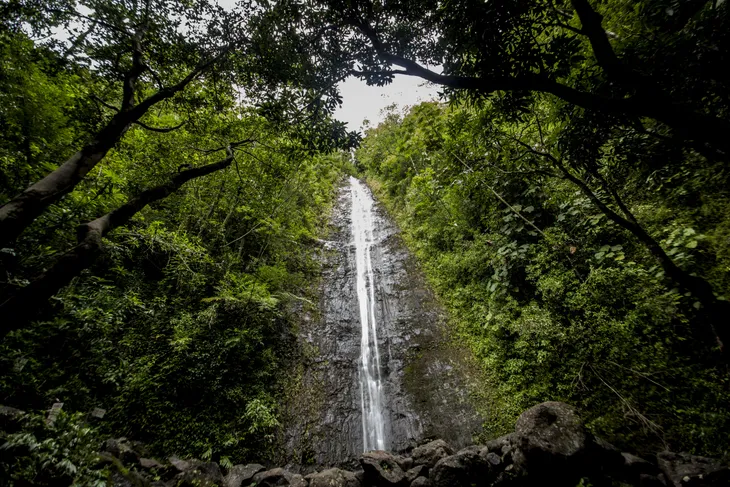 9. Iolani Palace
Iolani Palace holds a significant place in Hawaiian (and American) history. It was the home of Hawaii's last ruling monarchs, King Kalakaua and his sister Queen Liliuokalani. This palace, built in 1882, is actually the only official royal residence in the entire United States.
The Palace, a 10-room house and museum, offers an excellent showcase of Hawaii's history and culture. It's not a standard tourist attraction though — there are rules. You won't be allowed to take pictures, kids younger than five must be in strollers, and you need to wear cloth booties over your shoes to protect the koa wood floors.
There's an entry fee of about $15, but we recommend springing for the more expensive ($25) ticket that includes an hour-long guided tour. You can find Iolani Palace on King Street (naturally) right in downtown Honolulu. It's easily accessible by bus, trolley, or taxi.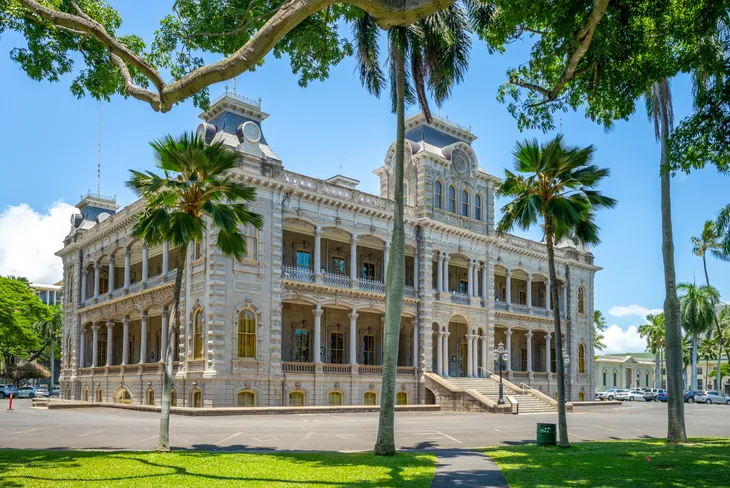 8. Honolulu Museum of Art
The Honolulu Museum of Art is actually a more recent creation. It was formed in 2011 when the Honolulu Academy of Arts combined with the Contemporary Museum to create an even larger space to celebrate the art of Hawaii. (There's also another subsection, the Spalding House.) Together, this museum features all kinds of wonderful art.
There are paintings from some famous names — including Picasso, Gauguin, and van Gogh. The real highlight, though, is the extensive collection of Asian and Polynesian artwork and artifacts. One $20 entry ticket (children under 17 are free) will get you access to both the Museum of Art and the Spalding House. However, you should know that the two buildings are roughly two miles apart.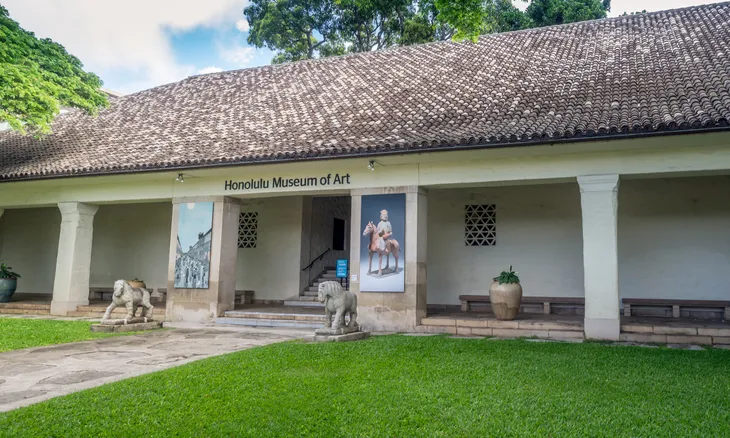 7. Shangri La Museum
Shangri La used to belong to Doris Duke, the infamous American heiress to a tobacco fortune. She spent much of her time in Hawaii in the 30s, 40s, and 50s, building a magnificent ocean-side home and filling it with valuable collectibles. Now a museum, Duke's former winter getaway features artwork and furniture from Egypt, India, Morocco, Spain, Syria, and Turkey.
While Shangri La is an excellent visit for those who love art, it's also a wonderful way to learn more about Duke herself. Once dubbed "the Richest Girl in the World," she was perhaps one of America's first real female socialite celebrities. The only downside of visiting Shangri La is that some sections of the house are often closed, undergoing renovations. What remains open, though, is still well worth a look.
You need to book tickets to Shangri La in advance. Guided tours are 2.5 hours long and actually begin at the previously mentioned Museum of Art (transportation is included). Unfortunately, children under seven are not permitted here, so plan accordingly.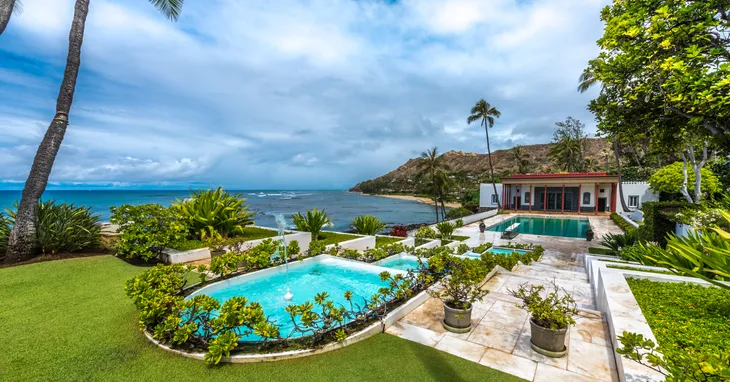 6. Makapu'u Point Lighthouse Trail
Much of Hawaii's allure lays in its beautiful outdoor settings. One prime example is the Makapu'u Point Lighthouse Trail. This free walking/hiking trail is a two-mile long trek that overlooks the Pacific Ocean, leading up to a lighthouse that was built in 1909. From November to May, you may even be lucky enough to spot whales surfacing in the water.
The trail is relatively easy, making it a good choice for anyone with children or mobility issues. It features some breathtaking vantage points, so be sure to snap lots of photos. There isn't much shade or shelter, though, so be prepared to deal with the sun and wind. The hike up (and back) should take you about two hours.
The trail (and official parking near it) are both free, but can fill up fast. This spot also isn't especially tourist-friendly, with no public transit service, no public restrooms, and no water fountains. On the other hand, if you're sick of tacky gift shops and cliché tourist traps, the Makapu'u Point Lighthouse Trail might be the perfect outing.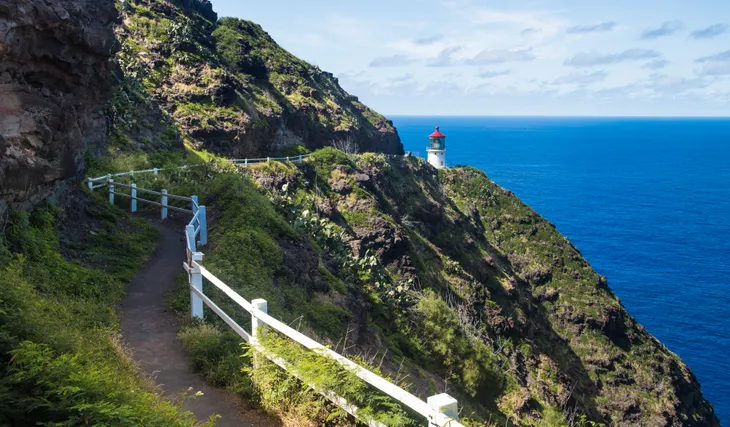 5. Oahu Diving and Snorkeling
The shores of Hawaii (and especially Honolulu's island of Oahu) are home to over 1,200 miles of beautiful coral reef. It's one of the coolest things you can see while you visit, so there's no shortage of great snorkeling or scuba diving spots. You will swim amongst colorful tropical fish, and might even spot a dolphin or sea turtle.
You can snorkel for free at any of the public beaches. If you don't have your own gear, there's plenty of local rental places. You can also book a guided snorkeling trip of Hanauma Bay Nature Preserve. If scuba diving is more your thing, there are plenty of options for that too. Witch's Brew and Shark's Cove are two popular spots. Scuba diving is much more expensive than snorkeling though, so expect to pay up to $150 for a two-tank morning or afternoon dive. Diving will allow you to see much more, though. Some tours include stops at famous underwater shipwrecks, like the Sea Tiger or Corsair.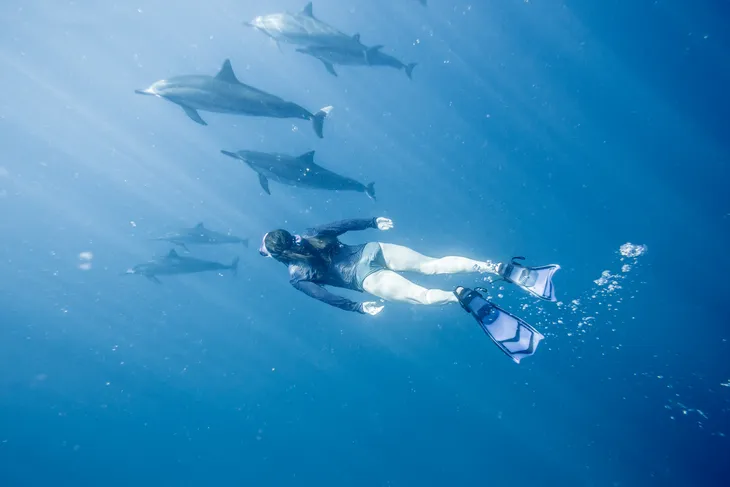 4. Diamond Head State Monument
Diamond Head State Monument is one of Hawaii's most recognizable landmarks — from the sky above, at least. The giant volcanic crater is over 300,000 years old and the result of a single eruption that settled ash into a circular pattern. Now, it makes for one of Honolulu's best outdoor sights.
There's a 760-foot hike up to the top of the crater, which can be a bit of a workout. Once you're up there, though, the views are unlike anything else you'll see. Bring plenty of water to quench your thirst as you climb, since there isn't really a place to stop and hydrate along the way. Admission is dirt cheap ($1 per pedestrian or $5 per car — cash only), but Diamond Head gets very busy most days. Go early to avoid both the crowds and the midday heat.
If you have more room in your travel budget, a helicopter tour above the crater is another amazing day to check it out (without the taxing hike). Most of these tours include the entire Oahu Island too, not just Diamond Head.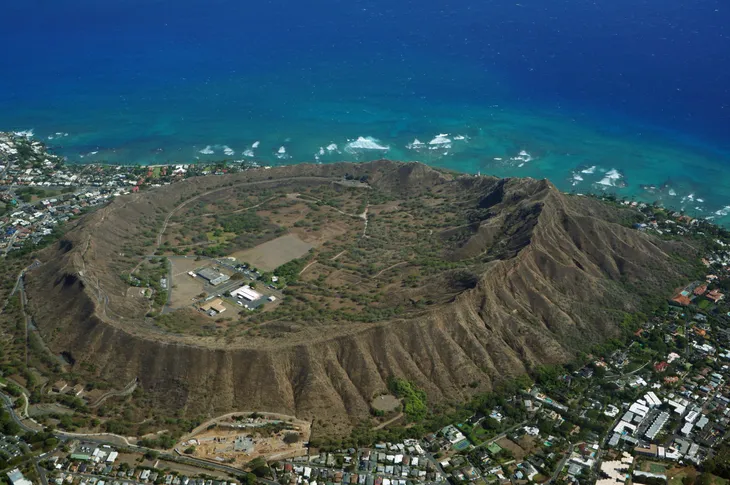 3. Koko Crater Trail
Diamond Head isn't the only famous crater in Hawaii. The Koko Crater features another beautiful hiking trail that stretches over two miles and features thousands of steps made from old railroad ties. Once you get to the top of this crater, you'll be treated to gorgeous panoramic views of Hanauma Bay and Diamond Head.
This trail is steep and a bit difficult to climb. It's not the best choice for small children or anyone who struggles with physical activity. Like other outdoor attractions in Hawaii, you'll want to bring proper clothing, footwear, sun protection, and plenty of water. In short: this is a proper hike, not a simple tourist spot.
The crater takes about an hour to hike, but access is free (and so is parking). The trail fills up early, which makes Koko Crater another spot that is best to visit early in the morning or later in the evening.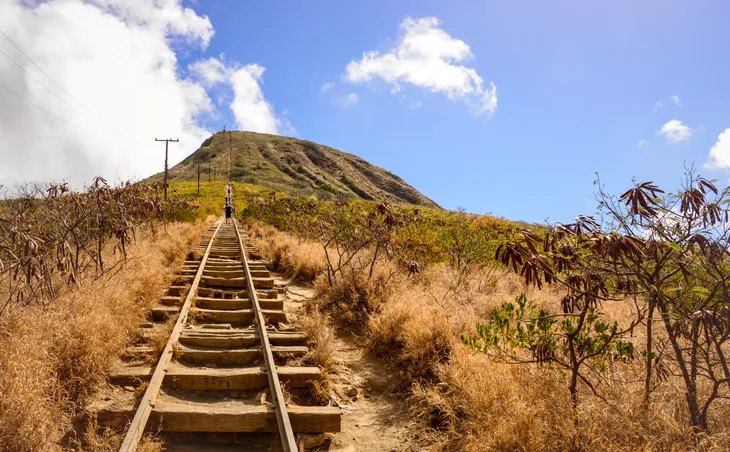 2. Pearl Harbor National Memorial
While Hawaii is certainly a beautiful tropical paradise, it's also home to some of the darkest parts of American history. The 1941 attack on a United States naval base in Pearl Harbor killed 2,403 Americans and wounded 1,178 more. The U.S Navy also suffered heavy losses to their fleet, including the USS Arizona (which remains sunk).
The Pearl Harbor National Memorial pays tribute to those who lost their lives during the attack. It's a floating building directly above the remains of the USS Arizona. Tickets are free, but they only give out 1,300 per day. They are first come, first serve. For a $1 service fee, you can book your tickets online, up to 60 days in advance.
There are also tours of the USS Arizona Memorial, along with audio tours that give you a more in-depth history of the Pearl Harbor attacks. Visiting the Memorial would be a somber break in your island getaway, but every American should make time to visit if they're in the area.
A related tour is the USS Missouri. It hosted a meeting between key officials of the Allied and Axis forces, which eventually led to Japan's surrender and the end of World War II. A tour of the USS Missouri is a separate attraction from the Pearl Harbor National Memorial, but history buffs will find it extremely interesting.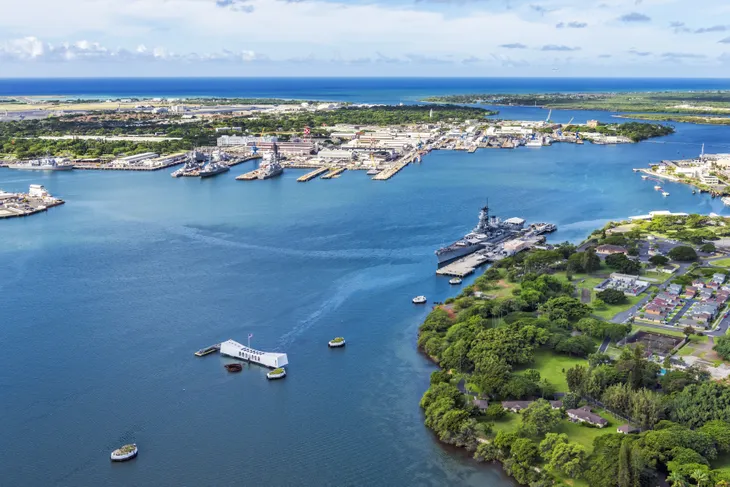 1. Waikiki and Lanikai Beaches
What would a trip to Hawaii be without some quality beach time? Waikiki Beach is probably the island's most famous spot for some sun and sand, but it's hardly the only option. There's also Lanikai Beach (about 15 miles north of downtown Honolulu) and dozens of other beautiful spots up and down the coastline. Even if you don't wanna swim, Waikiki Beach is filled with shops and places to eat or drink.
The beaches of Hawaii feature clean, clear water and soft, pure sand. Best of all, access to the beaches is free. The sunsets are particularly beautiful here. Just pay attention to any posted warning signs about jellyfish activity — you don't want to tangle with these while swimming or snorkeling.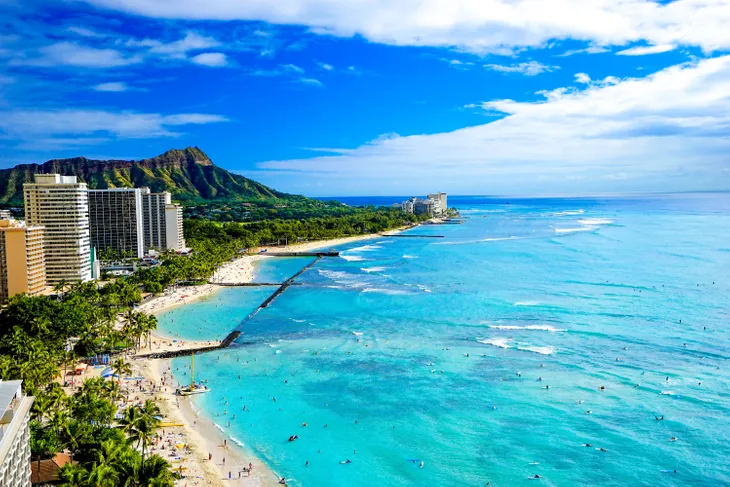 Bonus: Get a Surfing Lesson
Hawaii is one of the most popular surfing destinations in the world. The beautiful weather combined with excellent wave conditions make it a surfer's dream. Even if you've never surfed a day in your life, you owe it to yourself to try out one of the island's most popular pastimes.
You'll find plenty of small beach vendors offering short surfing lessons. Shop around for a price and a teacher that suits you. They'll offer you some rookie basics, like safety tips and how to catch your first wave. Just remember that you won't be a pro after an hour or two, so be patient. But if you've always dreamed of riding a perfect turquois wave, you have to start somewhere.