The city of Bangkok is one of the most popular tourist destinations in all of Asia. The capital of Thailand is home to roughly 10 million citizens and filled with new and exciting things to see and do. Bangkok can trace its roots back to the 15th century, when Thailand was still known as Siam and had a ruling monarchy. These days, Bangkok is a bustling, crowded city that is filled with culture and history. There are Buddhist temples that are centuries old and a modern rapid transit system to whisk you around the city. Here are our picks for the 12 coolest things to see and do in Bangkok.
12. Local Zoos
Unfortunately, the most famous of the Bangkok zoos — the Dusit Zoo — has now been closed for good, pending a future relocation. Luckily, there's still the Sriracha Tiger Zoo and SEA LIFE Bangkok Ocean World to check out. The former specialized in tigers (obviously), but also includes numerous other species to marvel at. It's a bit outside the heart of the city (over an hour of driving), but definitely worth the trip.
If you don't want to leave Bangkok at all, there's SEA LIFE Ocean World. It's one of the largest aquariums in Southeast Asia and is actually located two stories below one of Bangkok's most famous shopping malls (which we'll feature later in this article). This attraction features more than 30,000 aquatic species on display. If you're lucky, you'll be able to watch a selection of live scheduled shows — shark feeding is a popular choice.
11. Bangkok National Museum
The Bangkok National Museum is actually housed in a formal Royal palace. It was where the vice king lived, when the monarchy still existed. These days, it's a wonderful way to learn about Thailand's rich history. The Museum has three main exhibition spaces and over 12 different halls (with more currently being renovated). The Museum was first opened in 1874, and features artifacts from the Dvaravati, Srivijaya, Sukhothai and Ayutthaya periods.
There's a fine collection of Thai art, Chinese weaponry, precious stones, and even a history of clothing and textiles from the city's past. As an added bonus, the Museum features English-language tours on Tuesdays, giving you a better understanding of what you're looking at (assuming you don't speak Thai, that is).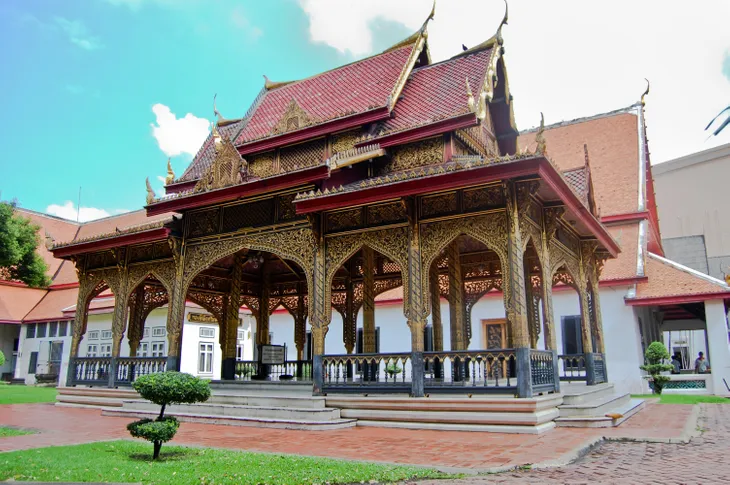 10. Chatuchak Weekend Market
Bangkok is home to one of the largest street markets in the world. The Chatuchak covers more than 35 acres and features roughly 15,000 different vendors. You can, well, pretty much anything here. There's local foods, handmade crafts, clothing, jewelry, and even pets for sale here. (Pro travel tip, though: don't buy a pet while on vacation.)
The best way to attack the Market is to grab a map. It's spread out over 27 different sections, but visitors say it's not nearly as organized as they had hoped. The Market gets especially busy in the middle of the day — an average of 200,000 people visit it every day when it's open on Saturday and Sunday. For a better experience, try to go early in the morning before it gets too busy. You should also plan ahead and bring cash — most vendors here don't accept cards.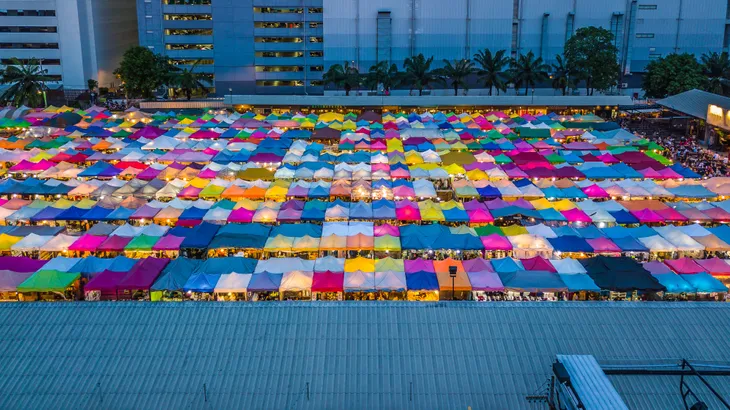 9. Lumpini Park
Lumpini Park was formerly a private garden of King Rama VI. He donated the land to the city in 1925, and it was eventually turned into Bangkok's largest public park. In fact, green space is a bit of a rarity in the densely packed city center. That makes Lumpini Park a great place to enjoy a nice break.
There's an artificial lake in the center of the park, where you can rent non-motorized boats for a cruise. There are also historical statues, walking/running paths, and designated hours for biking. You can often spot Buddhist monks practicing their faith or locals performing Tai Chi exercises. Occasionally, you'll be treated to live music performed at the park.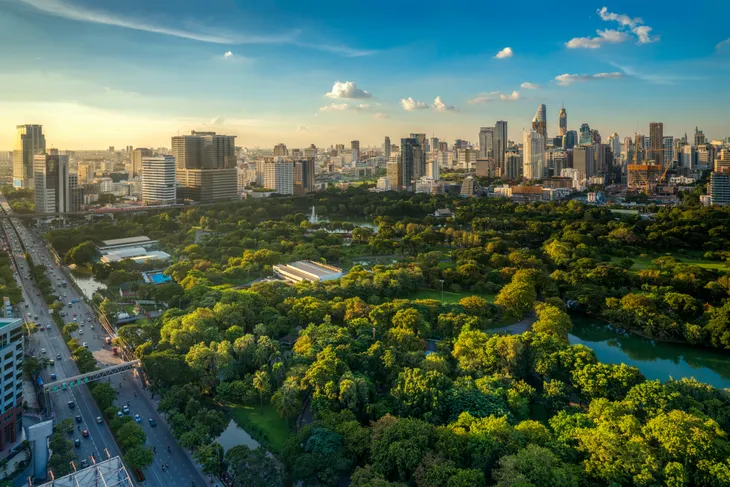 8. Ride the Skytrain
Bangkok is an incredibly dense city. Rapid growth, combined with a general lack of urban and infrastructure planning, created massive overpopulation and traffic problems. In recent decades, the city has attempted to fix these problems by investing in public transit. The highlight is the Skytrain, an elevated rapid transit train system that runs throughout the city. It's positively the easiest way to get around the city.
The Skytrain features 61 different stations on ten different lines (with more under construction). As an added bonus, the train cars are all air conditioned — a welcome reprieve from the heat and humidity that Thailand is known for. Since the Skytrain isn't an underground subway, you'll also get some excellent views of the city as you ride. The Skytrain has been a huge success, attracting over 650,000 riders every single day.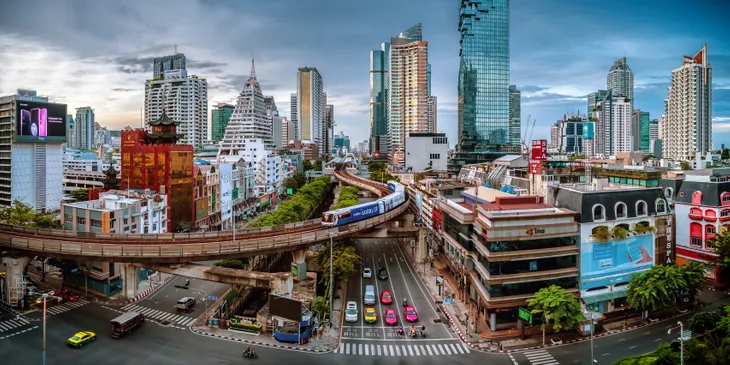 7. Bangkok Art and Culture Center
The Bangkok Arts and Culture Center (BACC) isn't as historical as it might sound. It's actually a relatively new attraction, focusing on more modern art. Many travelers say visiting the BACC is a great way to break up the frequent trips to shopping centers and holy sites. The BACC is often compared to the Guggenheim Museum in New York City.
The BACC isn't quite as popular as some other attractions on this list, making it a great choice if you're trying to avoid large crowds. Plus admission to the museum is free and you can get there via the Skytrain.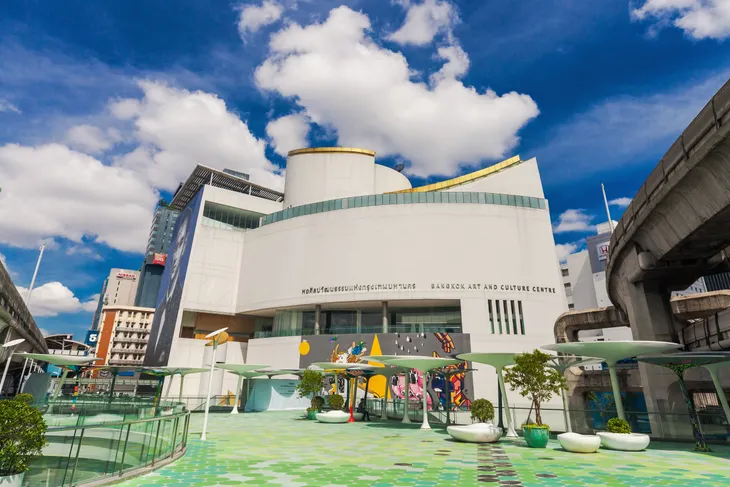 6. Visit a Rooftop Bar
It doesn't really matter whether you drink or not, but the rooftop bars in Bangkok are a must-see. These high-rise patios give you an amazing view of the city skyline (and the surrounding area). A couple extremely popular choices are the Vertigo and Moon Bar or the Lebua Rooftop Bar. The latter sits on the 61st floor of the Banyan Tree Hotel.
If you have a fear of heights, these rooftop attractions may not suit you. Most of them are designed to be entirely outside, with a 360-degree view of the city. If the weather isn't perfect, you can't help but sometimes feel exposed up there. However, it's still a beautiful spot on a nice day.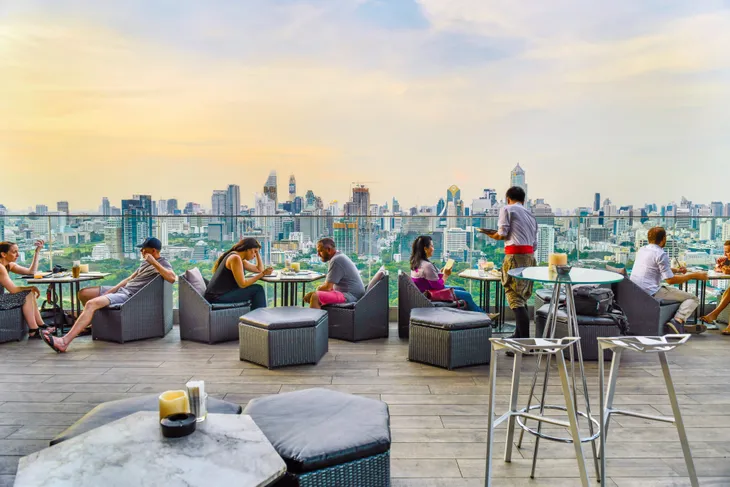 5. Grand Palace
The Grand Palace is one of Bangkok's most recognizable buildings. It's also one of the most popular tourist destinations. This luxurious complex formally served as the royal home for multiple kings of Thailand. It also housed their courts and multiple branches of government. These days, the government hasn't operated from the Palace in over 200 years. Tourists love it, though.
You'll find beautiful and ornate statues and carvings, dating back centuries. The most popular is the sacred emerald Buddha statue, which you can find in the Wat Phra Kaew temple. Be aware, though, that the Grand Palace has a strict dress code. Any revealing or inappropriate clothing will see you banned from entering. The Palace is also insanely crowded, so try to arrive early if you want to enjoy your visit. We also recommend taking a guided tour in order to truly appreciate the historical significance of the building.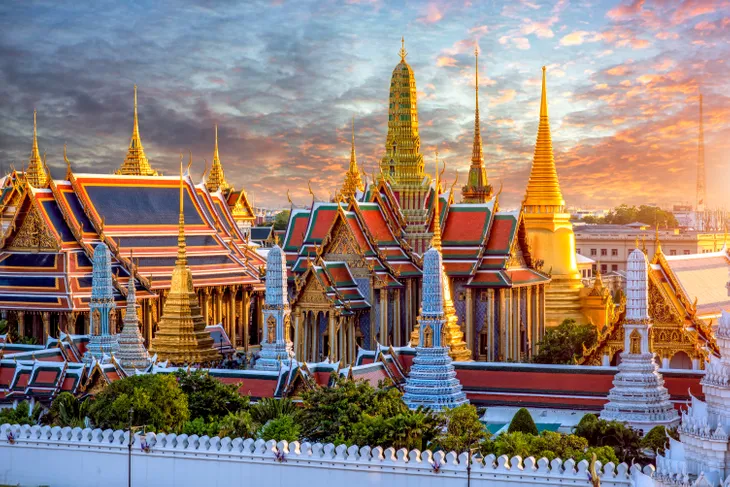 4. Shop at Siam Paragon
For shopping enthusiasts, head on over to the Siam Paragon. It's Bangkok's largest and most luxurious mall. It has all the designer fashion brands you would expect, plus more affordable brands too. There's also a huge multiplex theater, plenty of places to eat and drink, and the aforementioned aquarium.
Siam Paragon features more than 250 stores. You can even check out brand new Ferrari or Lamborghini models in their on-site showrooms. While your pockets might not be deep enough to drive one home (which is especially problematic if you flew to Thailand on vacation), it's still a trip to check out these incredible machines up close.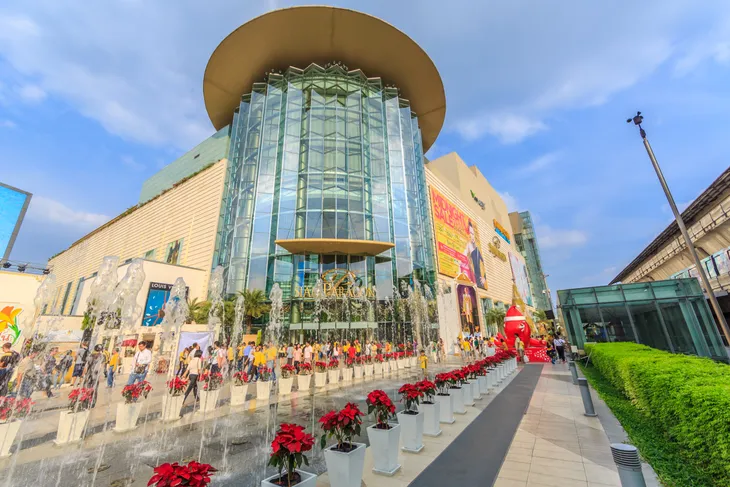 3. Jim Thompson House
Famed American architect Jim Thompson relocated to Thailand after World War II. He actually played a huge part in reviving the country's silk industry. His former home — actually a renovation of six separate Thai homes into a single dwelling — is a popular tourist attraction. Adding to the allure is that Thompson went missing in 1967, disappearing while on vacation in Malaysia.
The history (and the mystery) surrounding Thompson makes his house an intriguing visit. Admission requires a ticket, but it's quite cheap (about $5). That price includes a guided tour, where you'll learn more information about Thompson, his exploits in silk, and his strange disappearance.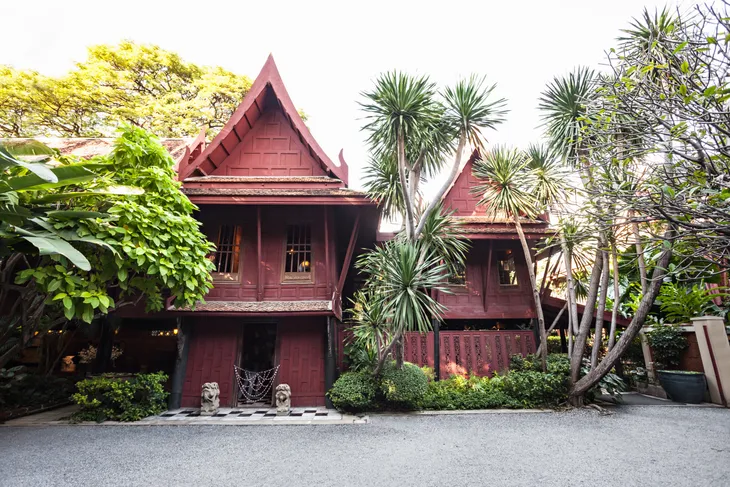 2. Wat Pho
Otherwise known as The Temple of the Reclining Buddha, Wat Pho is one of Bangkok's most famous destinations. The gold-plated Reclining Buddha statue is 151 feet long and 50 meters tall. Besides the main attraction, Wat Pho houses close to 400 other Buddha statues — the most in all of Thailand.
Not only is Wat Pho a place of worship, but it's almost an education center. They focus on traditional medicine and massage, meaning you can actually get a Thai massage at Wat Pho. Be warned, though, that a Thai massage is often considered painful compared to traditional American massage treatments.
The Temple itself is a grand display of art and culture. Just soaking in the grandeur and décor of Wat Pho might be enough of a treat for travelers. Like the Grand Palace, there is a dress code at Wat Pho to be aware of — no shoes allowed, and shoulders and knees must be covered. Wat Pho is a couple miles from the closest Skytrain stop, but you can actually get an express boat to drop you off right in front of it.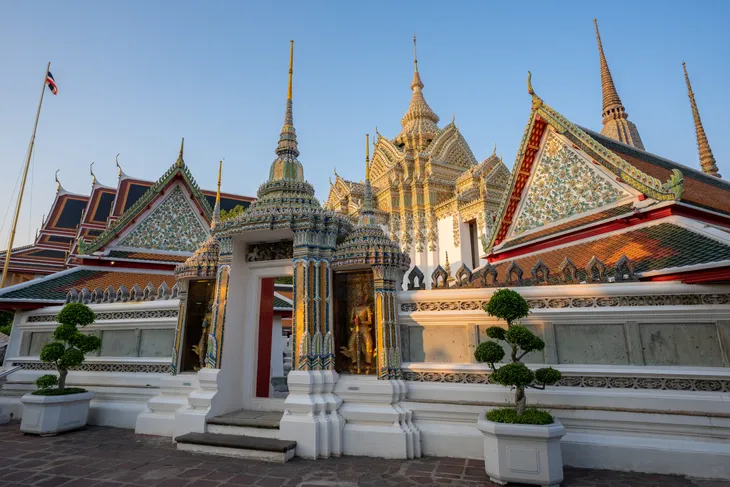 1. Wat Arun
Wat Arun (Temple of the Dawn) is one of the most picturesque sights in all of Bangkok. This 270-foot tall Buddhist temple is a magnificent sight at any time of day (but especially at dawn or sunset). The whole thing is covered by mosaic art, constructed by pieces of fine Chinese porcelain. It's truly one of Bangkok's most beautiful buildings — but also its most popular.
The Wat Arun fills up quickly, so it's best to visit it early in the day if possible. The dress code from Wat Pho is also in place here. The good news is that admission is cheap (less than $5) and you can get there via a boat service. If you want to climb up to the top of the central tower, be careful — the steps are steep and the stairway itself is quite narrow. However, most visitors claim it was worth the effort.