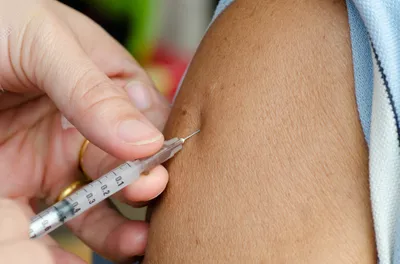 One of the world's largest pharmaceutical companies is now seeking approval for the world's very first malaria vaccine. The firm, GlaxoSmithKline (or GSK), says it plans to use the vaccine outside the European Union.
Malaria, which is carried by mosquitoes, is a devastating parasitic disease. Every year it kills more than half a million people, with most victims based in Africa.
For years pharmaceutical companies have been working on a vaccine for malaria; in fact, GSK says it has been working on this particular vaccine — which is called "RTS,S" — for roughly three decades.
"This is a key moment in GSK's 30-year journey to develop RTS,S and brings us a step closer to making available the world's first vaccine that can help protect children in Africa from malaria," noted GSK malaria expert Sophie Biernaux.
Much of the funding for the project came from the Bill & Melinda Gates Foundation, an organization established by Microsoft co-founder and billionaire Bill Gates. The Gates have made finding a cure for malaria a priority in recent years.
If approved, the United Kingdom-based GSK says it would focus its attention on treating malaria in more than a dozen African countries, including Gabon, Ghana, Kenya, Malawi, Mozambique, Nigeria, and Tanzania.
Overall, GSK is hopeful that the vaccine could dramatically reduce the number of people who succumb to malaria each year. "An effective vaccine for use alongside other measures such as bed nets and anti-malarial medicines would represent an advance in malaria control," the company said in a recent report.
First, RTS,S must be evaluated by the European Medicines Agency (or EMA) and the World Health Organization (WHO). If approved, WHO says it could start using the vaccine by 2015.