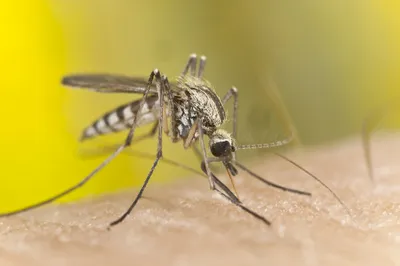 It's finally starting to warm up here in northern North America. And while that makes it easier to enjoy afternoon baseball games and picnics, it also means the return of big, bad mosquitoes, which can carry the deadly West Nile virus. So, what do you need to know about mosquitoes this spring?
First, it's important you know where mosquitoes come from. Most require warm, stagnant water to hatch, and that usually includes small ponds or creeks. If you're outside in this kind of area, it would be wise to wear some kind of repellent.
Second, experts predict that this will be an average year when it comes to the number of mosquitoes floating around. That may be disappointing news for those who hoped a long, cold winter would reduce the mosquito population. However, mosquito expert Simon Wilkins says that mosquito eggs can actually hang around for years — meaning we might have some of those older eggs hatching this spring and summer.
"There are a number of different species and the variability in the weather, but the yields are pretty consistent," Wilkins said.
Third, know that you're not alone in the fight against mosquitoes. For example, the city of Calgary, Alberta, airdrops bacteria-laced kernels of corn into areas where mosquitoes are known to congregate. When mosquito larva consume that corn, their digestion process halts and they plunge to their death long before they develop into full mosquitoes.
Fourth, be aware that West Nile virus will pose a risk again this spring and summer. Dr. Judy MacDonald, a medical officer of health in Alberta, says "it's hard to predict" how many West Nile infections we'll see this year. But "from a human health perspective, we certainly expect a risk of West Nile; it's not going to disappear, so it will be here," MacDonald said.
The best defence against West Nile includes avoiding areas where mosquitoes hatch, using bug repellent, and wearing light colours with long sleeves.