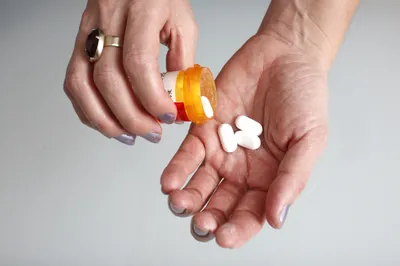 A new study finds that mixing common painkillers–such as ibuprofen–with antidepressant medication can lead to stroke.
The study, which was led by Ju-Young Shin and a team of researchers from the Korea Institute of Drug Safety and Risk Management, was based on an examination of South Korea's national health database, which contains medical information related to 50-million people. The researchers focused their attention on about four million of those people, all of whom began taking antidepressants during the period 2010 and 2013.
Roughly half of those four million patients were also taking non-steroidal anti-inflammatory drugs, better known as NSAIDs, during the first month they took antidepressants. These are the most common over-the-counter and prescription painkillers and include brands like Advil, Motrin, and Aleve.
The study showed that people who combined NSAIDs with antidepressants were far more likely to experience intercranial bleeding, which can lead to stroke. The type of antidepressant didn't appear to matter, though the risk was higher for men than women.
So, what's the problem? The Korean researchers suggest that the NSAIDs could be affecting the body's production of platelets, which regulate bleeding.
"Our findings should be interpreted with caution," Shin and his team noted in their report. "Special attention is needed when patients use both these drugs together."
Stewart Mercer, a primary care researcher based at the University of Glasgow, agrees that the study should be the basis for new and even more advanced studies. "Most worryingly, conditions requiring NSAIDs and antidepressants commonly coexist; 65-percent of adults with major depression also have chronic pain," Mercer added.