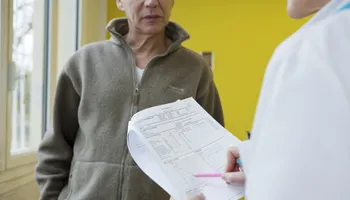 It appears health researchers have found a new and easy way to spot a life-threatening disease. According to a
new report
, a simple breath test can be used by doctors to quickly and efficiently detect signs of stomach cancer.
Stomach cancer is an often lethal disease. It's currently estimated that only 28-percent of people (or less than one in three) survive for five years following a diagnosis. A big problem is that by the time many people are diagnosed, the disease has already spread to other parts of the body.
Now, a new report, which was recently published in the journal Gut, shows that there could be a way to detect stomach cancer before it spreads. The Israeli researchers behind the report gathered breath samples from almost 500 people, with roughly one in five diagnosed with stomach cancer, but not yet undergoing treatment. Examination of these samples showed a clear difference between the cancer patients and those not suffering from the disease.
It's worth noting that this isn't the only way to test for stomach cancer at an early stage. However, it is much cheaper and easier than the alternatives while remaining highly accurate.
Hossam Haick, one of the researchers behind the report, suggests this new test could have a dramatic impact on treatment of stomach cancer. "The attractiveness of this test lies in its non-invasiveness, ease of use, rapid predictiveness, insensitivity to confounding factors and potentially low cost," Haick said.
The numbers back up Haick's claim. When diagnosed before it spreads, the chance that a person can survive stomach cancer for five years more than doubles, from 28 per cent to 64 per cent.