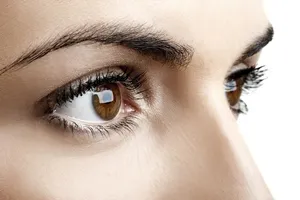 A revolutionary new device has effectively helped a blind man read braille with his eyes instead of his fingers.
The new development is the first of its kind and, once proven on a larger scale, could revolutionize how degenerative eye diseases are treated.
To confirm the technology works, researchers "streamed the letter patterns to an implant device at the back of the patient's eye. This device allowed the patient to 'see' words that he could interpret in seconds," according to the Daily Mail.
Research leader, Dr. Thomas Lauritzen explained the technology further adding that "Instead of feeling the braille on the tips of his fingers, the patient could see the patterns we projected and then read individual letters in less than a second with up to 89 per cent accuracy."
He continued, "There was no input except the electrode stimulation and the patient recognised the braille letters easily. This proves that the patient has good spatial resolution because he could easily distinguish between signals on different, individual electrodes."
Pete Osbourne, chief braille officer at the Royal National Institute of Blind People spoke to the Daily Mail, revealing his excitement over the discovery. "
Anything like this that has the potential to get some people back the visual realisation they have lost is a good thing. I hope they are able to validate their study with more people."
According to American Academy of Ophthalmology, 3.6 million people (aged 40 or over) in the US are considered visually impaired. Of those 3.6 million, it's estimated that only 10 percent use braille. Currently, this technology will only benefit visually impaired people who know how to read braille.
Source(s): Daily Mail, Wikipedia