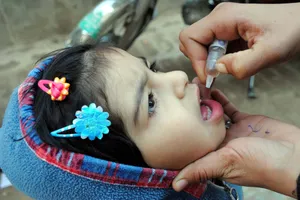 The polio vaccine program is showing signs of success in Pakistan. The country has been facing international pressure to allow workers to attempt to eradicate Type 3 polio. With only a handful of Type 3 cases active around the world, it could be possible to destroy this strain of the illness. Previously, Type 2 polio was eradicated this way. The last instance of Type 2 polio causing paralysis was in 1999.
There are three countries where polio Type 3 is still active: Pakistan, Afganistan, and Nigeria. Pakistan has been difficult to distribute the vaccine to, as many Muslim families refuse to administer the medication.
The last recorded case of Type 3 polio was recorded in the Federally Administered Tribal Areas, which are located in the Northwest of Pakistan. Local resistance has been high, with one volunteer worker shot and killed, while another had their child kidnapped. The child was later released.
There have been no reported cased of Type 3 polio since April of this year, which is giving hope that it has been eradicated from the country. Dr. Olen Kew, associate director for global laboratory science at the CDC's National Center for Immunization and Respiratory Disease commented on the findings. "Type 3 looks like it is hanging on by a single chain of transmission in a very localized area. There are some difficulties in Pakistan that we all appreciate. But they're making progress."
The molecular makeup of Type 3 polio looks to be down to one last chain of transmission. In other countries who have successfully eradicated polio Type 3, the reduction in transmission chains preceded the removal of the disease.
Source: Vancouver Sun
Image by: Asianet-Pakistan / Shutterstock.com