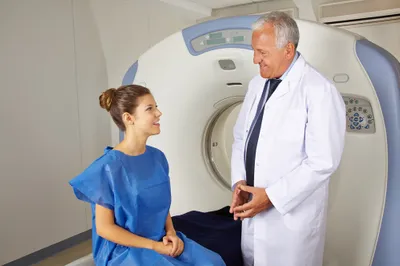 If you have piercings, a pacemaker, or metal dental work, you may want to think twice about undergoing a magnetic resonance imaging (or MRI) exam. That's because any kind of embedded metal can be affected by the MRI, thereby causing serious injuries.
MRI machines use powerful magnets to form images of the body. These scans provide an important tool in diagnosing a wide range of medical problems and help doctors develop treatment plans for their patients.
But an MRI scan could be very dangerous for anyone with metal — in the form of piercings, pacemakers, stents, shunts, surgical screws or plates, dental posts, etc — embedded in their body. In fact, University of Minnesota physician Dr. Jerry Froelich says that there "are thousands of [MRI-related] incidents a year" in the United States alone.
Sadly, there are many examples of MRI scans gone awry. The most tragic story involves a six-year-old New York boy who was killed when an oxygen tank flew across the room and struck him in the head shortly after the MRI was turned on. Then there's the sad tale of the man who lost sight in one eye after an MRI caused an undiscovered metal fragment — embedded in the man's eye — to shift, severing the optic nerve.
The problem is hardly new, but it is becoming more of a concern. That's because the MRI machines doctors use today are far more powerful than those used in the past — meaning any kind of embedded metal can shift after an MRI begins, leading to serious injuries.
That's why it's important patients be forward with their doctors when discussing potential hazards. "You need to be open," noted Dr. Anish Kirpalani, a physician at St. Michael's Hospital in Toronto. "That's one thing I would stress, that people disclose these kinds of things to us."