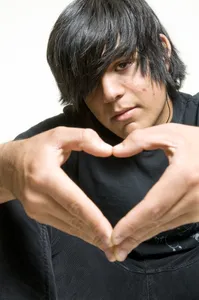 One Direction's Harry Styles may have dated the celebrity likes of Taylor Swift and have teenage babes paying hundreds of dollars to just to get a glimpse of him live. But the baby faced, curly mop topped, 18-year-old dream boat admits that he's a victim of acne just like most teenagers his age.
"I wear so much spot cream…I wear more than my mum," confesses the self-proclaimed "regular teen" who just happens to be part of multi-millionaire band One Direction, the third place winner of "The X Factor" U.K. in 2010. Since winning their recording contract, Harry and One Direction have consistently topped the entertainment charts and sold-out concerts around the globe.
Harry even admits he's had to adopt a pretty serious skin regime to proactively combat his troublesome blemishes. He now applies an anti-acne cream on his seemingly milky, fresh-faced complexion every night before bedtime to combat the affects of wearing heavy stage makeup as well as a road diet that consists mainly of junk food.
Even though Harry, along with Liam Payne, Louis Tomlinson, Zayn Malik, and Niall Horan are five of the most well-known faces on the planet, they've reportedly had the line drawn on junk food in favor of a healthier diet meant to combat their acne woes, which includes a three-times daily vegetable drink chalked full of vitamins and nutrients. The new, cleaner eating rules come from their London-based company, Modest! Management, who also manage musical talents Leona Lewis, Paul Potts, and Marcus Collins.
Still, of the lot, Harry remains One Direction's star heartthrob—so in this case pimples don't cramp Styles!
With One Direction's career at its peak, I have no doubt that popular acne-treatment companies, like Proactiv, will be reaching out for endorsements from Styles and other One Direction members, as they've done in the past with young stars like Katy Perry and Avril Lavigne.
Source: entertainmentwise.com