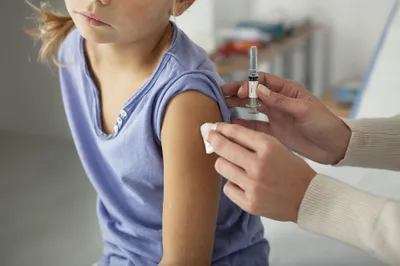 Yet another study shows that there is no visible link between vaccines and autism. The vaccines in question target measles, mumps, and rubella.
The
study
, which involved just under 100,000 children and was recently published in the
Journal of the American Medical Association
, found "no harmful association between the receipt of the [mumps, measles, rubella] vaccine and the development of an autism spectrum disorder."
Dr. Anjali Jain says the study is further evidence that vaccinating children is critical in protecting public health. "This was true even among those children who were at an increased risk of having autism spectrum disorders [ASD] by virtue of having an older sibling with ASD," Jain said.
The cost of failing to vaccinate children is becoming clearer all the time. Recently, an outbreak of measles affecting roughly eighty kids was traced to Disneyland in December 2014. According to the Wall Street Journal's Jeanne Whalen, most of those children "had not been vaccinated at all."
Support for legislation that forces parents to have their kids vaccinated is growing. In California, legislators recently moved closer to introducing a law that would require parents to have their children vaccinated. In a recent interview, U.S. President Barack Obama said that the science behind vaccination "is pretty indisputable," adding that "we've looked at this again and again. There is every reason to get vaccinated. There aren't reasons to not."
And it's not just in the United States where people are pushing for vaccination. Down under, Australian officials are increasing pressure on parents by threatening to block childcare to anyone who fails to immunize their children.