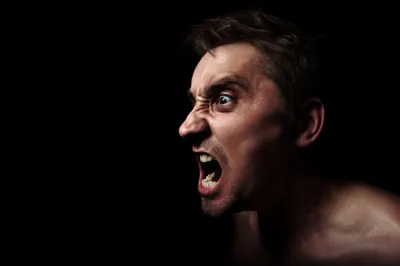 What's your reaction when you see something violent on TV? A new study finds that your response may have a lot to do with your natural aggression levels.
The study, which has been published in the journal PLoS One, was carried out by Nelly Alia-Klein, an associate professor of neuroscience and psychiatry at the Friedman Brain Institute in New York City.
The study, which involved 54 men, was pretty straightforward: participants were given a questionnaire asking them about their history of aggression. Those whose past included some kind of aggression, like a physical assault charge, were grouped together. A second group included people without clear aggressive tendencies.
Next, the participants were shown TV and movie scenes — some dramatic, some violent, some both. Alia-Klein and her team monitored the participants' brain activity and blood pressure as this was going on.
"Our aim was to investigate what is going on in the brains of people when they watch violent movies," Alia-Klein said. "We hypothesized that if people have aggressive traits to begin with, they will process violent media in a very different way as compared to nonaggressive people, a theory supported by these findings."
Specifically, the study showed that men in the aggressive group had less brain activity in their orbitofrontal cortex — the part of the brain associated with emotions and self-control — when viewing violent scenes. Those men in the aggressive group also said they felt inspired and determined after viewing the violent scenes, while those in the non-aggressive group reported feeling nervous and upset.
Blood pressure levels were also different, with men in the non-aggressive group seeing a more visible spike while watching on-screen violence.