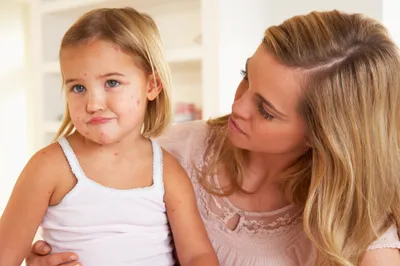 Health experts with the United States' Centers for Disease Control and Prevention (CDC) say that more people have come down with measles in the first four months of 2014 than have been infected in the first four months of the past 18 years.
The CDC says that there have been 13 outbreaks and 129 cases of measles since the year began. Many of those cases emerged in California, which has seen 58 cases since New Year's Day. That represents a significant jump in cases for a state that usually sees less than ten people infected with measles each year.
So, what's behind the sudden surge of measles cases?
The CDC says many of the California cases were the result of visits to the Philippines, which is currently experiencing a very significant measles outbreak (up to 20,000 cases).
The other problem: doctors no longer recognize the onset of measles, making a diagnosis and hospitalization less likely. Given that measles is considered one of the most contagious infectious diseases, just one or two missed diagnoses can present serious health risks to the community.
"Because of the success of the measles vaccine, many clinicians have never seen measles and may not be able to recognize its features," noted Dr. Julia Sammons, who recently penned a report on the spread of measles for Annals of Internal Medicine.
For the record, measles symptoms include fever, cough, pink eye, and rash. If left untreated, measles can lead to pneumonia and brain infections, both of which can result in death.