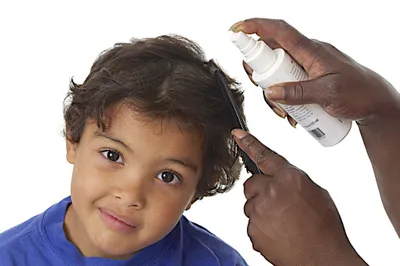 For years the solution for head lice has involved using hair products like Nix, Rid, Kwellada, R&C Shampoo — all of which contain special compounds designed to kill the tiny critters. But new research shows that these products are no longer having a significant impact in eliminating lice infestations.
The foundation for anti-lice products — natural pyrethrin formulations, which are made from chrysanthemums — was laid shortly after the Second World War. In the 1980s lice treatment took a step forward with the introduction of permethrin, a synthetic pyrethroid that proved very capable of removing lice from the human scalp.
"When these products came on the market, they were very efficacious and very good louse control agents," notes John Clark of the Massachusetts Pesticide Analysis Laboratory.
But those treatments are no longer as effective as they used to be, Clark has discovered. The problem is that lice are slowly but steadily mutating and taking on a form that allows them to resist established formulas for treating infestations.
That's a problem because both the U.S. Centres for Disease Control and Prevention (CDC) and the Canadian Paediatric Society (CPS) continue to encourage people to use products like Nix, Rid, Kwellada, R&C Shampoo when an infestation occurs.
Clarks says that this is evidence that North Americans have become "trapped in this scenario where we're being forced to use compounds that clearly aren't near as efficacious as they were 30 years ago."
In fact, a recent study by Consumer Reports found that the most effective treatment for eliminating lice was to physically remove them using any kind of hair lubricant, like your standard conditioner.
Clark agrees that this simple and cheap treatment has become the best way of getting rid of lice. "There's no question that it can be effective, it's just very time consuming," Clark said.