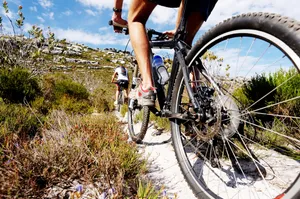 Jerry Smith is promoting health, one city at a time. The Michigan man has embarked on a remarkable journey to reach out to obese Americans. Over the past year, Jerry has lost over 130 pounds by riding his bicycle. He went from morbidly obese to a healthy weight, just by exercising. Jerry wanted to share his success and hope with other obese individuals and that brought him to this amazing fitness test.
Jerry has just started his 114-day health campaign where he will ride over 8,500 miles. Along the way, he will be handing out nutritional and fitness information for youths. His hope is that his journey will inspire young people and get them to change their lifestyles while it's early.
Jerry will travel along the Men's Fitness magazine's "Fittest and Fattest Cities in America" list. Along the way another rider, carrying supplies will join him. He started his trip on Sunday from Trinity Church in Lansing, and has made it to the Founders Sports Park in Farmington Hills. At the end of his journey he will finish in Los Angeles. You can follow Jerry's journey through his Facebook page "2012 Catch On Tour".
Source: Stamford Advocate