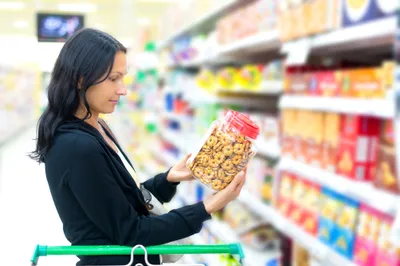 The nutrition labels that have become a familiar sight on food packages may soon receive a major makeover.
The U.S. Food and Drug Administration has reportedly proposed a number of changes that, if approved, would place much more emphasis on total calories, added sugars, and nutrients (like vitamins).
In addition, the FDA would like to see significant changes to the serving sizes typically found on food labels. It's been known for some time that these details are misleading; for example, 20-ounce soda bottles consider a serving size 8 ounces — even though most people are drinking the whole bottle in one sitting.
The new rules would require the entire soda bottle be considered a single serving, and that means categories dedicated to calories and sugar would need to reflect those changes.
It's expected that almost one in five labels would need to be changed to reflect the serving size update.
Another important change would involve highlighting added sugars. At the moment, it's unclear how much sugar is natural and how much is artificial.
If the adjustments are approved, it would mark the first significant overhaul of the nutrition label system since it was approved more than two decades ago. In the years since, shoppers have become more familiar with nutritional information and many are demanding more comprehensible data.
A major supporter of the changes is first lady Michelle Obama.
"You as a parent and a consumer should be able to walk into your local grocery store, pick up an item off the shelf, and be able to tell whether it's good for your family," Obama said in a recent press release. "So this is a big deal, and it's going to make a big difference for families all across this country."
If all goes according to plan, the FDA will finalize its adjustments by the end of the year. Manufacturers will then have two years to implement the changes.