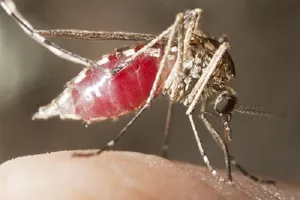 Lisa Welchel has confirmed via Twitter that she has a confirmed case of West Nile Virus. Her post read, "Dr. just called with blood test results… I have West Nile. Ugh. I'm fine, just tired. Takes a year to recover." After support and well-wishes came flooding in, she further tweeted, "I've been very touched by all the sweet tweets. Other than tired, I'm feeling fine & expecting a full recovery. So grateful for you. Thanks!?"
Lisa Whelchel stared on "Facts of Life", and most recently Survivor: Philippines. The filming finished in April. She currently lives in Texas, which has seen 1697 reported cases and 76 deaths from the disease. The Center for Disease Control notes that they only have numbers for patients who have tested positive, and that many others may have contracted the disease and do not know they have it.
The symptoms of West Nile Virus are diverse. Approximately 4/5 people will get no symptoms at all, which is called an asymptomatic infection. Those who do get symptoms can develop West Nile fever. The symptoms of West Nile fever include fever, headaches, tiredness, body aches and pains, and a rash across the body. For 1 in 150 people infected, it can develop into something more serious, such as meningitis, encephalitis, or poliomyelitis.
Source: CDC, CDC, Entertainment Weekly