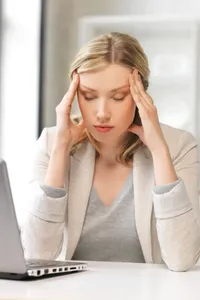 A new report from Ball State University has linked poor office conditions with increased incidence of migraines. "Sick building syndrome" (yes, this affliction has a name so get it right before you call in sick) causes frequent headaches due to unhealthy or uncomfortable indoor conditions.
Results from the study found that employees who work for long periods in uncomfortable indoor settings often become sick due to unhealthy balances of light, humidity, temperature, carbon monoxide, carbon dioxide, and sound. In this case, 38-percent of the 4,326 office workers monitored across 100 randomly-selected office buildings, suffered headaches one to three days a month; while 8-percent suffered daily headaches.
The study also revealed some additional inner office surprises:
Approximately 21 percent of participants had already been diagnosed with migraines by a medical physician
Women were more likely to report a headache compared to men—75 percent vs. 53 percent
Women were also more prone than males to report a medical migraine diagnosis—27 percent vs. 11 percent
Employers in particular should take heed to this research and take the steps to develop proactive strategies to reduce the prevalence of sick building syndrome—especially since headaches and migraines are a leading cause of sick days and decreased productivity in the workplace.
"Millions of people are affected by migraines and headaches on a global basis," says Jagdish Khubchandani, a community health education professor in Ball State's Department of Physiology and Health Science and Faculty Fellow with the university's Global Health Institute. "Migraines and headaches lead to significant decline in quality of life, productivity and daily functioning…[so it's evident for employers to] review operation and maintenance of heating, ventilation and air conditioning systems to reduce sick building syndrome."
Source: MedicalXpress.com