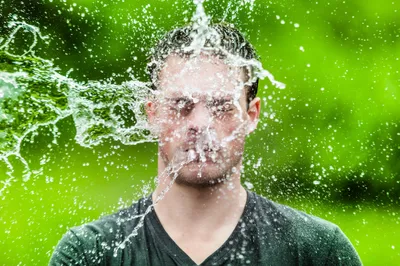 Why would anyone want to dump a bucket of ice-cold water on their head? It could help you cool down on a hot summer day. But people around the world are turning to the "Ice Bucket Challenge" in an effort to raise awareness for amyotrophic lateral sclerosis, otherwise known as ALS.
The Ice Bucket Challenge got its start in Massachusetts in 2012, shortly after former Boston College baseball player Pete Frates was diagnosed with ALS, a progressive neurodegenerative disease that effectively kills nerve cells in the brain and spinal cord. Eventually, ALS can paralyze the arms, legs, lungs, and other vital parts of the body.
To bring attention to this deadly condition, Frates took to social media to challenge his friends and family to record themselves dumping ice cold water on themselves. Every person who completes the Ice Bucket Challenge then dares others to follow suit.
In the past two years the challenge has led to increasingly daring ice bucket episodes; in one recent stunt, Arizona Coyotes hockey player Paul Bissonnette had glacier water dumped from a helicopter onto his head. Bissonnette, better known as "BizNasty", then challenged NBA star LeBron James and NFL quarterback Aaron Rodgers to up the ante.
In any case, the Ice Bucket Challenge appears to be working. In just the last two weeks the ALS Association says it's collected well over a million dollars in donations. "There is so much value to the visibility that this is generating," an ALS Association representative said. "It's unquantifiable."
Of course, there's still a long ways to go. ALS remains a devastating illness, with only one in five people living more than five years after their diagnosis. And few Americans know what an ALS diagnosis means: according to the ALS Association, only half of the U.S. population has any understanding of the disease.