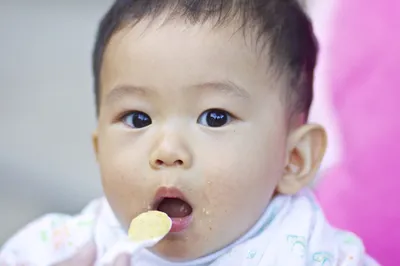 Heinz Canada has recalled six baby food products, according to the Canadian Food Inspection Agency. Heinz Canada says the recall is due to a packaging defect which may result in "spoilage microorganisms" affecting its products.
In response, the Canadian Food Inspection Agency says it's important parents not feed the six affected products to their young children.
The affected items include tuna sweet corn chowder; peas zucchini spinach; sweet baby vegetables; beef butternut squash rice spinach; beef bolognese with vegetables; and butternut squash apricot peas couscous.
The affected products are sold in 128-milliliter squeeze pouches.
According to the Canadian Food Inspection Agency, the good news is that Health Canada has estimated the risk associated with the recall to be "very low to remote." In other words, it's highly unlikely that any children will become sick as a result of consuming the recalled food.
Still, it's important that parents avoid using the recalled products. If you've already used the recalled food items, the CFIA says you should look out for symptoms like nausea and diarrhea.
More information about the recall can be accessed by contacting Heinz Canada at 1-888-570-1675 or HeinzCanada@Stericycle.com.
At this time there have been no reported illnesses linked with the recalled Heinz Canada baby products.