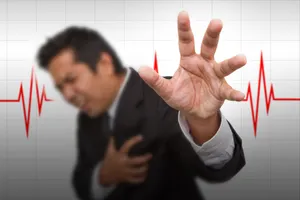 Prime Minister Stephen Harper has promised 10-million dollars in funding to place more defibrillators in Canada's hockey rinks, as part of a 2011 Conservative party promise.
The Public Health Agency of Canada will be charged with outfitting more than 1,500 portable defibrillators to 3,000 rinks over the next 4 years starting in the spring, and starting with rinks that lack them completely.
"A defibrillator will go to every recreational hockey rink from coast to coast to coast," says Prime Minister Harper.
Statistics from the Heart and Stroke Foundation, who supports the government program, claims that 40,000 Canadians experience a sudden cardiac arrest or stroke each year—oftentimes in hockey rinks and arenas. Without a defibrillator on hand, only about five per cent of them survive.
The portable defibrillator devices can provide electric shocks to restore a normal heart rhythm in the event of cardiac arrest or stroke.
We know that with minimal training, defibrillators are easy to use," says Harper. "We know that by making these devices more readily available, fast treatment can help save lives."
Source: CBC