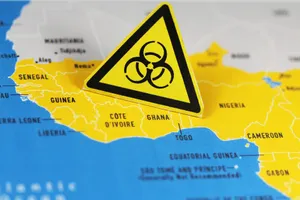 The World Health Organization sees hope ahead for the fight against Ebola in West Africa. In a new report, WHO says it believes it will be able to identify and isolate all new cases of the virus in the stricken region before May 2015.
The
report
, which is part of a new plan to close out WHO's long-running fight against the deadly Ebola virus, was released on Tuesday. It says that WHO believes that, by the onset of the rainy season in May, it can limit the spread of the virus to the coastal areas of Guinea, Liberia, and Sierra Leone–the countries hit hardest by the plague.
The report goes on to say that the number of cases reported each week has dropped considerably since last October. Today, only a few dozen new cases of the virus are reported on a weekly basis, most coming from Guinea and Sierra Leone.
That means there's much hope in Liberia, which has been ravaged by the virus since the outbreak began. According to WHO, the last confirmed Ebola patient died more than a month ago. If no new cases are reported by May 9, the country may be declared free of the virus. That said, many experts say making such a declaration will be premature until the entire region is safe from Ebola.
Looking forward, WHO says it remains focused on reaching "zero cases" and wants to make sure "a positive legacy remains after the crisis."
This most recent Ebola crisis, the biggest-ever outbreak of the virus, has claimed just under 11,000 lives.