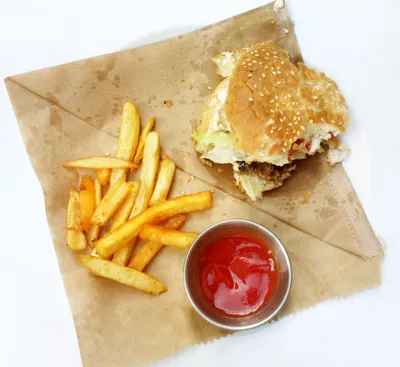 You'd think that sitting down for a meal at a nice restaurant would be a healthier choice than visiting the local fast food joint. But a new study shows that's not the case at all.
The study, which was led by University of Illinois researcher Ruopeng An, involved an examination of data collected by the National Health and Nutrition Examination Survey between 2003 and 2010. Information associated with more than 18,000 Americans was analyzed.
The study found that, no matter where you go to eat–whether it's a fine French restaurant or a local burger place–you're consuming about 200 more calories than if you eat at home.
The study also showed that eating at a restaurant can result in the consumption of more sodium and cholesterol than eating at a fast food joint.
How can we explain this? An says it's often related to the amount of food served at restaurants. "[Y]ou may be at higher risk of overeating in a full-service restaurant than when eating fast food," An said.
An added that people tend to eat more in restaurants because they're surrounded by friends, family, or coworkers, who can encourage excessive eating.
This is hardly the first study to reveal these kinds of findings. Another, very similar study showed that many individual and small-chain restaurants based in the downtown Boston area provided diners with two to three times the amount of food required by an adult for a single meal. In other words, restaurants make it very easy for us to overeat.