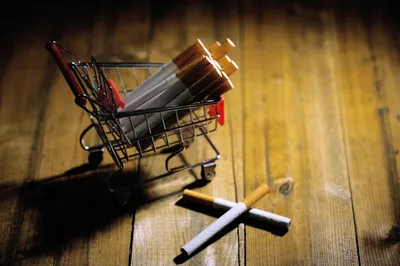 CVS, America's second-largest drugstore chain, is making two big tweaks: first, it's changed its name to CVS Health. Second, customers won't be seeing tobacco products when they head to the checkout counter at any of the chain's roughly 7,700 stores.
Starting immediately CVS Caremark will be known as CVS Health, though customers may not recognize the tweak because the company isn't changing any of its signs.
The more visible change involves the drugstore chain's decision to eliminate tobacco products, like cigars and cigarettes, from its shelves. Instead, the company will offer customers products designed to help them kick the habit, like nicotine gum. In fact, an Indianapolis-based CVS store recently offered customers free 'tobacco quit' packs where tobacco products used to be shelved. (The packs contain information on how to quit and Sudoku games designed to distract smokers from the habit.)
Experts say the changes are part of CVS' attempt to more clearly establish itself as a health care facility rather than simply a retail outlet. Many drugstores, including Walgreen Co. and Rite Aid Corp. (which still sell tobacco) have begun offering more health care products, including vaccinations and flu shots. Many have also added walk-in clinics, making their stores one-stop shops for all healthcare needs.
"We're doing more and more to extend the front lines of health care," noted CVS chief executive officer Larry Merlo.
But not everyone is convinced CVS is doing all it can to position itself as a health-oriented company. After all, the firm still stocks lots of sugary and salty snacks.
In their defence, CVS says those products don't pose a major health threat, so long as they're consumed in moderation. But, CVS representatives say, smoking should never be considered healthy.