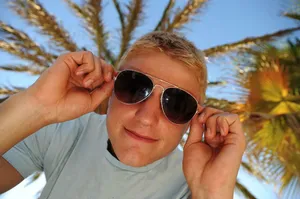 "I wake up in the middle of the night and it feels like my eyeballs were on fire, and I think, 'Oh, maybe I have sand in my eyes [so] I douse my eyes with water…it turns out I have sunburned my eyeballs and I go blind for 36 hours."
This was television host Anderson Cooper's retelling of how he sun burnt his eyes on a recent trip to Portugal, on his show, "Anderson Live." According to Cooper, his 36-hour blindness followed a day on the water, without sunglasses.
Don't shrug it off as media sensationalism…I mean who sunburns their eyes right? Dr. Deborah Sarnoff, a dermatologist at Cosmetique, New York and the Senior Vice President of The Skin Cancer Foundation, begs to differ and says that even though it's rare, a sunburn on your eyeballs is possible if you're not wearing the right protection.
"It's really important that everyone… especially people with fair or light eyes, wear sunglasses that protect against both UVA and UVB rays," says Sarnoff.
Well sure, we can slather in sunscreen all over our face, neck, and body, but without protective sun blocking eye drops, there is no protection for the cornea, or the outer eyeball layer, from the sun's harmful rays. If this layer of skin over the outer eye burns, the cornea will become inflamed (a condition known as keratitis), which can result in severe discomfort and even cause temporary blindness.
And like skin surface sunburn, sunburn damage to the eyeballs is cumulative, and it can cause chronic eye damage—such as cataracts—that puts you at risk for skin cancer—like skin cancer of the eyeball or melanoma of the retina—even during the winter, when sun reflects off surfaces like bright, white snow.
If you do suspect a burn to your cornea, book an appointment with your ophthalmologist right away. An eye care professional will typically prescribe numbing, antibiotic eye-drops for a few days in order to regenerate the top layer of skin on the cornea.
Source: CNN