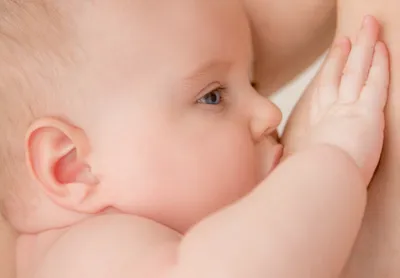 A new study suggests that breastfeeding your child longer could actually improve their IQ and help them earn more money.
The study, which was recently published in The Lancet, was based on a long-term examination of Brazilian infants born in the year 1982. It involved interviews with just under 6,000 new mothers about their feeding practices.
The study then followed the babies to age 30 (2012). "We were able to follow about 68-percent of the participants, which is a very good follow-up rate," noted Lessa Horta, one of the study's lead researchers. "We observed that breastfeeding was positively associated with performance and intelligence at 30 years old, as well as with education, school achievement and higher monthly incomes."
Specifically, the subjects who were breastfed for a year or longer had, on average, a 3.7-point higher IQ than those babies who were not breastfed. They also went to school longer and earned roughly one-fifth more money than people who were not breastfed.
It's a remarkable finding. Now, researchers must figure out why children who are breastfed tend to be smarter and earn more money. Of course, there are some things to consider: for example, the study did not take home life, intellectual stimulation, or the nature of parent-child relationships into consideration.
"This study does not address the very real possibility that mothers who choose to breastfeed, regardless of income or education, distinguish themselves from those who bottle-feed in all kinds of ways that are likely to promote intelligence," notes Joan Wolf, a Texas A&M professor and author of the book Is Breast Best?
Still, Horta thinks the findings are important. "It's more evidence that besides the clear short term benefits, breastfeeding also has long term consequences in terms of human potential," she said.