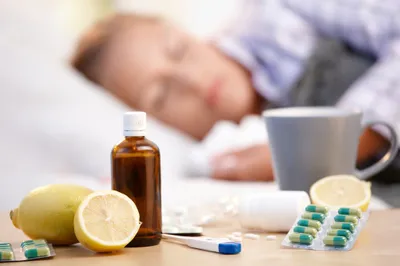 A new study suggests that if you're suffering from the flu and decide to take over-the-counter medication to reduce a fever, it's best to stay at home. That's because new research shows that such medication can actually increase the chances of spreading the flu to others.
The study, which was carried out by McMaster University researchers based in Hamilton, Ontario, Canada, has found that drugs designed to reduce fever can actually encourage the transmission of the influenza virus.
"Because fever can actually help lower the amount of virus in a sick person's body and reduce the chance of transmitting disease to others, taking drugs that reduce fever can increase transmission," noted David Earn, the study's lead researcher.
Just how much damage can these drugs — like medications with ibuprofen and acetaminophen — do? Earn and his team estimate that the number of lives lost each year to influenza could be reduced by 1,000 if people avoided these medications and stayed home, thereby avoiding busy workplaces and schools.
It's estimated that about 40,000 people succumb to the flu each year in the United States alone. The McMaster research believes avoiding anti-fever medication could cut that number by roughly five per cent.
"Given the way we put all these numbers together, it looks like if nobody took anti-fever when they got sick with influenza, the number of cases would go down five per cent, presumably the number of deaths would go down five per cent, and that's a lot of cases and a lot of deaths," noted Ben Bolker, a math and biology professor.
Of course, there are experts who suggest that many people won't have any choice in the matter. Montreal Children's Hospital physician Dr. Jesse Pappenburg says there will be cases where anti-fever medication is necessary.
"If the fever stopping you from being able to get out of bed and having that cup of soup to help you feel better, well then go ahead and take that over-the-counter fever medication," Pappenburg said.