Smoothies are a great option for people who aren't big on eating a full meal first thing in the morning or simply want to save some time. They're super versatile and can be created for any mix and match of ingredients, taken on the go, prepared ahead of time, and depending on what's included — packed with nutritious fruits and veggies.
Many people, myself included, use smoothies to replace a meal. I drink a smoothie first thing in the morning instead of eating breakfast. It's a great way to ensure I get lots of fruits and a big serving of spinach each day. Other people might use them for weight loss or other health reasons. Either way, they are a great solution! Here are some great meal replacement smoothies to try…
Are Meal Replacement Smoothies Effective?
It's no easy task to make an entire meal into a drink. According to LiveStrong, one traditional meal usually adds up to anywhere from 500 to 800 calories, whereas a meal replacement smoothie will contain between 200 and 300 calories. Obviously meal replacement smoothies will drastically reduce a persons caloric intake each day. This is why they are so popular among people trying to lose weight, but are they effective?
One small study of 25 older adults struggling with obesity published in the Journal of Nutrition, Health & Aging were able to help with weight loss. The researchers conducted a 12-week weight loss intervention with meal replacement products and found "clinically significant weight loss and improvements in cardiometabolic risk."
The bottom line is that meal replacement smoothies are a short term solution. You can't use them long term, but they might help with any short term weight loss goals. LiveStrong suggests using one meal replacement smoothie per day alongside whole foods in order to get the nutrients needed for a healthy, energized body.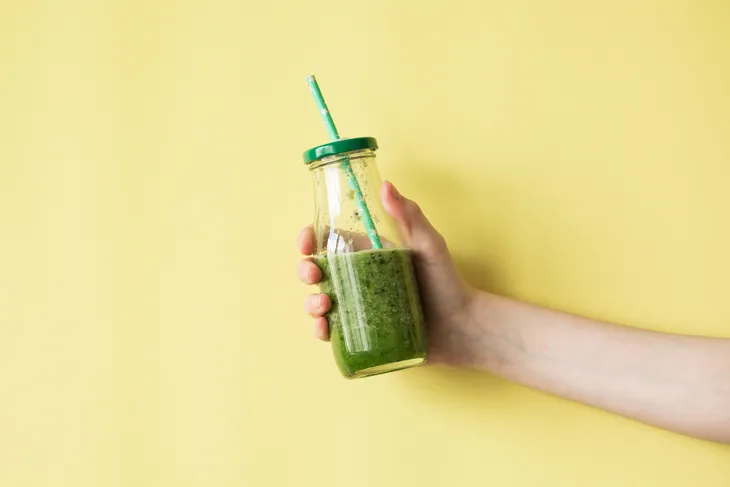 Most Important Ingredients
Meal replacement smoothies need to be nutritious and keep us full and energized until our next meal. To accomplish this, the smoothie needs to have protein and healthy fat. Protein provides energy, repairs muscles, and keeps us full. It is an essential part of our diet. You can add protein to a smoothie by using a powder (i.e. whey protein, casein protein, pea protein, etc).
Why are healthy fats important? They also keep us full and provide energy. "Fat is an energy provider," explains Mindy Haar, PhD, a registered dietitian and the assistant dean of undergraduate affairs at NYIT School of Health Professions to Healthline. "Fats are the last to leave the digestive tract and thus provide satiety." This keeps us from snacking between meals which can lead to unnecessary weight gain.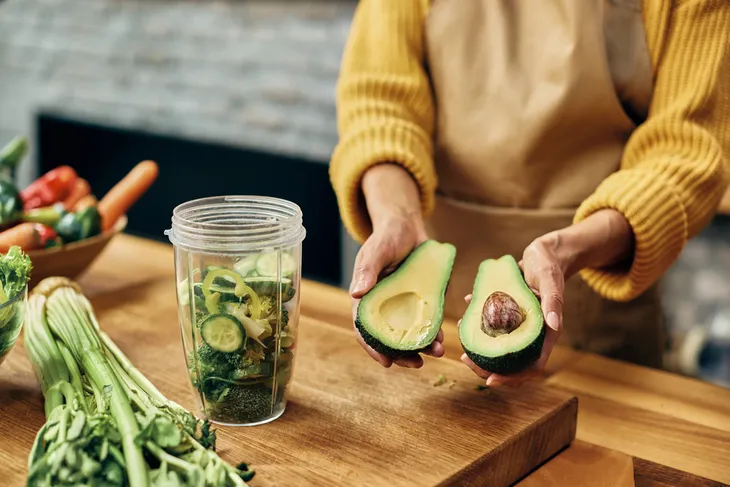 Blackberry Smoothie
This smoothie is super simple with only four ingredients (spinach, blackberries, banana, and coconut milk). The fresh blackberries give it a punch of berry flavor, and the bananas and coconut milk make it nice and creamy. Want the smoothie to be nice and cold? Make sure to use frozen blackberries and banana instead of fresh. Either option will work though.
As we mentioned earlier, if using this smoothie to replace a meal, you'll want to add some protein. Simple Green Smoothie recommends a scoop of any plant based protein powder. They suggest Protein Smoothie Boost because it has 10-grams of protein and 4-grams of healthy fats. You can access the full recipe here.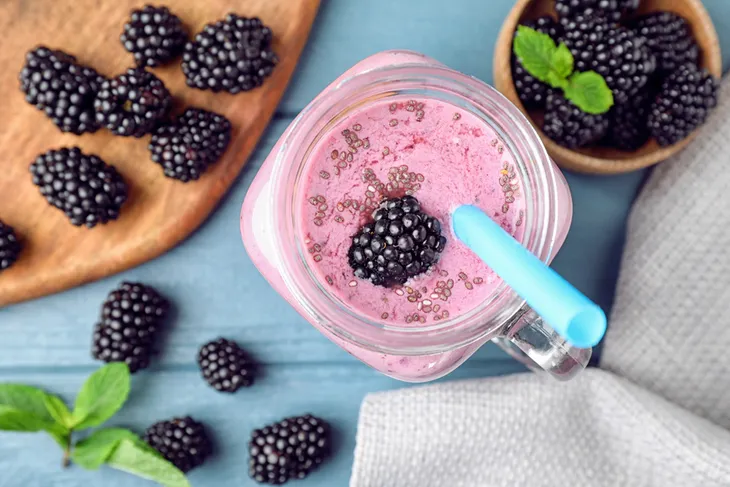 Chocolate Berry Smoothie
Anyone who is a fan of chocolate covered fruit or chocolate anything needs to try this smoothie! While it might seem odd that anything chocolate-flavored is healthy, in this case it's true! That's because we're using cocoa powder instead of a highly processed or sugary chocolate bar. This chocolate is full of antioxidants which can help reduce the risk of heart disease and offer protective benefits to our skin. Of course, berries offer similar if not more of these great healthy benefits.
To make this chocolate berry smoothie, Self Up suggests combining 2-teaspoons of cocoa powder, 3/4-cup of frozen berries, 1-tablespoon of chia seeds, 1 ripe banana, 1-cup of a plant based milk, 1-tablespoon of honey or maple syrup and 1-cup of ice. Toss it all in a blender and mix away!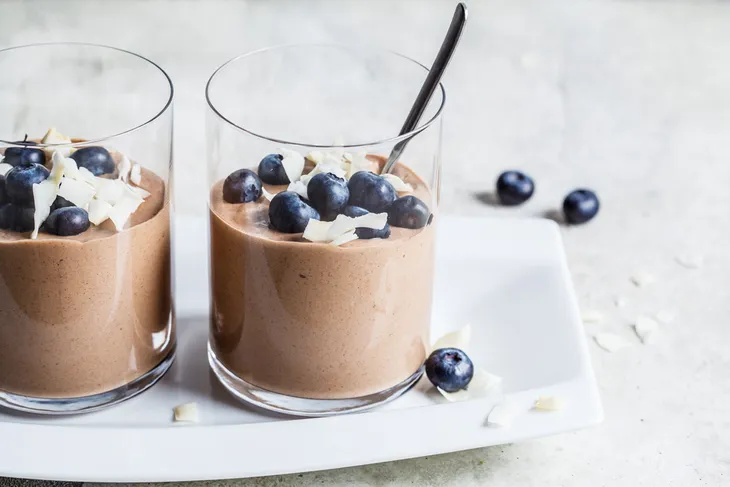 Pumpkin Ginger Smoothie
We associate pumpkins with Halloween and usually only use them as decor, but they are actually a great superfood that can aid in weight loss. They are also rich in vitamin A and high in antioxidants. This means pumpkin makes for a great base ingredient in meal replacement smoothies.
The Pumpkin Ginger Protein Smoothie on Self Up is one of our favorite recipes for the fall and early winter. Not only are the pumpkins in season, but the ginger in this smoothie can offer some assistance in battling those seasonal illnesses. Ginger is a natural remedy for nausea, muscle pain and inflammation. This recipe calls for 1-cup of pumpkin puree, 1 ripe frozen banana, a 1/4-teaspoon of cinnamon, 1/4-teaspoon crushed ginger root, and 1/4-teaspoon of vanilla powder. Toss it all in a blender and mix. You can add water to get a more desirable consistency.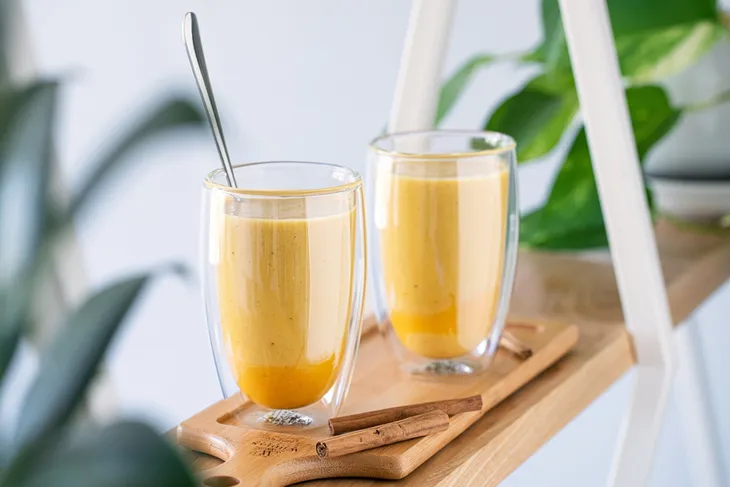 Creamy Avocado and Kale Smoothie
Feeling sluggish? This smoothie is a great pick me up, plus it's super tasty! The two base ingredients, avocado and kale, ensure this smoothie packs a punch when it comes to its nutritional value. These two ingredients, along with the cacao nibs, Greek yogurt, almond milk, frozen mango and honey provide a full dose of fiber, potassium, vitamin C and vitamin K.
According to My Modern Cookery, you can just toss all these ingredients into the blender and blend them on high until the texture is creamy and smooth. Once it's poured into a glass, top it with some more cacao nibs and start sipping!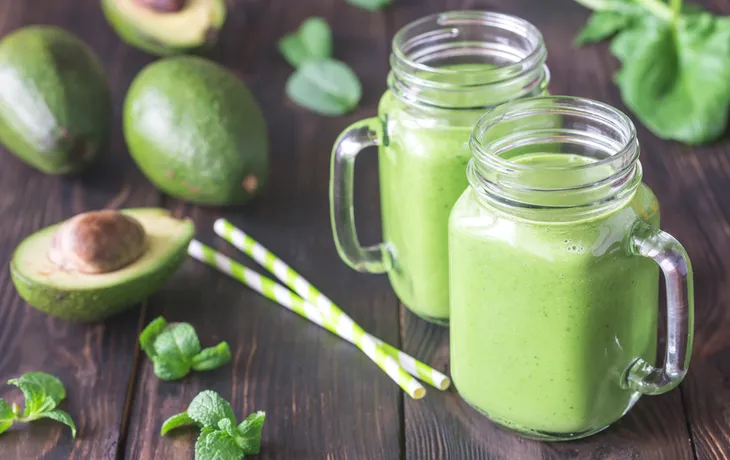 Chocolate, Peanut Butter and Banana Smoothie
Who doesn't love the combination of chocolate, peanut butter and banana? This smoothie is loaded with protein thanks to the scoop of chocolate whey protein. For those who don't like this powder or don't have it on hand, it can be swapped for a different more preferable protein powder. The chocolate gives it a rich, savory flavor while the peanut butter and almond milk make it nice and creamy.
The full recipe including more additional information can be found on the A Sweet Pea Chef website. But overall, all it takes is 1-cup of almond milk, 1-tablespoon of peanut butter (creamy), 1 ripe banana (fresh or frozen), 1/4-teaspoon of cinnamon, 1-scoop of whey protein powder, five to 10 ice cubes and the option to include 1-teaspoon of honey. Throw it all into a blender and enjoy!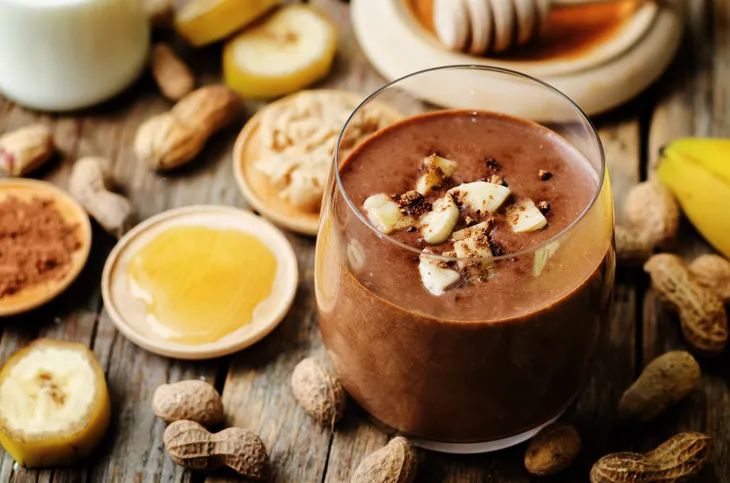 Fiesta Savory Smoothie
We're swapping out the traditional sweet and fruity smoothies for this fiesta savory smoothie! Modeled after the Slow-Carb Diet, this smoothie is more like a meal, a Mexican meal to be exact as it's loaded with tomatoes, avocado, cilantro, spices, and chickpeas for protein. There are also plenty of leafy greens in there too.
This recipe is a bit more complex with a longer list of ingredients making it a better option for lunch or dinner. Essentially it involves combining 1-cup of spinach, 1/2-cup of cilantro, and 1-cup of vegetable stock in a blender. Once that is smooth, add the remaining ingredients to blend again. You can find the full recipe, including all the remaining ingredients and their measurements on the Simple Green Smoothies website.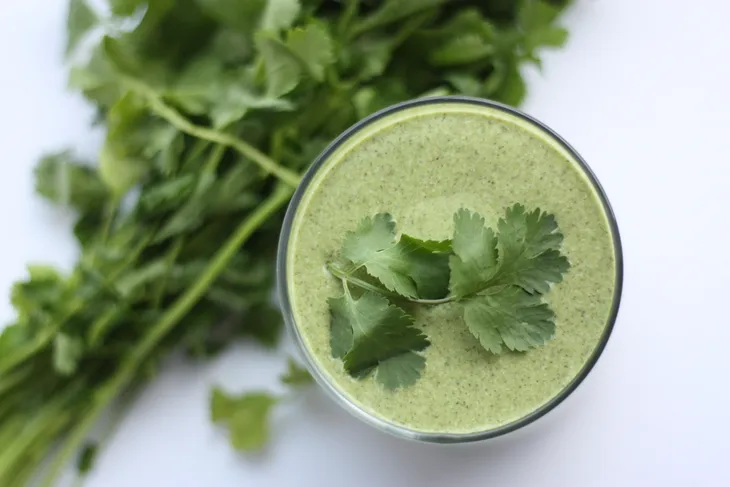 Strawberry, Banana, and Oatmeal Smoothie
A bowl of oatmeal topped with fruit is one of the healthiest breakfasts out there. So why not turn it into a smoothie?! Low Grows Wild offers a yummy Strawberry, Banana, and Oatmeal smoothie recipe that can be used as the perfect breakfast meal replacement. It's packed with protein and fiber which means it will provide all the energy needed for the rest of the day!
To make this smoothie first add 1/2-cup of almond milk, 1/2-cup pomegranate juice, 1-scoop of protein powder, 1-cup packed spinach to the blender and process it well. Then add 1/2 a banana, 1-cup frozen strawberries, and 1/4-cup of old fashioned oats and process again until completely smooth.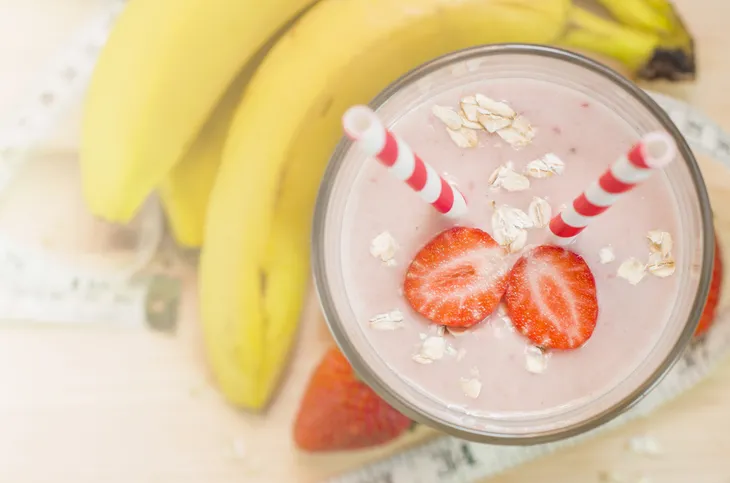 Vegan Smoothie Bowl
Hear us out…a smoothie in a bowl! If drinking a liquid meal doesn't sound appetizing, try a smoothie bowl. To make it more suitable for a bowl, these smoothies are just a lot thicker than the traditional smoothie. This one is the perfect one to start with because it's full of sweetness, including almonds, chocolate, and coconut. Plus, it's vegan-friendly.
The base of the smoothie bowl is 1-cup of spinach, 1/2-cup coconut milk, 1 frozen banana, 1-tablespoon of almond butter, 1-tablespoon of cacao powder, and 1-tablespoon of maple syrup. Blend this together and pour into a bowl. You then create a creative and decadent dish by adding toppings. For this recipe we suggest half a banana sliced, 2-tablespoons of almond slices 2-tablespoons of coconut flakes, and 1-teaspoon of cacao nibs. Access the full recipe online at Simple Green Smoothies.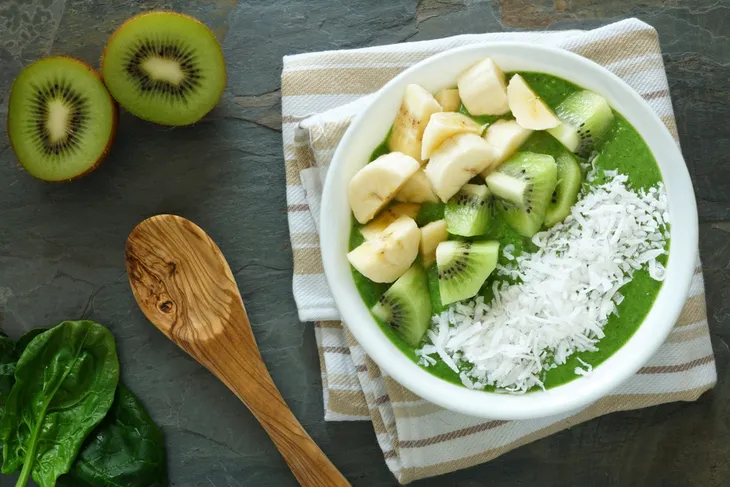 Cinnamon Date Smoothie
This smoothie is more like a dessert than any other kind of meal! You'd never know it's made with 100-percent whole food and plant based ingredients, ensuring that it's not only tasty, but nutritious too. Instead of using unhealthy, artificial sugars, Jen Hansard of Simple Green Smoothies sweetens this smoothie with medjool dates and vanilla extract.
Before combining the ingredients together, blend the oats until they become powdery. Once they've reached this consistency add the dates, any non-dairy milk (cashew, almond, or oat), vanilla extract, and cinnamon. Blend this together, then pour into a glass with 1-cup of ice! The ice is optional and 1-serving of Protein Smoothie Boost is also optional. If using, add in alongside the other ingredients in the second step.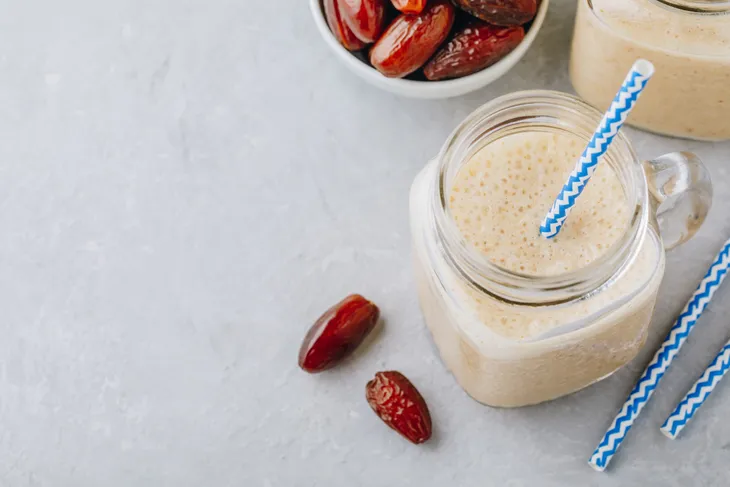 Avocado, Spinach, and Kiwi Smoothie
This smoothie should be titled the green monster! We've got three green superfoods — avocado, spinach and kiwi as the base of this yummy meal replacement smoothie. The kiwi will make it sweet, while the avocado gives it that desirable creamy texture we love, and the spinach packs a nutritious punch!
Since this smoothie is so filling it could easily be used as a lunch or dinner option. It calls for 1-cup of spinach, 3 peeled and sliced kiwis, 1/2 a ripe or frozen avocado, 1/2-cup of almond or coconut milk, 3-tablespoons of honey, and 1-cup of ice. Toss it all in the blender and mix until creamy.
Discuss with your dietitian first before the use of any of these smoothies because a liquid diet could cause bigger issues for people with medical conditions. Liquid diets or liquid meal replacements are not suitable for everyone.