It's no secret that swimming can be both fun and good for your health but knowing how to swim is also an essential survival skill. Swimming lessons may not eliminate the risk of drowning entirely, but they can help keep children (and adults!) safe around water and hopefully prevent accidents.
But when is the best time to start swimming lessons? And is it too late for adults who don't know how to swim to learn? We'll answer that and more. Here's a look at when it's the best time to start swimming lessons plus how to find swimming lessons near you.
When Is the Best Time to Start Swimming Lessons?
The best time to start swimming lessons depends on the child. The American Academy of Pediatrics (AAP) says a few things should be taken into consideration while deciding when to start swimming lessons, such as your child's "emotional maturity, physical and developmental abilities and limitations, and comfort level in the water." All children develop at different rates so this isn't a one size fits all decision.
That said, swimming lessons can start at around age 6-months. While there isn't any evidence that proves swimming lessons (at this young of an age) will lower their drowning risk, it is a great way to start getting your child used to being in the water. It's also a fun activity for parents and children to do together. The source also notes that recent studies suggest swimming lessons and survival skills training can "help reduce drowning risk for children between ages 1-4." If your child seems ready to start swimming lessons, go ahead and start them now.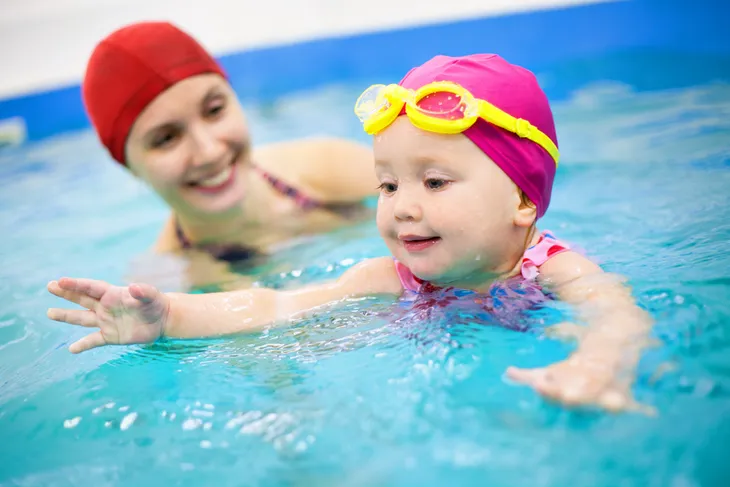 Can Adults Learn to Swim?
If you didn't have the opportunity to learn to swim as a child, you can still learn! Regardless of your age, it's never too late to learn. Plus if you have children, knowing how to swim can help keep them safe too.
Though it's common for adults to feel embarrassed, you shouldn't try to teach yourself. Learning the basics of swimming from a professional can help teach you the proper technique in a safe environment. Adult swimming lessons can be done in a group setting or one-on-one sessions. A good swim instructor should assess your current skills and teach you new ones to have confidence in the water. Once you're comfortable in the water, there are tons of fun water activities to explore besides swimming, such as surfing, snorkeling, paddle boarding, aquafit, scuba diving, and more.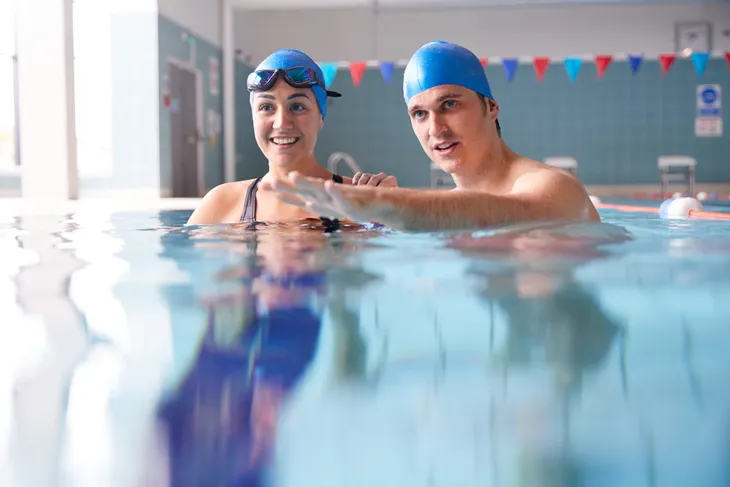 What to Look for When Choosing Swimming Lessons
If you've decided that your child is ready for swimming lessons, or if you're ready to learn to swim in adulthood, there are a few factors to consider when choosing lessons. The AAP says it's a good idea to look for lessons that not only teach different stroke techniques but also teach water survival competency skills. The source says some examples of these include how to get to the surface from underwater, how to propel yourself 25-yards, and how to get out of the water.
Other factors you should look for when choosing swimming lessons include:
A qualified and experienced swim instructor is a must. A qualified instructor should be certified through a nationally recognized program and should have current CPR and first aid certifications.
Teach you what to do if you end up in the water unexpectedly.
Teach good safety habits in, on, and near water.
Require multiple sessions. Swimming skills don't typically develop in one lesson. You should see gradual progress in their abilities over time.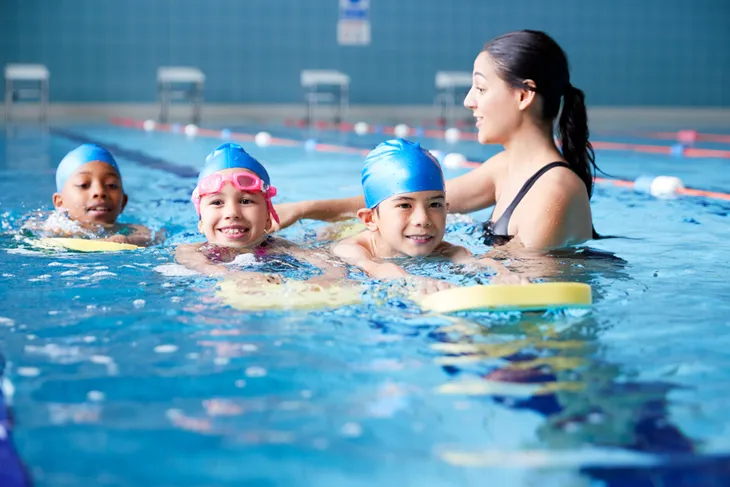 How to Find Swimming Lessons Near You
You can find swimming lessons near you by doing a quick search online. Find out what pools are in your area and look at what each pool has to offer. Make sure you read reviews too as this can provide valuable insight.
It may also be helpful to talk to family and friends who have already enrolled their children in swimming lessons. Personal recommendations are great because they come from people you trust. Private lessons are also available but remember to make sure the swim instructor is experienced and qualified.
Finally, once you've enrolled in swimming lessons make sure you assess the first class because not all classes are created equal. If your child is old enough and you don't have to be in the water, observe the class from the sidelines. To ensure it's the right fit you'll want to make sure each child is getting some one-on-one attention, the instructors are friendly and knowledgeable, and they should be swimming most of the time. Don't be afraid to try another location if you don't think it's a good fit.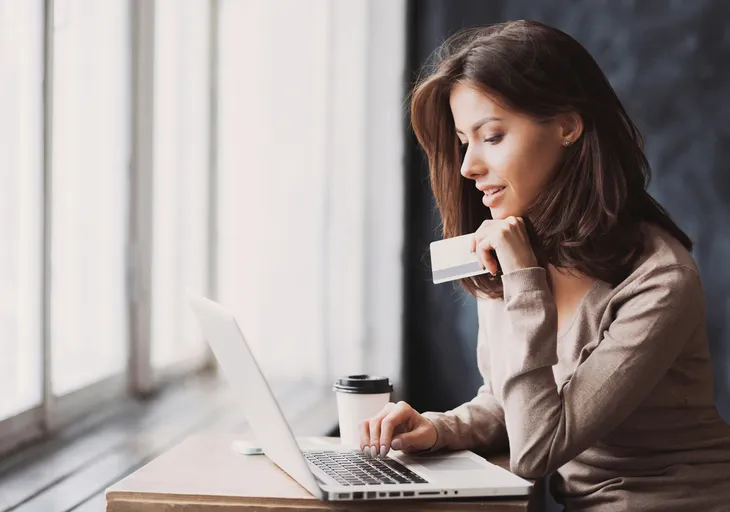 How to Save on Swimming Lessons
The main benefit of private swimming lessons is the one-on-one time you'll receive with the swim instructor. However, private swim lessons are typically far more expensive. One way you can save money is by looking for swimming lessons at public pools. According to Parents, public swimming pools are a lot more affordable and typically range from $10 to $20 per lesson.
Another way you can potentially save is by enrolling multiple children. Some facilities offer a sibling discount so be sure to ask. Finally, the AAP also notes that some towns have payment plans or scholarship programs that can help cover the cost of swim lessons at public pools.