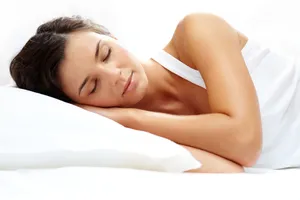 Looking to lose weight? Go to bed.
Getting a good night's sleep may be one of the most powerful weapons in the fight against weight gain, a new study finds.
According to research published in the Canadian Medical Association Journal, good sleep habits are associated with higher weight loss rates, and people who sleep well are more likely to keep off the pounds they shed than those who don't.
The study's authors claim that the standard formula for weight loss – burn off more calories than you consume – is overly simplistic, and that weight gain can be caused by a wider range of factors than was originally believed, including inadequate sleep. One of the reasons people who sleep less tend to struggle with their weight more is that they are awake for longer periods of time, giving them the opportunity to consume more calories.
"We know that short sleepers in general feel more hungry. And when we restrict calories in the diet of short sleepers, we know that if we already feel more hungry and you cut calories, hunger plus hunger means very hungry," said lead author Jean-Philippe Chaput, a specialist in preventive medicine who works on obesity in children at the Children's Hospital of Eastern Ontario, in Ottawa.
"If they want to lose weight, of course at some point they will need to cut some calories. But if they don't take into account their sleeping patterns, they might fail."
It is recommended that adults get 7 to 9 hours of sleep per night.
Source: CTV