As prominent public figures it's no surprise that the royals are obliged to follow a strict fashion and beauty code when it comes to their appearance. We saw Kate Middleton transition from a member of the public who wore Uggs and low-rise jeans to the polished and poised Duchess she is now. Then, the same transformation happened when Meghan Markle switched gears from celebrity to royal figure, which posed quite the challenge since Markle was accustomed to heavy on-screen and red carpet makeup. From Kate, to Meghan, and of course the Queen herself, follow along for 12 surprising beauty rules all royals must follow:
12. No nail polish
One of the most prominent royal beauty rules is that royals must have well-groomed, manicured nails with no polish or just a clear gloss. Queen Elizabeth is known for her disapproval of flashy nails and this includes both long nails and any sort of bright color. To follow the Queen's wishes, the Duchess is always photographed at public appearances with short nails with no polish on them.
11. Pale pink polish is acceptable
The one exception the Queen makes for her "no nail polish" rule is for a soft shade of pink lacquer. The Queen herself has spilled that her go-to polish has always been Essie's "Ballet Slippers" and is known for wearing this barely-there shade during many public appearances. It seems that Meghan Markle adopted this royal beauty tradition and donned a pale pink on her nails to show off her engagement ring from Prince Harry.
Shop the royal favourite, Essie "Ballet Slippers" here.
10. Always have a blowout
The Duchess is known for her persistently polished and bouncy hair that seems to never have problems with frizz or damage despite the weather. Her hair is consistently blown out and perfect, which is allegedly a royal beauty requirement for public engagements. Both Queen Elizabeth and Princess Diana had followed this tradition religiously during their own public appearances. Meghan Markle initially seemed to adopt this practice when she stepped out to announce her engagement to Prince Harry with perfectly blown out locks, but not long after many were surprised when she donned messy buns for appearances.
9. Updos must use a hair net
When a royal figure isn't rocking her tresses in a blowout, another viable option for hair is a polished chignon or ponytail. It is required, however, that even when the hair is styled in an updo it must still remain refined and without flyaways. For this to be possible, the Queen recommends using a hair net for increased longevity and protection against winds and weather.
8. No heavy eyeshadow
Prior to joining the royal family, Meghan Markle was recognized for her perfectly blended gunmetal smokey eyes and heavy false lashes. During her time as a senior working royal she definitely had to change that signature look! It is noticeable that Kate Middleton's eye makeup technique is quite minimalist. A swipe of champagne shadow, brown liner and light mascara is generally what is accepted for public appearances.
7. Wear hats to formal daytime events
The royal dress code states that all women must wear hats or fascinators to formal day time events. This explains why both Middleton and Markle wore fascinators during the Christmas services they attended. It didn't take long for Markle to create a reputation for resisting the royal dress code rules, and looking back it was quite noticeable that she was resisting a lot of the royal "rules" before it was announced that Markle and Prince Harry were stepping back from the public royal life.
6. Makeup must stay in place
All royal women are required to ensure their makeup and hair stays in place and remains flawless throughout the day. Royals are required to attend many public engagements, often lasting for hours and into the evening, so precautions must be taken to keep their makeup looking fresh. This requires touch-ups, a good setting powder to avoid looking shiny and a foolproof makeup setting spray.
5. No heavy contour
As an actress, Meghan Markle definitely isn't a newbie when it comes to makeup and learning how to perfectly sculpt the face. It seems that all those tips and tricks weren't much use to her as a royal because it is suggested that royals skip heavy contouring and instead opt for a light flush of pale pink or peach on the cheeks. Markle broke this rule during her Christmas public appearance.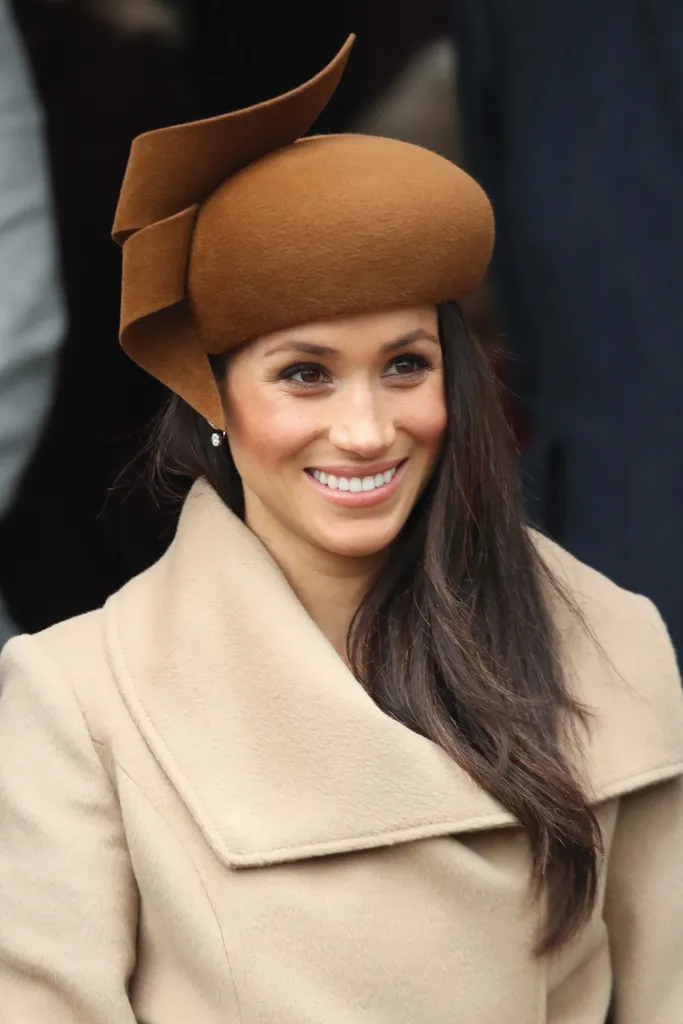 Photo by Chris Jackson/Getty Images
4. Crowns and tiaras reserved for formal events
Crowns and tiaras are undeniably the most prominent physical declaration of royalty, but surprisingly these sparkling pieces are often reserved for formal occasions! Princess Diana was quite impulsive and tended to wear tiaras on a regular basis, but Duchess Kate Middleton proves to be more modest and has only opted to wear a tiara a select few times throughout her time in the royal family thus far. According to Glamour, she's actually only worn a tiara a handful of times for highly formal occasions, one of which was her wedding.
3. Neutral or pale pink lipstick only
The royals are never spotted wearing a bright or eccentric lip color. Instead, they tend to opt for shades of light pink or a peachy nude that is modest and subtle. Meghan Markle broke this royal golden rule by rocking a high-shine lipgloss to attend lunch with the Queen. We're not sure how well this rule-breaking beauty look went over when the Queen caught a glimpse!
2. Must have a variety of go-to hairstyles
There are definitely quite a few royal rules surrounding hair, but one important rule is that royal women must have a variety of go-to styles. They must have an array of looks they switch through, rather than just one uniform hairstyle. Kate Middleton has definitely mastered this look and switches between her bouncy blowout, polished updos and even a neat and glossy ponytail on occasion.
1. Hide gray hair
Lastly, royal women rarely embrace their natural aging cycle and tend to dye their grays! There have been a few occasions where Duchess Kate Middleton was photographed with a few stray grays peeking through, only to have them vanish a few days later. Kate's colorist takes care of her pesky grays and keeps her glossy brunette locks always looking like absolute perfection.