Flowers play an important role in weddings. They are not only used as decor, from alter arrangements to tabletop centrepieces, but also greatly contribute to the overall aesthetic of a wedding. A venue can be absolutely transformed just by incorporating flowers.
While much of the focus is often spent on the bride's bouquet, another important accessory are corsages and boutonnieres! These flowers accentuate the groom's suit and tie him to the bride, while a corsage is reserved for important family members, such as mother-of-the-bride and groom. Here's a list of the 8 best flowers to use for a wedding boutonniere and/or corsage…
Chrysanthemums
Also referred to as mums, chrysanthemums are a classic. They have been been used in corsages and boutonnieres for decades. Chrysanthemums are hardy flowers making them a reliable choice for a long wedding day. They also come in a variety of different shapes and colors.
Their elongated petals are unique and visually appealing. It's for this reason they are also a popular choice for bridal bouquets, but who's to say the grooms can't join in as well?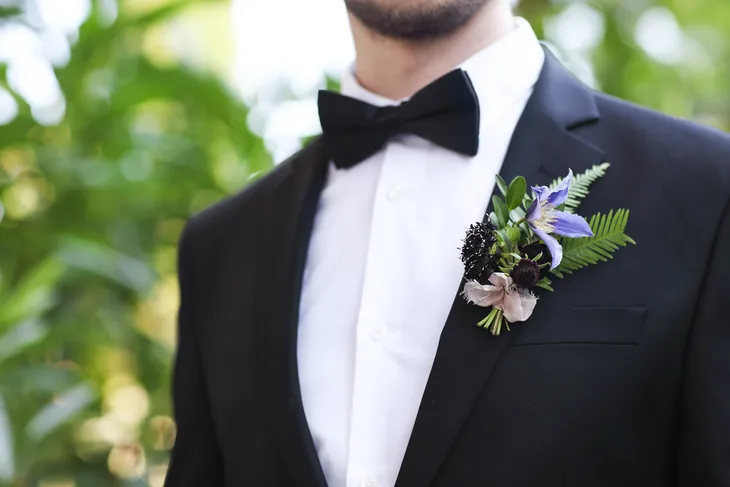 Roses
Roses in general are a very popular choice for weddings because they are beautiful, elegant, and come in an assortment of colors. Spray roses are a type of rose, but they grow multiple flowers on a branch and make a smaller bloom than long-stemmed roses, says Rachel Cho Floral Design.
Spray roses can be used in bud form or bloom. It's the small bloom that makes them perfect for corsages and boutonnieres. Similar to larger roses, there is a ton of variety when it comes to color choice.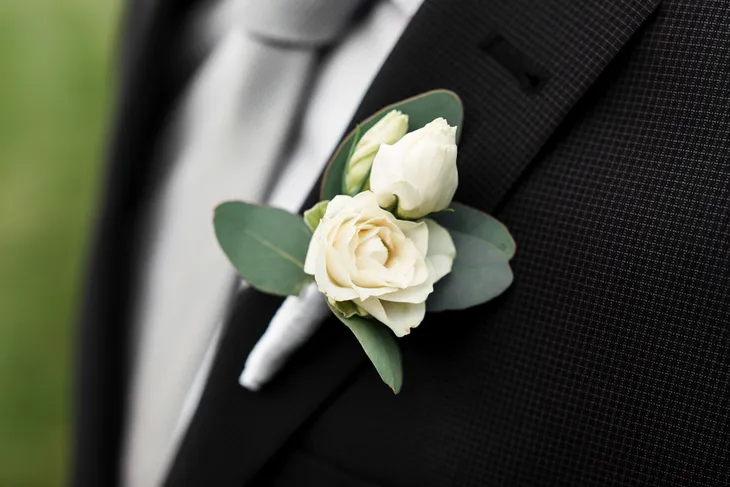 Wax Flower
Don't worry, these are real flowers not made of wax! Their name comes from the fact that they have a waxy appearance. Stemming from the myrtle family, this flowering shrub "produces stems dotted with delicate blooms of pink, white, crimson, or lilac," writes Rachel Cho Floral Design.
You can create a lot of great texture in a corsage or boutonniere with these flowers because they have soft, needle-like leaves. The source also notes they make great accents to larger flowers in corsages and boutonnieres.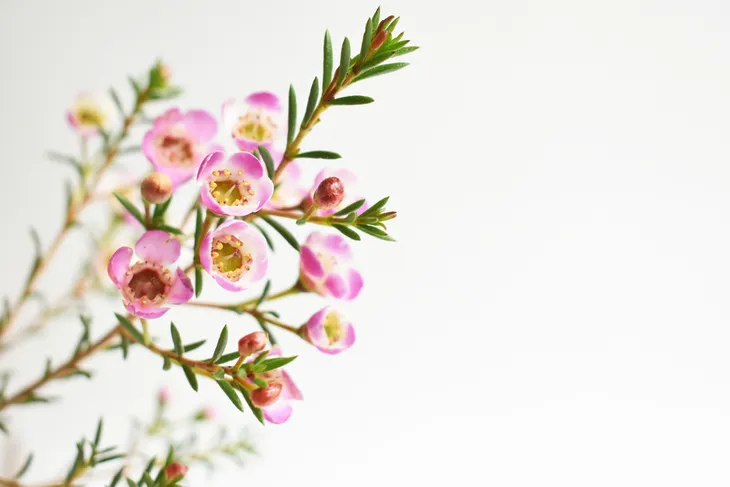 Orchids
If the theme of the wedding is elegant and exotic (perhaps a destination wedding), then the orchid is a great choice. You can find this flower in very bright and vibrant colors from pinks, yellows, and purples. Some have softer tones like white, lavender, and light green.
Orchids are more often used as a boutonniere than a corsage because their petals are very delicate. They must be pinned directly to the garment rather than worn on the wrist, explains Cascade Floral Wholesale. Try pairing a large orchid bloom with some smaller accent blooms, such as baby's breath, for a more elegant look.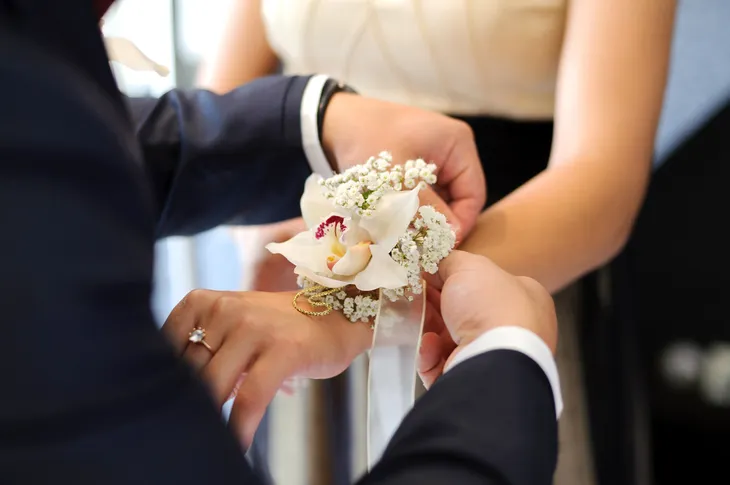 Ranunculus
When we think of flowers, we think of bright blooming colors that light up a room. This is exactly what ranunculus are known for — very vibrant with many layers of delicate petals. The petals of the ranunculus flower are so mesmerizing with their crepe paper-like texture, it almost looks fake!
Similar to other flowers on this list, what makes them so great for corsages in particular is their smaller bloom.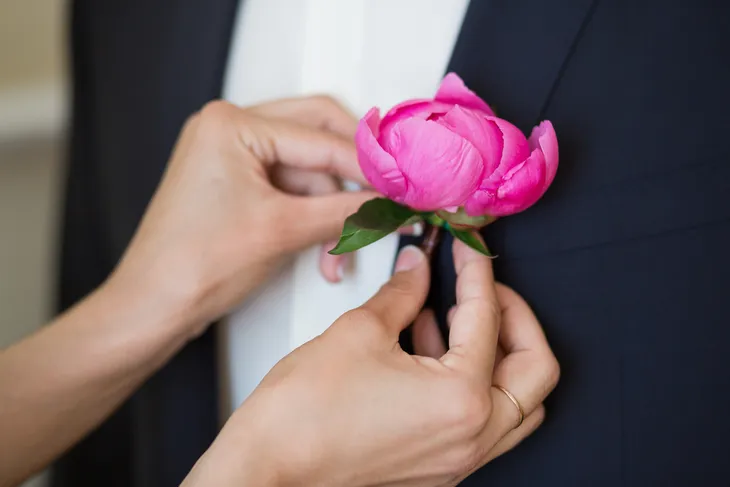 Carnations
Carnations are one of the easiest flowers to find when it comes to corsages and boutonnieres. They are among the most popular due to the variety of single or two-toned colors available (red and white being the top choices). People also like them because of their long-lasting quality, explains Cascade Floral Wholesale.
Most corsages are made up of carnations of all different colors or the same. Similar to roses, they are simple, yet elegant and each color holds a different meaning in terms of emotion, so use them accordingly.
Lisianthus
Anyone who is a fan of roses will likely be drawn to lisianthus flowers! Also known as paper roses (because they are much more delicate looking), these bell-shaped blooms are very similar to roses and in high demand for occasions like a wedding.
But, don't be fooled by their appearance! While they may look delicate, Rachel Cho Floral Design assures they are very hardy flowers. This is why they are a great addition to corsages and boutonnieres.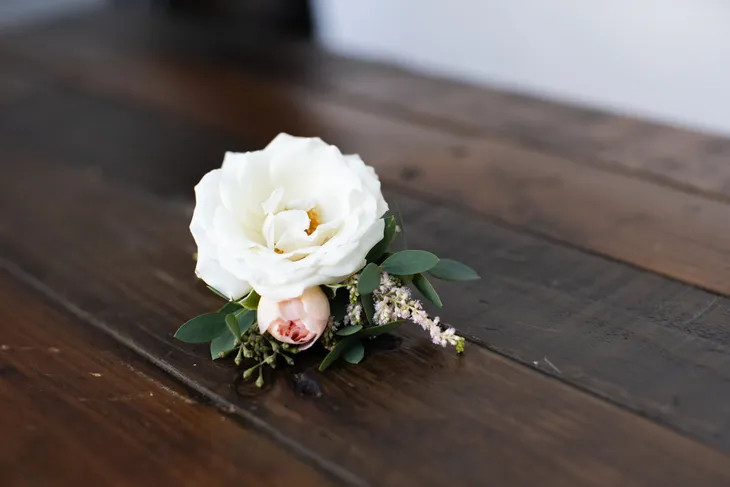 Calla Lily
Calla lilies are a great option for weddings because they are year-round blooms. You can find them in either white, red, pink, peach, or dark purple.
If using a calla lily in a corsage or boutonniere, they pretty much speak for themselves! Often a symbol of purity and faith, these flowers make a beautiful statement on their own. You can pin them directly onto the grooms garment.