While it might seem like just another vendor to book, a wedding florist is arguably one of the most important. They play a major role in the overall aesthetic of a wedding. From bouquets to boutonnieres, altar arrangements and center pieces, these flowers will be featured during many important moments throughout the day.
Flowers have the ability to completely transform a wedding venue, by adding color, greenery, and even some beautiful tabletop decor during the reception. As a result, it's important to find the right floral designer who can make your perfect day a reality. So, before choosing a wedding florist, here are 5 key questions to ask…
Are You Available On My Wedding Date?
This might seem like a silly question, but what's the point in falling in love with a vendor who ultimately isn't available on your wedding date? As most brides and grooms know, wedding vendors book up fast (especially the good ones)! They often need to be booked a year in advance.
If they are available, great! You can move forward with the following questions. If they aren't, but you really like their work, you can ask them for recommendations of other florists with a similar style.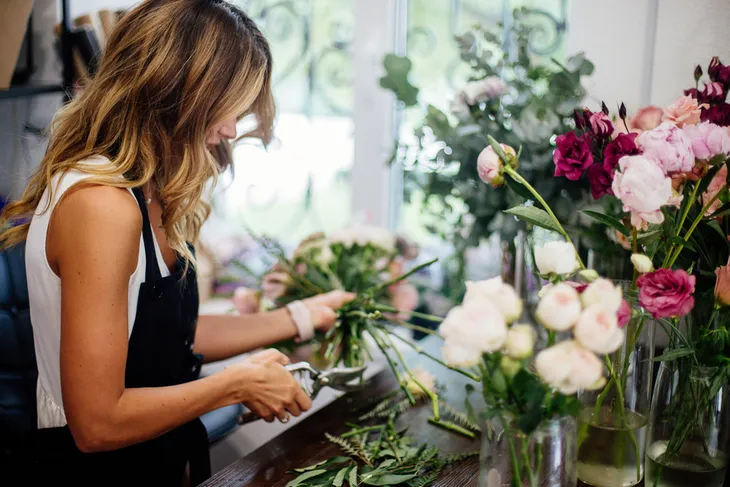 How Long Have You Been a Floral Designer?
When looking to hire someone for their services on your wedding day, always ask about their experience. This rings true when looking for a floral designer. While it's nice to support people who are first starting out, this particular day and event might not be a good time to do so.
Ask them about their experience, not only as a floral designer, but how many weddings have they worked on in the past. You want a seasoned pro or at least someone who has a couple weddings under their belt. This way if any unique situations arise on the big day, they will be able to handle them like a pro. Bonus points if they've previously worked at your wedding venue!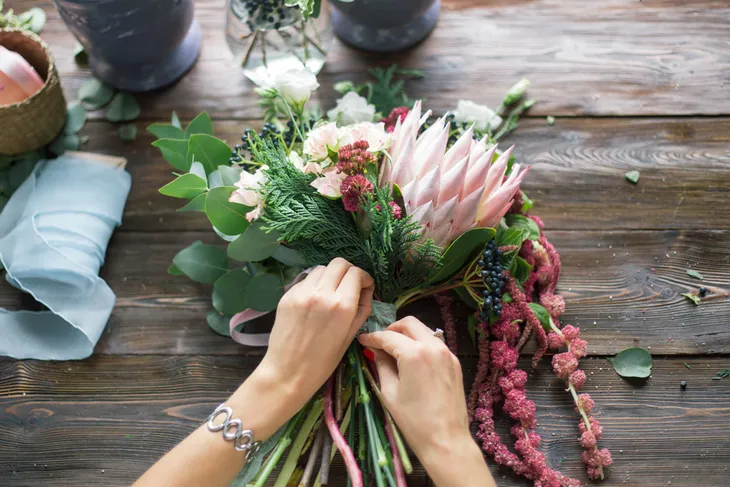 Can I See a Portfolio?
Similar to asking about work experience, you'll want to see their portfolio. As we mentioned earlier, flowers play a large role most weddings. You want someone who is able to provide the style and aesthetic you're looking for. Don't just take someone else's word for it, look at photos of their previous work.
They'll likely have hundreds, if not thousands of photos to show off. To get insight into their personal style, ask to see their favorite or a couple photos that represent their best work. Another great way to see their work is by searching for them on social media. Most people tag their wedding vendors in online posts, and the vendor will later repost these photos.
For even further diligence, contact references or read online reviews to gain direct feedback on their services.
What Flowers Would You Recommend For My Budget and Aesthetic?
You might have a favorite flower or color scheme when choosing bouquets, but most bride and grooms don't have a ton of knowledge when it comes to flowers. As a result, we put a lot of trust in our wedding florist to know all the important things like what blooms will be in-season, the best flower combinations, and of course, overall cost.
After providing the florist details about your wedding budget and overall vision for the day, ask them what flowers they would recommend. Of course, it's not necessary to choose your wedding flowers during this initial meeting, but it's a great way to gauge their knowledge about the industry, flower availability, color schemes, and more.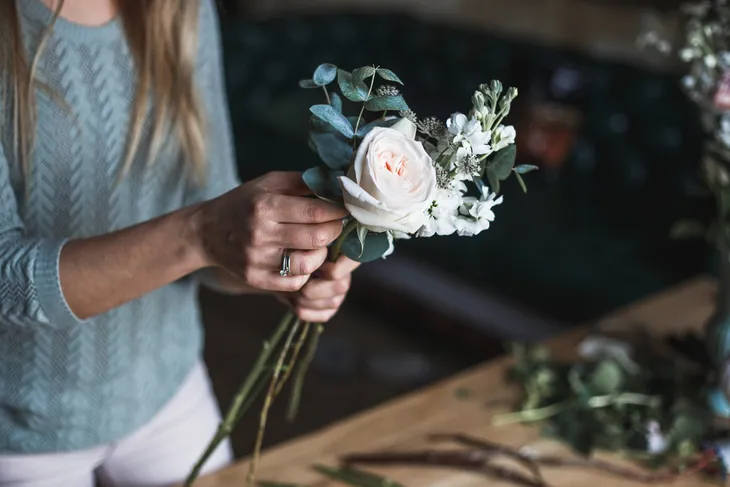 What Happens The Day of the Wedding?
There's a lot going on the day of the wedding — from hair and make-up, to getting photos, and making sure guests are transported to the ceremony, there's no time to be worrying about who's setting up the flowers! Every florist is different, especially in how they handle big events like weddings. Ask them about the logistics on the day of.
You're going to want to know how the flowers are getting to the event, who will be making the arrangements (and how far in advance), and lastly will they set them up? All of this largely depends on the capacity of that particular florist. If they are small business they might only be capable of making the arrangements and require someone to pick them up. Others might only drop them off at the venue and not set up, while some take care of everything from beginning to finish.