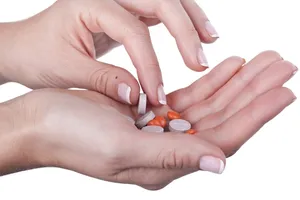 Common painkillers like Aspirin, ibuprofen and naproxen, won't just help alleviate your pain – they might reduce your risk of developing skin cancer as well. The news stems from a study conducted in Denmark and published in the journal Cancer.
The results of the research showed that individuals who routinely took non-steroidal, anti-inflammatory drugs were less likely to develop popular types of skin cancer including carcinoma and melanoma.
The study analyzed medical records of 18,000 individuals who had been diagnosed with skin cancer between 1991 and 2009. The data found in the medical records (including medication use) was then compared to a control group of individuals who had not been diagnosed with skin cancer.
After rigorous testing, the results proved that NSAIDS (the medications listed above) were associated with a 15 percent decrease in carcinoma risk and a 13 percent decrease in melanoma risk.
Despite proof that these painkillers might help reduce certain types of skin cancer, researchers insist that taking these medications for the purpose of reducing the risk of cancer isn't a good idea. For instance, pro-longed, regular use of Aspirin has been known to cause gastrointestinal bleeding.
The authors of the study hope the findings might provide fresh insights into the development of skin cancer and how it might be prevented.
Source: The Globe and Mail