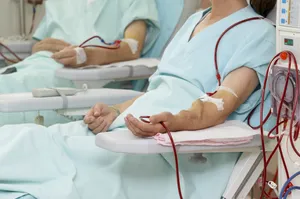 New York based, Keryx Biopharmaceuticals Inc., said a late-stage trial of its experimental drug, Zerenex, for kidney disease met the late-stage trial goal of reducing phosphate levels in blood. The positive results boosted Keryx shares up to 49 percent, selling for $4.80 on Monday's Nasdaq.
Because phosphate levels in blood rise when kidney function declines, which often results in anemia, Zerenex aims to reduce serum phosphorus levels, or hyperphosphatemia, in patients with end-stage renal disease on dialysis.
Zerenex also increases the levels of two proteins in the blood while reducing the need for intravenous iron and erythropoiesis-stimulating agent (ESA), an agent used to encourage the production of red blood cells. Zerenex, like Renvela and PhosLo, is a phosphate binders that attaches to phosphates in the gastrointestinal tract and prevent them from absorbing into the body.
The company expects to file for regulatory approvals of the drug in the United States and Europe in the second quarter of 2013, and if Zerenex, is approved, it will compete with Genzyme Corp's, Renagel and Renvela.
Ron Bentsur, Keryx CEO, points to the potential health and pharmaco-economic advantages of the company's new drug. "… Zerenex is the only phosphate binder that has the potential to transcend into another dialysis category, in this case anemia management."
Source: Reuters