Hydration is important for good health, particularly during warmer months. However, our human water needs vary depending on a lot of factors—such as body mass, level of health, activity, and environment. According to leading health organizations like the Mayo Clinic, the body is made up of approximately 60-percent water, so it's little surprise that proper hydration is required for simple body and organ functions, including to flush away toxins, maintain energy, deliver nutrients to cells, and to keep tissues healthy and moist.
However, plain old H20 doesn't always hit the parched spot, which is why these eight infused waters can provide a healthy and refreshingly delicious hydrating solution…
Herbal Tea Water
Fancy a spot of tea on a hot summer's day? Well, sun tea is a great way to herbally hydrate when the mercury soars. Have a cuppa without roasting up your kitchen by following these simple directions:
Toss 6 of your favorite herbal tea bags (I use green or rooibos) into a 2-quart glass container.
Fill with fresh water and seal.
Place the container outside or on a windowsill for about 3-hours, and let the power of the sun infuse your brew.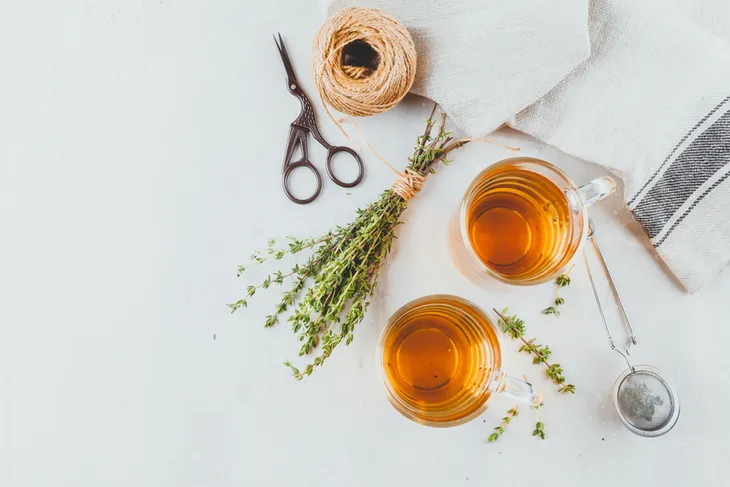 Cucumber-Mint Water
Nothing says cooling like a crisp combination of cucumber and mint! This juicy infused water concoction is filled with nutritious herbs with zero added calories or sugars. Plus, the mint is sweet without the need for added agave or honey. To make:
Slice half a cucumber.
Separate ¼ cup of fresh mint leaves.
Place ingredients in a clean glass carafe and muddle with a wooden spoon to release flavors.
Fill jar with cold, clean water.
Let refrigerate for an hour to release flavors.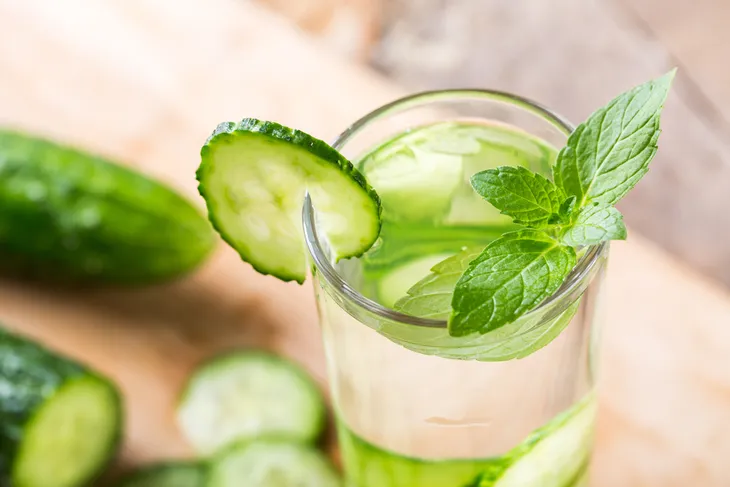 Lemon-Lime
Lemon and lime make a tart tasty water that needs little added flavor. However, my guests will often ask for a little agave or honey to lessen the acidity a bit. To hydrate with lemon-lime flavor:
Slice half a lemon and half a lime.
Place ingredients in the bottom of the glass picture and mash with a wooden spoon to emit juices.
Top with fresh water and enjoy!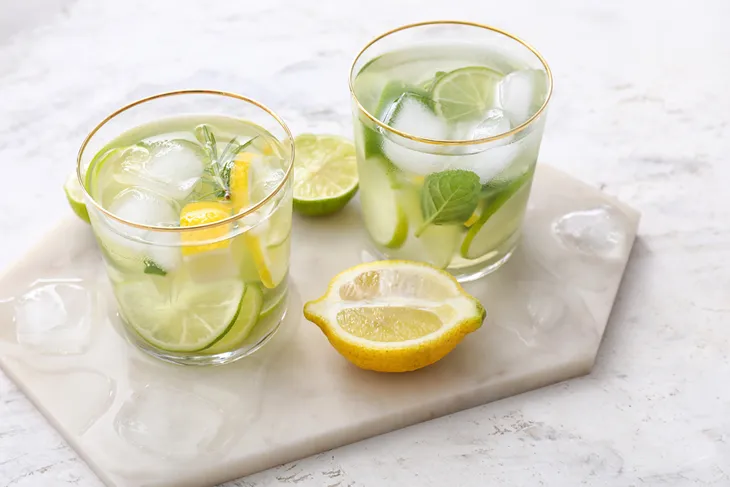 Strawberry-Basil
I love the garden-crisp tang of fresh basil when it meets sweet, juicy strawberries, which is exactly what to expect with this dessert-quenching strawberry-basil water. Prepare by:
Clean and slice a ½ cup of fresh strawberries, place in a juice container.
Muddle a ¼ cup of fresh basil leaves to release flavors in the container.
Add fresh, cold water and let refrigerate for an hour.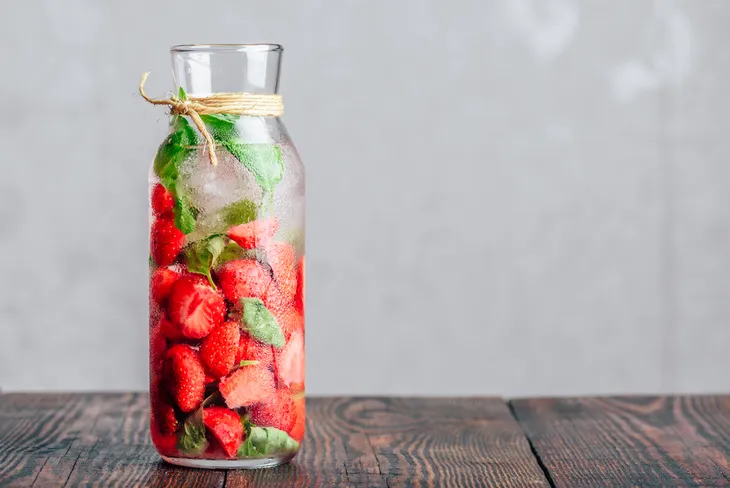 Watermelon-Mint
Mint is so wonderful in infused water that I can't resist featuring it yet again in this luscious watermelon and mint water. Make like so:
Dice 1 cup of fresh watermelon.
Separate ¼ cup of fresh mint.
Place in the bottom of the water picture and mash slightly with a spoon.
Top with cold water and let brew for an hour in the fridge.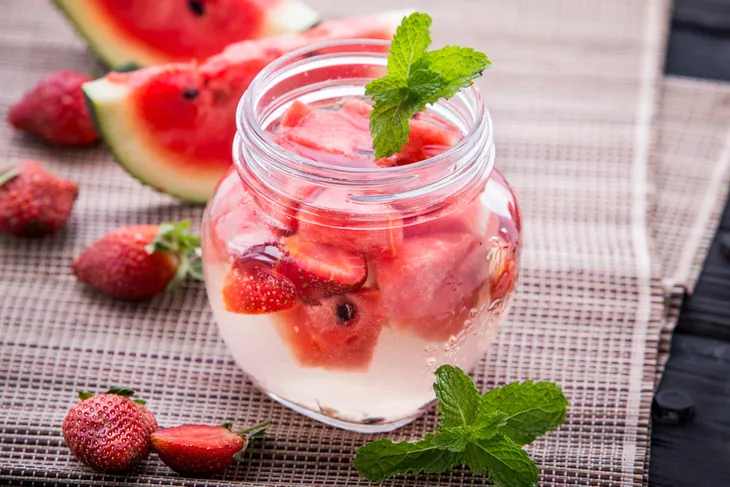 Pineapple-Mango
Just because you don't live in the tropics doesn't mean you can't create the taste through hydration. Whisk your taste buds to exotic locales like this:
Cube 1 cup of fresh pineapple.
Pit and dice 1 cup of fresh mango.
Muddle in juice jug to release the tropical taste.
Top with water and chill for an hour in the refrigerator.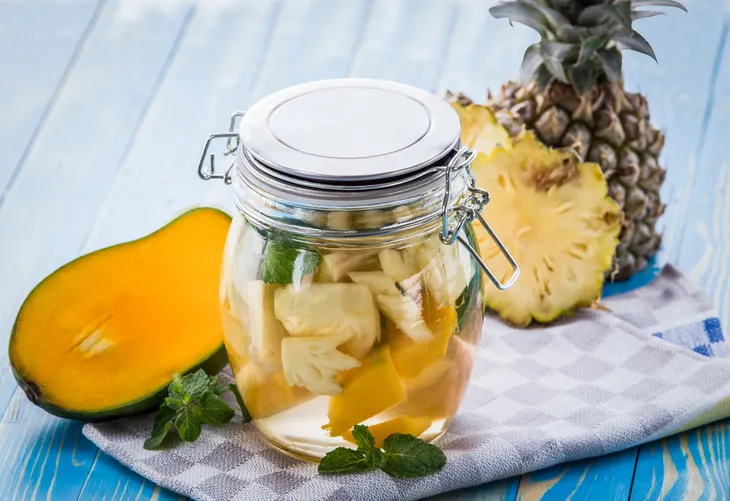 Apple-Cinnamon
Try apple pie in a cool, tall glass without the risk to your waistline with this delectable apple-cinnamon infused water. And you don't have to heat up your kitchen to enjoy this sweet treat, simply:
Clean, core, and slice an apple thinly.
Sprinkle 1 teaspoon of cinnamon spice, or 2 cinnamon sticks, in the bottom of a glass carafe.
Muddle slightly with a spoon.
Top with cold water, let chill, and enjoy!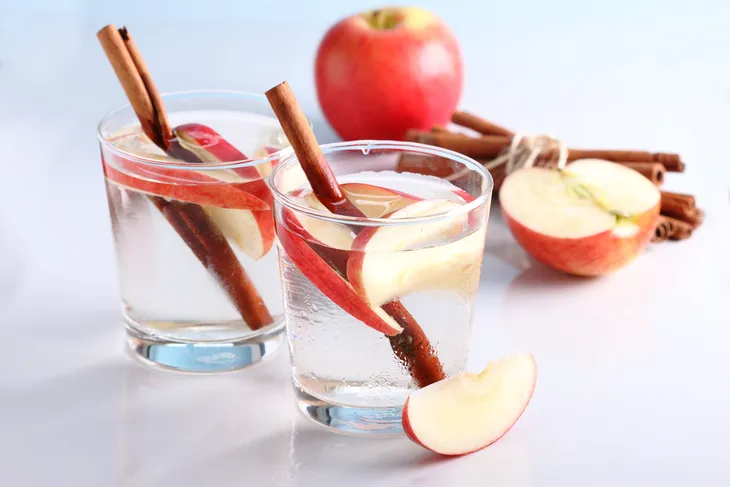 Ginger-Orange
This flavorful mash-up of fresh ginger root and tangy citrus creates a calming and tummy-calming (thanks to the natural benefits of ginger) drink. You may need to add a teaspoon of agave or a dollop of honey to sweeten slightly. To prepare:
Grate 1 tablespoon of fresh ginger root.
Slice ½ an orange.
Muddle in juice pitcher with a spoon to encourage essence release.
Fill pitcher up with cold, water and start slurping!