The holidays are a special time where families and friends gather together, oftentimes over food.
Unfortunately, many holiday staples we enjoy during this time of year contain gluten. This poses a problem for people on a gluten-free diet.
Some of the biggest offenders are stuffing, cornbread, gravy, casseroles, and cream-based soups.
The holidays are a magical time of year. People come together to spend time with their loved ones and usually do so over food. The classic holiday spread often includes gravy, stuffing, pies, rolls, and a whole lot of gluten! This poses a problem for people who are on a gluten-free diet either due to an allergy or an intolerance.
Thankfully, the food industry has come a long way and there are plenty of gluten-free products with easy swaps and substitutes that can be made in most recipes. But this can be hard to do when spending the holidays in someone else's home. To better navigate these events, here are some tips on what foods to avoid on a gluten-free diet, as well as some foods that are safe to eat!
Gravy
There's nothing better than a rich, creamy gravy on top of some mashed potatoes, stuffing, or turkey. Yum! The holidays is the one time of year when it's acceptable to pour gravy over every food item on our plate. Unfortunately it's a hidden source of gluten. According to Better Nutrition, gravy is often prepared with wheat-based flour and fat.
Like many other dishes on this list, gravy is easily made gluten-free. You can swap the wheat-based flour with a coconut flour or if going the pre-packaged route, simply purchase a brand that is labeled as gluten-free. If attending someone else's holiday dinner, just whip up a gluten-free option at home and bring it along! People just might like this version better, or better yet, not even be able to tell the difference.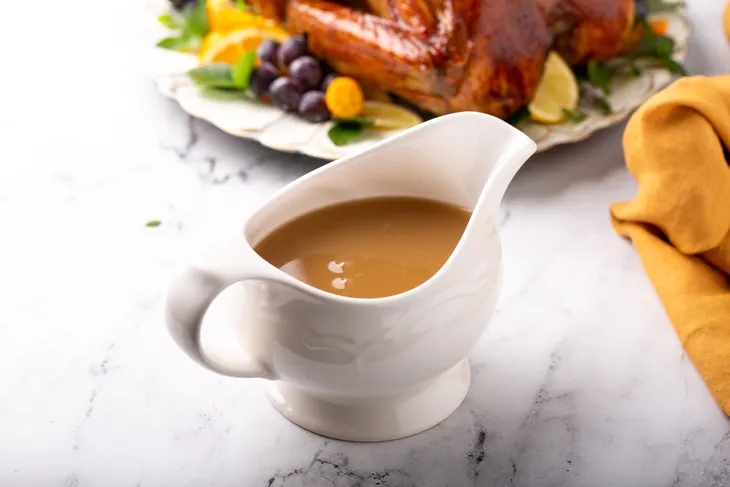 Turkey
The turkey is the heart of a holiday spread. You can find one on every table during the holidays, whether it's stuffed, deep-fried, oven-roasted, or just a plain old turkey. An unprocessed, plain turkey is gluten-free. If this is the type of turkey being served, it's safe to eat! However, be wary of turkeys seasoned or marinated with anything containing gluten, or even injected with brine which may also contain gluten.
When in doubt, just as the hostess. In fact, it's probably a good idea to call ahead to just warn the host or hostess of any dietary restrictions so that they aren't scrambling at the last minute. People on a gluten-free diet also need to avoid turkeys that are full of stuffing (unless it's a gluten-free stuffing). If eating at a restaurant, ask the chef or manager.
Stuffing
Okay stuffing is literally made from bread with a few other ingredients included, so it probably isn't all that shocking to see this holiday staple on our list. Grains (aka stuffing) is the number one food people with a gluten allergy should avoid, says the Gluten Free Society. Of course, bread is listed as one of the most common foods containing gluten.
Personally, I wouldn't be able to give up stuffing! And people with a gluten allergy or intolerance don't have to! You can easily make a gluten-free stuffing dish. You simply swap the bread out for a gluten-free option. Just be wary of any other ingredients that are used in the recipe that may also contain gluten. To be safe, follow a certified gluten-free stuffing recipe like this one.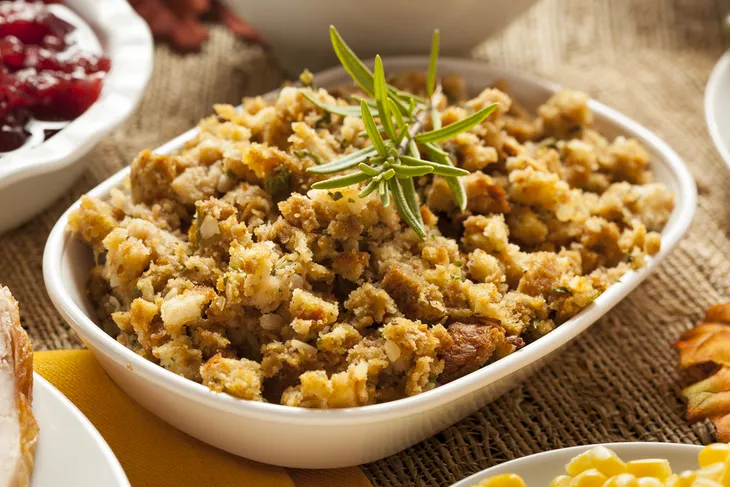 Alcohol
For some people, an alcoholic beverage is a key ingredient to getting through all the holiday family dinners and events. All joking aside, people who are gluten-free need to be cautious around alcohol. It might not be at the top of their mind when thinking of gluten foods to avoid, but almost all commercial beers contain gluten. You can find gluten-free beers, but don't assume all are. They are usually labeled as such if they are.
Better Nutrition also warns that rye, whiskey, bourbon, and scotch are made from gluten grains. "The distillation process used to make these beverages generally makes them safe to consume, but some people with celiac disease (an autoimmune reaction to gluten) report adverse reactions when drinking these liquors," writes the source. Instead, reach for gluten-free drinks like rum, potato vodka, or tequila.
You can sometimes also drink wine since it's mostly made from grapes, but the source also warns that some wines may contain gluten thanks to the added colorings or flavors. You need to read the labels or even contact the manufacturer to be sure.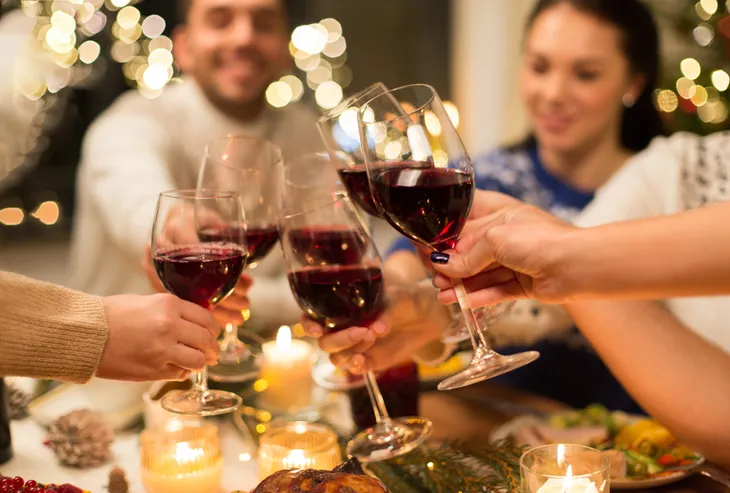 Imitation Turkey and Meat Products
Are you gluten-free and vegan or vegetarian? Beware of meat imitation products! During the holidays vegans and vegetarians might opt for a tofurky roast or some other form of meat substitute, but if you're also gluten-free, this might not be the best option. According to Better Nutrition, most of these substitutes are made with wheat gluten, "a concentrated source of the problematic protein."
To ensure no one gets sick this holiday, just avoid these products altogether. Or, like many of the other dishes on this list. Just make a seasonal meatless dish from scratch by using naturally gluten-free or certified gluten-free ingredients.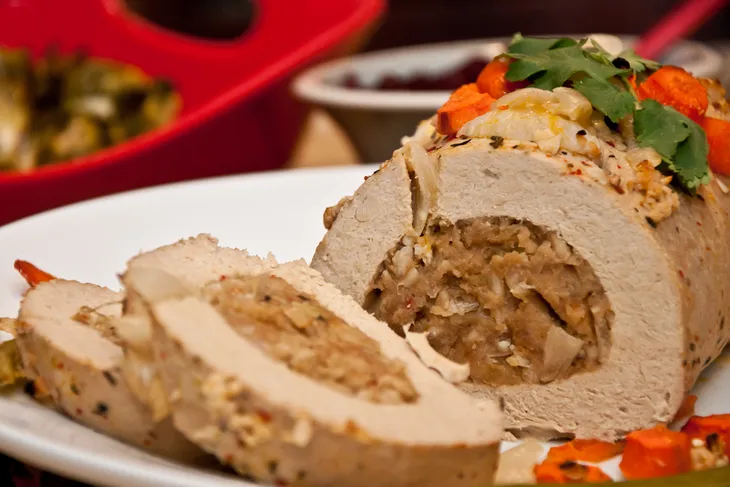 Scrambled Eggs and Omelettes
For many families, the breakfast we enjoy on Christmas day or during the holidays is just as important as the dinners! And similar to any other holiday meal, people who are on a gluten-free diet need to be alert to the potential dangers during this meal. This is especially true if eating out at a restaurant.
Even ordering a seemingly harmless dish like scrambled eggs or an omelette may contain gluten because some chefs add pancake batter when making these dishes. They might also use a packaged egg product that contains batter or flour to fluff the eggs, warns Better Nutrition. Even if these two things aren't occurring, there's the potential of cross contamination. They could cook the eggs on the same grill as the one used for pancakes. Talk to the waiter and inform them of any dietary restrictions or allergies.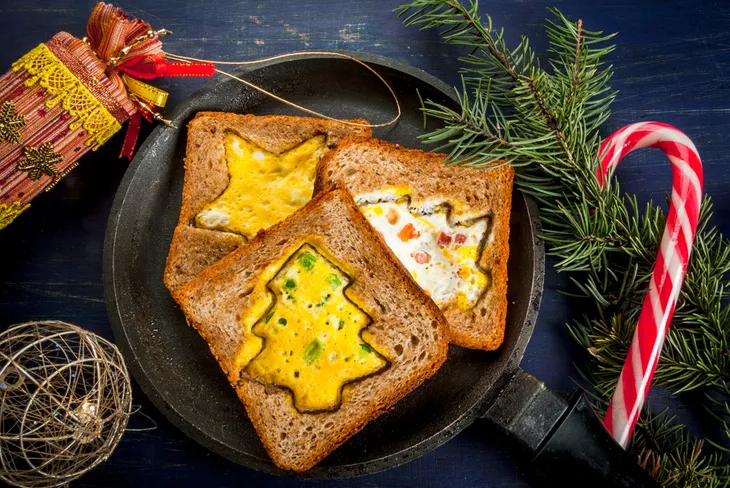 Soup
It might be surprising to see soup on here but a lot of commercial soups do contain some gluten. This is even true in the clear broths and bouillon cubes, and of course anything that starts with "cream of…" The best thing to do when eating at a restaurant or as a guest in someone's home during the holidays is to air on the side of caution and just avoid all soups.
Of course, soup can easily be made gluten-free, it just requires a little extra work. If making a holiday meal at home with soup, make a homemade broth instead of using a store bought one or use a gluten-free broth.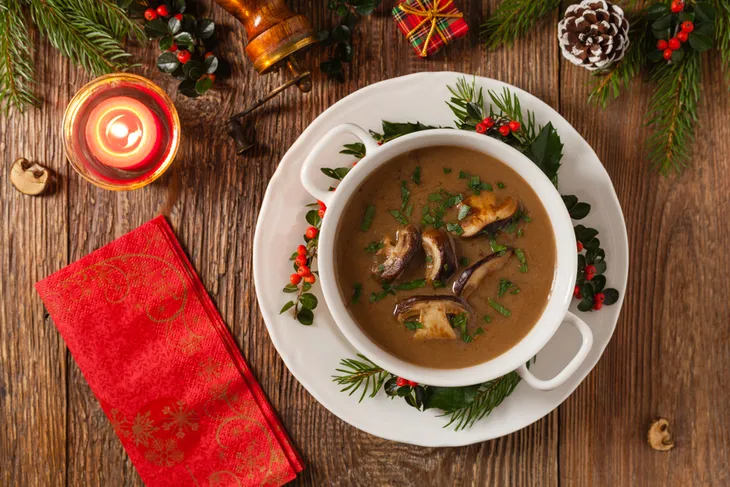 Cream-Based Dishes
Cream-based dishes like casseroles or mashed potatoes mixed with cream are so rich and delicious. However, what makes them taste so good is also what makes them so dangerous for people who are either allergic or have an intolerance to gluten. Similar to soups, most of these dishes are made with a gluten cream-based soup.
For example, cream of mushroom soup is a common ingredient in most holiday casseroles. If attending or hosting a holiday dinner, whip up a gluten-free side that is a lot healthier but just as tasty! Better Nutrition suggests serving some green beans with toasted slivered almonds.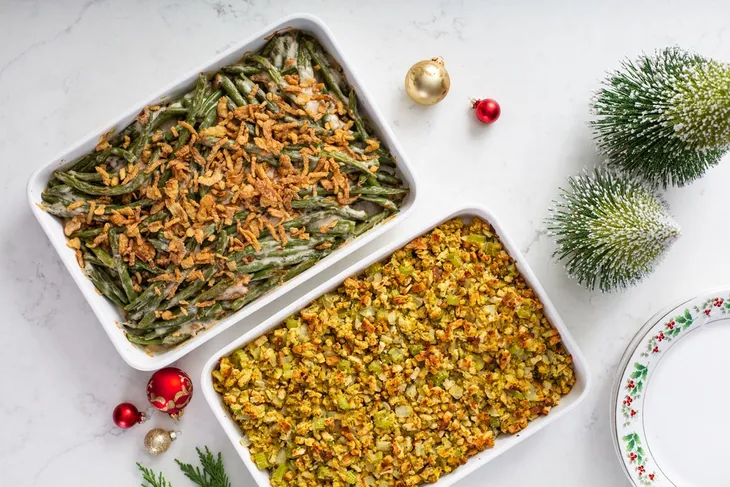 Beware of "Gluten-Free" Foods
We agree this one is kinda surprising, especially since we've been advising people to swap out gluten foods for gluten-free substitutes. However, Better Nutrition warns that not all "gluten-free" foods are completely free of gluten. While they should adhere to the U.S. Food & Drug Administration (FDA) guideline's to gluten food labeling which requires these products to contain less than 20-ppm gluten, some people may still get sick from these low levels.
Depending on the severity of your allergy or intolerance, this one is going to vary from person to person. People who have eaten gluten-free foods before and know they can tolerate them should be fine. But for those who still have some semblance of a reaction, it's best to avoid pre-packaged gluten-free foods altogether. Better Nutrition suggests purchasing products that have been certified by organizations such as the National Celiac Association, the Gluten Intolerance Group, or the Allergen Control Group/Canadian Celiac Association.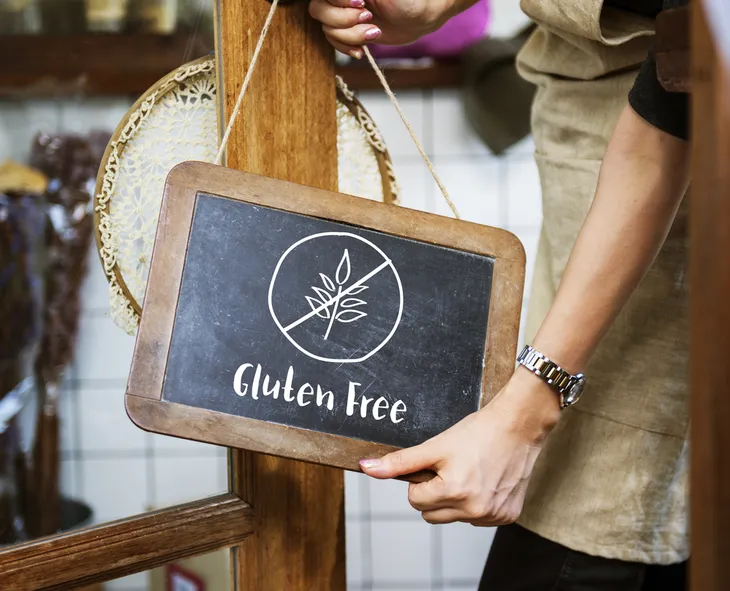 Some Teas
Tea isn't exactly the first thing that comes to mind when a person thinks of gluten. And for the most part, it's not really a high risk gluten food. However, some special holiday blends can include gluten-based flavors like a barley malt to sweeten the tea. Your safest bet is to go with a single ingredient tea, such as black tea, green tea, white tea, or a rooibos tea. These are all naturally gluten-free.
Again, always read the ingredients or labels, if possible. Some flavored teas may have a base that contains gluten, even naturally gluten-free teas can contain added gluten ingredients, warns Better Nutrition. Be a label reader or do the extra leg work to find a certified gluten-free variety of tea. You could even bring it as a gift to the host or hostess for people to enjoy after dinner!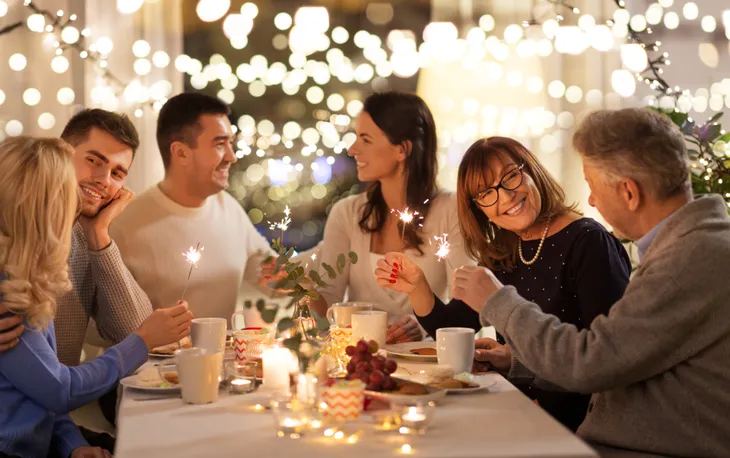 Cornbread
Cornbread literally has the word 'bread' in its name so it might not be all that surprising that it contains gluten. But for those who didn't know, not all cornbread is gluten-free. In fact, Gluten-Free Living notes that most regular mixes and recipes of cornbread call for cornmeal and wheat flour. This makes it a no-go for anyone who cannot eat gluten.
To make this dish gluten-free, use a speciality mix that is specified as gluten-free. There are lots of pre-packaged mixes available on the shelf in the grocery store. You can also make one from scratch, like this recipe here or here.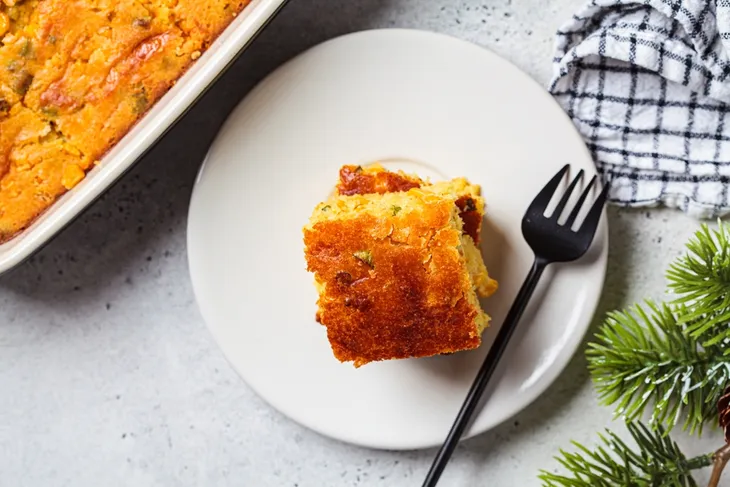 What Should I Eat?
While they are certainly not the most exciting, vegetables and fruit are the best gluten-free go tos. If there isn't likely to be a variety of these on the table, offer to bring a vegetable side dish or a fruit and vegetable tray. If you're the one hosting, be sure to offer something around this food group that doesn't contain a lot of other ingredients. A simple dish of green beans or Brussel sprouts is still on theme with the holidays and usually safe for everyone to eat.
Other holiday staples that are usually safe to enjoy are ham. Just make sure the glaze doesn't contain a wheat starch. You can also eat most traditional mashed and sweet potato recipes, says Gluten-Free Living. Just double check before loading it onto your pate because some people will add a little flour to their mashed potatoes to thicken them.