When hunger strikes eating high protein, low fat snacks can stop you from grabbing unhealthy options that will only make you crash later on. Snacks made up of simple carbohydrates will give you a temporary burst of energy but you will quickly lose that energy boost and fizzle out. With protein, the energy is sustained for a longer time with fewer high peaks and large drops. On top of that, protein also helps you feel full with less fat and calories.
When that midday hunger comes on try one of the healthy high protein, low fat snacks on our list. We've compiled a list that has something for everyone! From nuts to cheese, these snacks will satisfy your hunger and keep you from grabbing more unhealthy treats later on. Take a look!
Greek Yogurt
Greek yogurt is similar to traditional yogurt but it's thicker and creamier. It's one of the perfect high-protein snacks that makes you feel like you are having a cheat meal. At 18-grams of protein in just 1-cup, greek yogurt will fill you up without weighing you down. It also contains plenty of calcium and potassium.
Pair your greek yogurt with fresh berries for a fun summer treat or stir in some chia seeds. Watch out for high sugar brands, they'll give you the protein you want but also extra calories that you most likely don't want.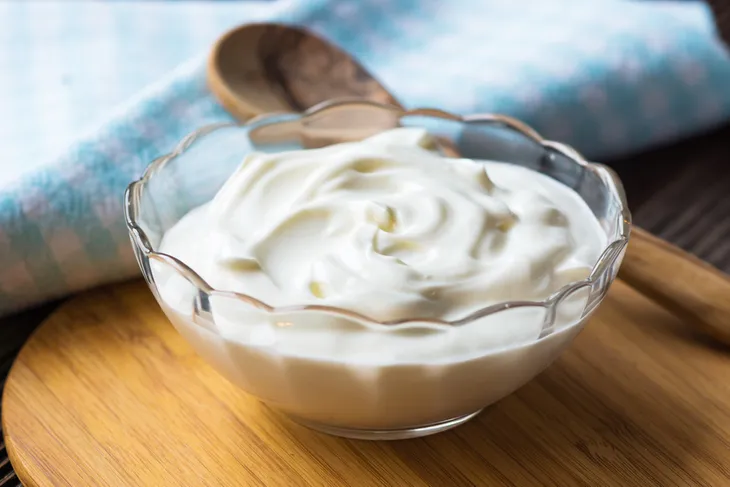 Jerky
Jerky may sound like one of the most unhealthy snacks you could pick. Processed meat that has all sorts of additives. But it turns out jerky isn't all that bad, you just have to choose the right one. Most jerky has 9-grams of protein in a 1-ounce serving. Look for jerky that is made from turkey, salmon, or chicken. These leaner meats tend to be healthier than beef jerky.
One of the best characteristics of jerky is that it is so easy to carry around. It doesn't need to be refrigerated and if unopened it keeps for a long time. You can put a few in your bag to have when you get hungry and want to avoid hitting up a fast-food restaurant. And to keep you interested, jerky has several different flavors to please your palate.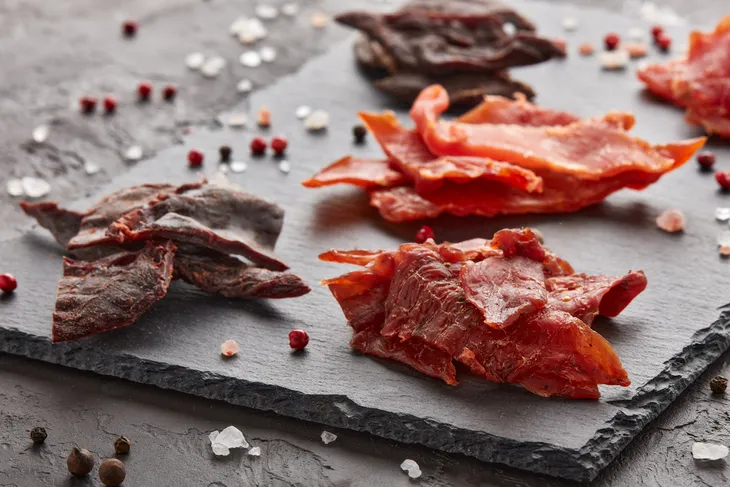 Trail Mix
A childhood favorite, trail mix is a perfect combination of salty, sweet, and of course protein! Trail mix is typically a mix of nuts, dried fruit, and something sweet like chocolate. The combination varies greatly from brand to brand but you can always make your own to have it exactly how you'd like. Most trail mixes will contain 8-grams of protein in a 2-ounce serving, reports NutritionData.
One of the downfalls of trail mix is that it is so good. With the added sweet factor to the mix this snack can contain a lot of calories, so be sure to stick to a handful to keep the calories low.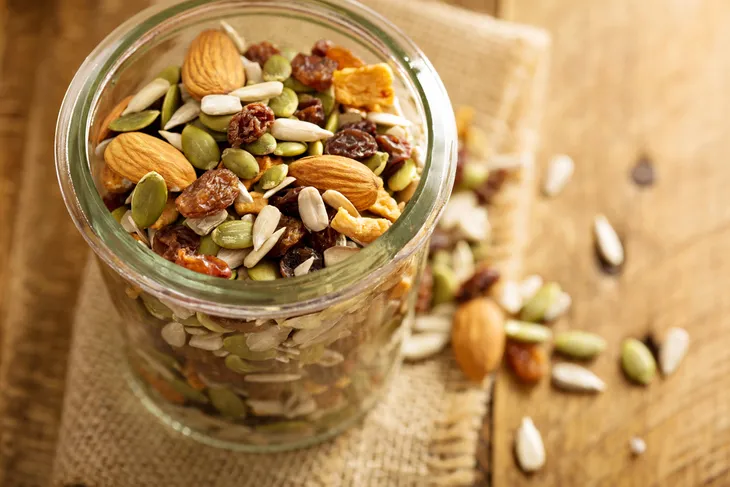 Hard-Boiled Eggs
Hard-boiled eggs may be one of the most underrated snacks. One hard-boiled egg contains 6-grams of protein and only 77-calories. We love to hard boil a dozen eggs so that they are ready to eat at a moment's notice. Eat your hard-boiled egg plain or chop it up and add your favorite vegetables and seasoning.
Not only do these handheld snacks contain plenty of protein but they also have several other minerals and vitamins that are crucial to a healthy body. If hard-boiled eggs aren't your thing you can get your protein from eggs cooked in different methods.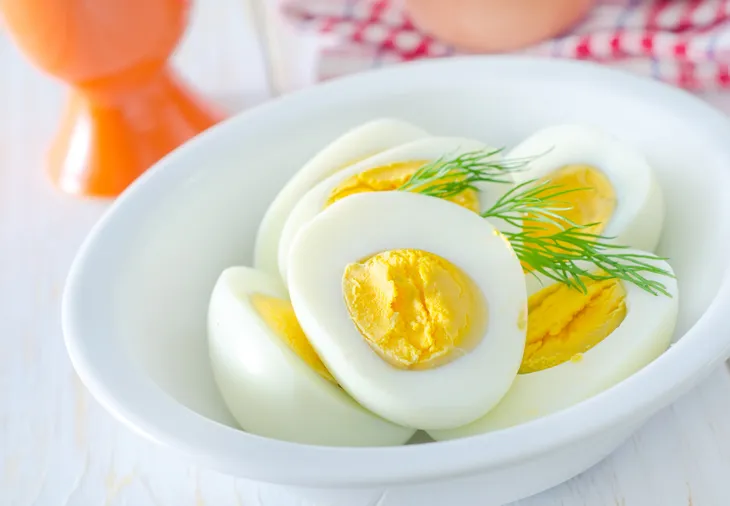 Tuna
Canned tuna gets a bad rap for its smell. However, this little can contains 20-grams of protein (4-ounces drained), says NuritionData. It also contains a significant amount of vitamin D, vitamin K, and vitamin B12. The high amount of protein will keep you full and prevent you from eating all those carb-filled snacks that only pack on the pounds.
Add a bit of chopped celery and a small amount of mayonnaise and you've got a great snack that could turn into a lunch or dinner. Just be sure to keep that Tupperware closed tight so your office mates don't wonder where that fishy smell is coming from!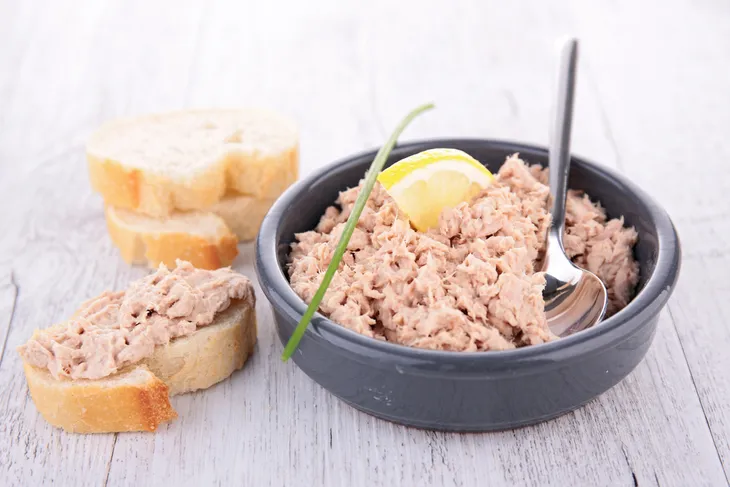 Peanut Butter and Apple Slices
Peanut butter is one of those staples that almost everyone has in their pantry. To keep peanut butter healthy, forget about pairing it with bread and jelly. Add a tablespoon on top of apple slices to enjoy that nice crunch and the saltiness of the peanut butter.
A 1-ounce serving of peanut butter contains 7-grams of protein and 145-calories. It won't be the lowest fat option we provide on this list, but it is a great choice when you need something portable and easy to store.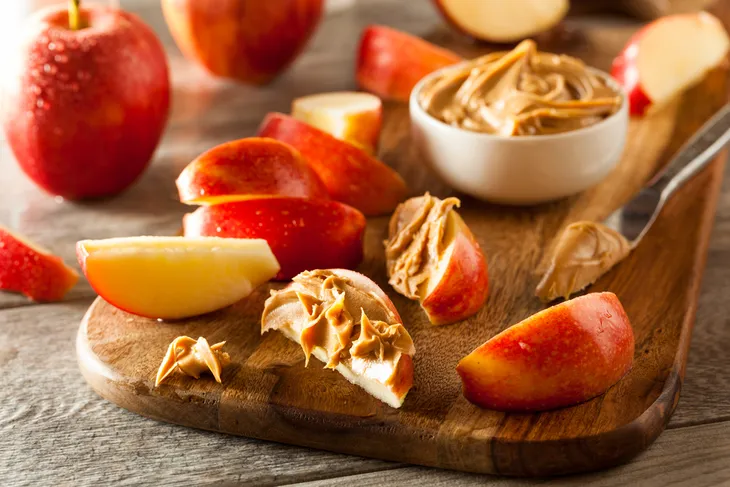 Protein Bars
Protein bars have become increasingly popular over the years. The promise of a full stomach with lots of protein and little fat has lured shoppers into buying them up.
There is an upside and a downside to protein bars. They often contain large amounts of protein but they also typically contain large amounts of sugar. When you buy a protein bar look at the packing before you purchase. Try and find brands that have the least amount of ingredients (these bars tend to be less processed) and have the most amount of protein with the least amount of sugar.
If the idea of looking at the packaging is too intimidating then consider making your own protein bars. You can find your own recipe online or try this chocolate peanut butter protein bar recipe that contains 12-grams of protein in a bar.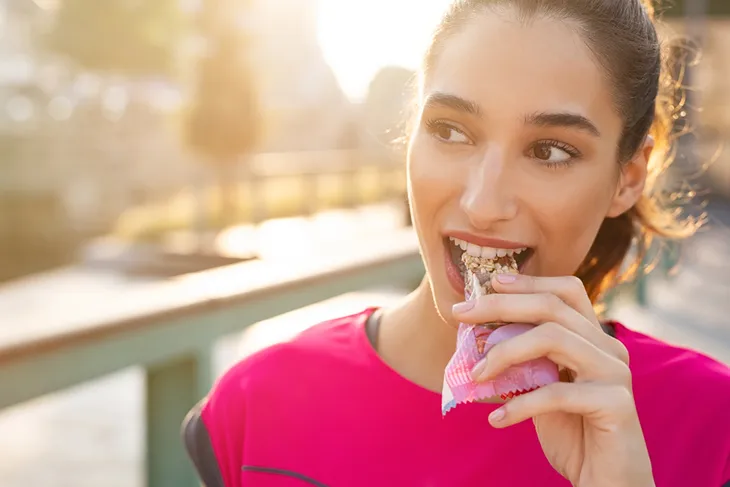 Edamame
Edamame are soybeans that are still in their green pod. These small snacks contain 17-grams of protein in 1-cup and also contain a large amount of vitamin K and folate, reports Healthline. They make a perfect on-the-go snack that can be made ahead of time and carried with you to work or while you travel.
You can find edamame frozen or fresh in your grocery store. To eat these pods, place them in a dish with a small amount of water and cook in the microwave until they have slightly softened but not mushy. Most people only eat the seeds inside of the pod and you can turn up the flavors by sprinkling them with salt or another seasoning.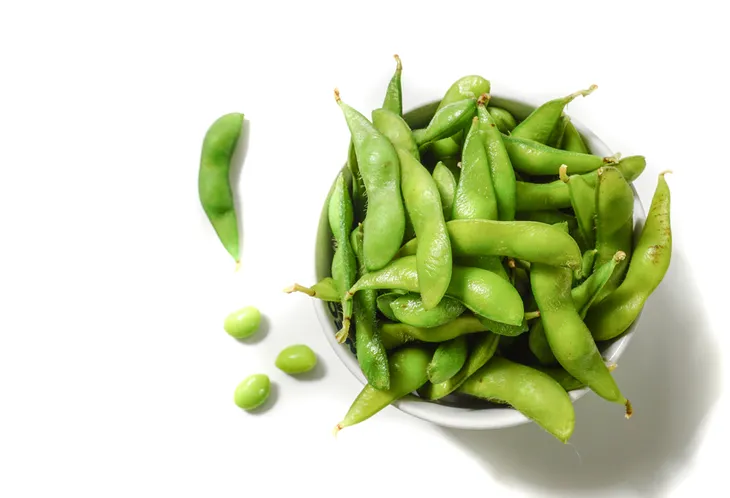 Hummus and Veggies
A quick snack of hummus and vegetables will fill you up, keep you full, and give you the nutrition boost you need. Hummus is made of mashed chickpeas and tahini (a paste made from sesame seeds), with garlic, sometimes added to the mix. Cucumbers, carrots, or bell peppers make a perfect combination to carry that delicious hummus straight to your mouth.
Hummus isn't quite as high in protein as some of our other snacks, at 4-grams of protein in a 2-ounce serving. That said, we think it's a great addition to the list and is one that you should try when you are in search of that perfect high protein, low-fat snack.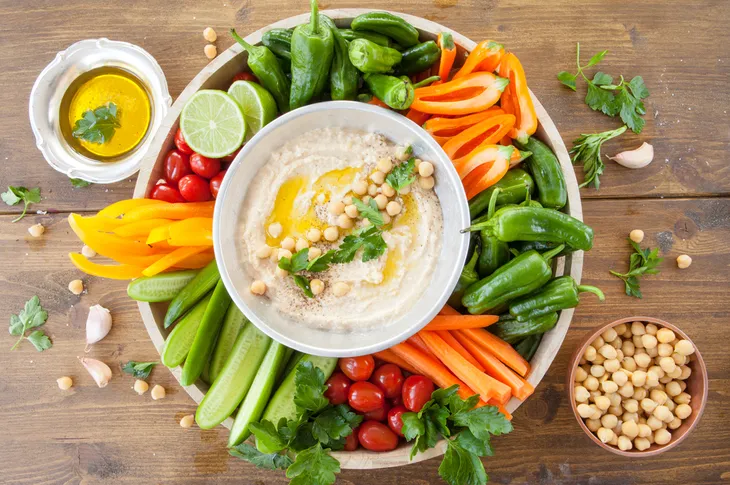 String Cheese
String cheese isn't just for student lunch boxes, it's a high-protein snack that is perfect when you are on the go. One string cheese stick contains 5-grams of protein and only 70-calories.
It also has plenty of calcium which is essential for your bone health. We love that you can have one of these as a snack or add them to your meal for an extra protein boost.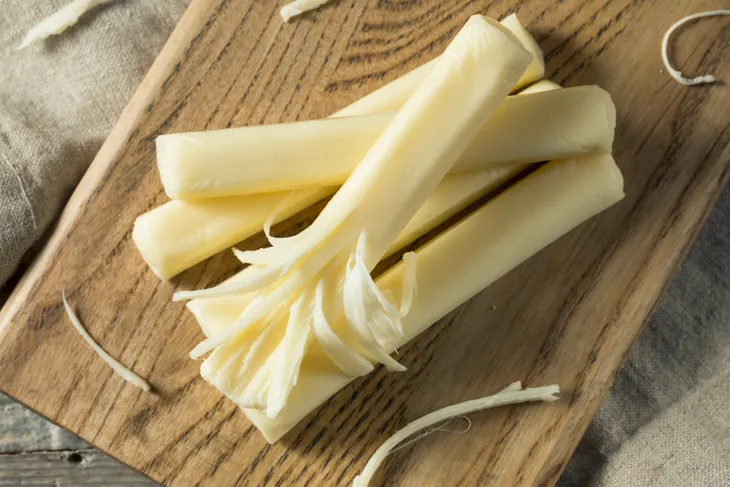 Chia Seed Pudding
Chia seed pudding is a new and popular addition to the snack round-up. These little seeds are high in protein and when turned into a pudding become a great snack that feels like a dessert! According to Healthline, "There are 4 grams of protein in 1 ounce of chia seeds, and they provide some other nutrients, such as calcium, phosphorus, and manganese." The source continues to say that chia seeds can also lower your triglyceride levels, which can minimize your risk of heart disease.
Chia seed pudding is incredibly easy to make. Take a tablespoon of chia seeds and add them to your favorite milk, (almond, coconut, or cow's milk) in a sealable container, and shake. In a few hours, the seeds will have absorbed the milk and turned into a pudding consistency. You can add a tiny amount of vanilla flavoring to make it more like a dessert.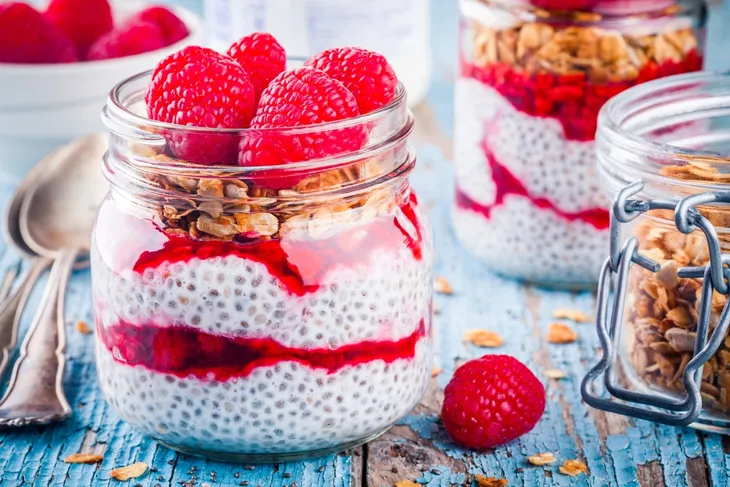 Protein Shakes
Last, but not least, on our list is a protein shake. This may be one of the easiest and fastest ways to get your protein boost and keep the fat content low. The protein content in a protein shake will vary significantly based on the brand. Some people will find they prefer certain flavors and you should take that into account when choosing your protein shake.
As you will see in our list, there are so many different sources of protein. If you find one of these snacks isn't quite what you're looking for then move onto a different one. We know that you'll find the perfect snack that both fills your stomach and tastes great!