Meal times can be a super stressful time for parents. Many mommies and daddies experience daily struggles with picky eaters, leaving them wondering if their little one is eating enough and getting all of the essential nutrients to support their growing bodies.
Some parents try to sneak healthy foods past their child — sometimes successfully and sometimes not. But, why not try to make eating the rainbow fun! Win over the pickiest of eaters with these tasty food art creations that are just as delicious as they are adorable.
Oatmeal Animals
Packed with fiber, protein and calcium — try these fun Oatmeal Animals. Prepare oatmeal with milk then top with sliced banana, strawberry or apple slices for ears, and antioxidant packed blueberries for their eyes or noses!
Add a little peanut butter into the mix for a little extra protein and visual appeal.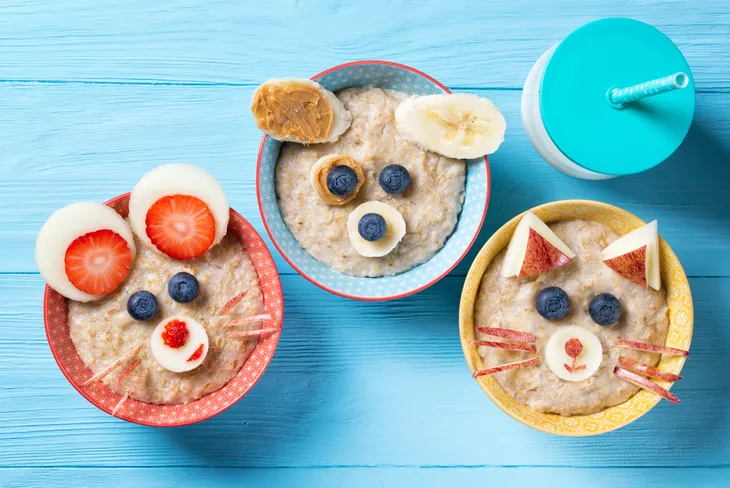 Tropical Island Fruit
Four simple ingredients is all it takes to create this beautiful, sunny edible art! The cantaloupe sun will contribute a wide variety of antioxidants and beta-carotene into your child's diet, while the kiwi 'palm-tree leaves' will provide vitamin C, K, E, folate, potassium and fiber to boot.
The banana 'tree trunks' are high in potassium and contain good levels of protein and fiber as well, and the orange slice 'islands' are an excellent source of vitamin C and are also a very good source of dietary fiber!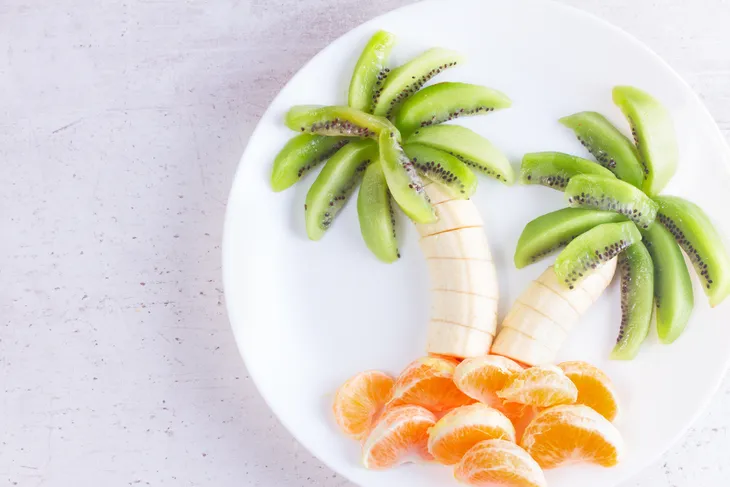 Pancake and Fruit Sun
Your child will certainly be licking the empty plate after this super adorable and delicious breakfast treat! The strawberry slice 'sunshine rays' are packed with vitamin C, fiber, antioxidants and more! Bananas and blueberries make a great addition for a little extra nutrition and color.
As a treat, add melted chocolate or maple syrup to finish off the smiling face, and hopefully put a smile on your child's face in the process! For a little extra nutrition, try a whole grain flour pancake!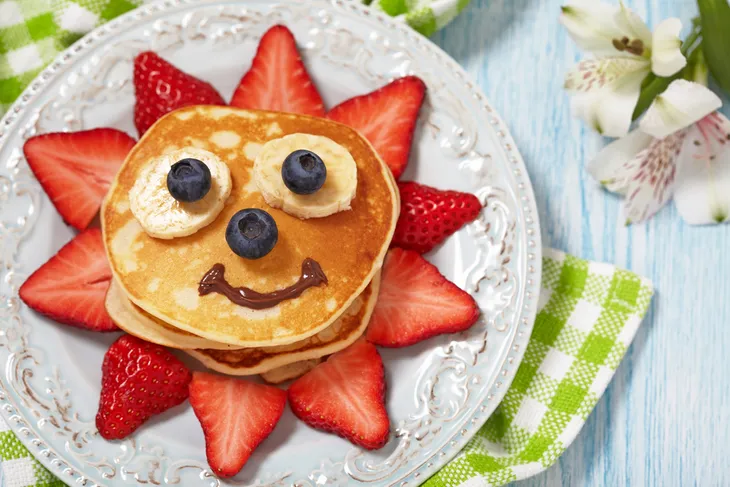 Pancakes and Waffles Puppy
Pancakes and Waffles! Why not? These little puppy dog faces will surely win over your little one. Waffles for ears and a pancake face are the perfect backdrop for this adorable edible art creation. For some extra calcium and protein try cutting a slice of cheese to represent the snout, and dot with some chocolate sauce or maple syrup for some extra visual fun.
Blueberries, bananas and strawberry slices will complete to look and add a beautiful splash of color and nutrition to this meal!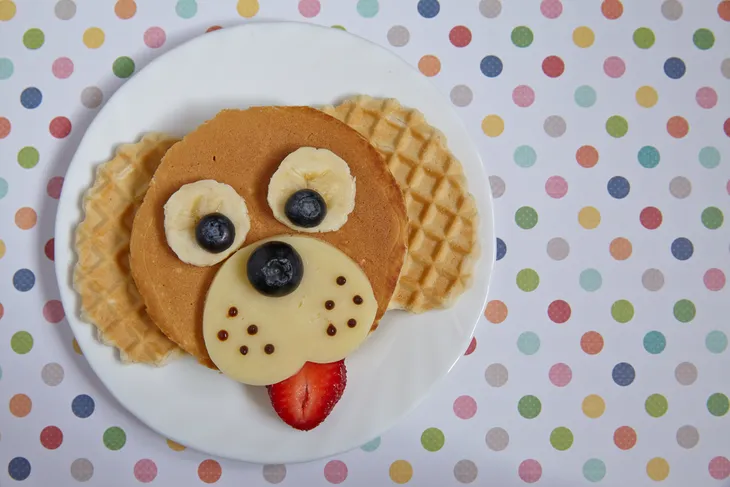 Tomato Ladybugs
Halved cherry tomatoes sure make for a beautiful ladybug! Start with a slice of whole grain toast for the base and top with a slice of green lettuce to represent 'grass'. Alternatively, I highly recommend you try spreading some mashed, ripe avocado on the whole grain toast to achieve the same green grass look, but with an extra punch of nutrition and flavor!
Avocados are super-foods that offer nearly 20 vitamins and minerals in every serving! Garnish with cream cheese spots, and chives for antenna and legs. Julienne carrot or bell pepper might be a nice alternative to chives, and more pleasing to little palettes.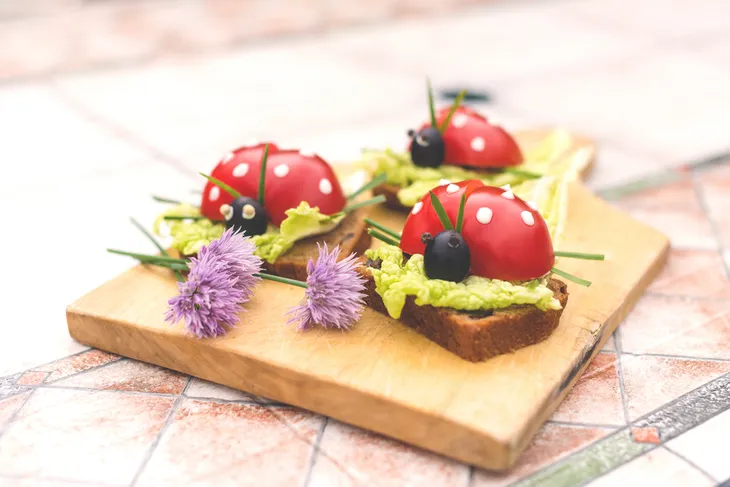 Pancake Owls
Another super cute edible art option is these adorable pancake owls. Sliced almonds are perfect toppers to achieve the look of the owl's fur, while sliced strawberries make for some very convincing owl wings. Top with bananas and blueberries for eyes, and you will have a delicious, nutritious meal containing protein, antioxidants, potassium and vitamin C — just to name a few!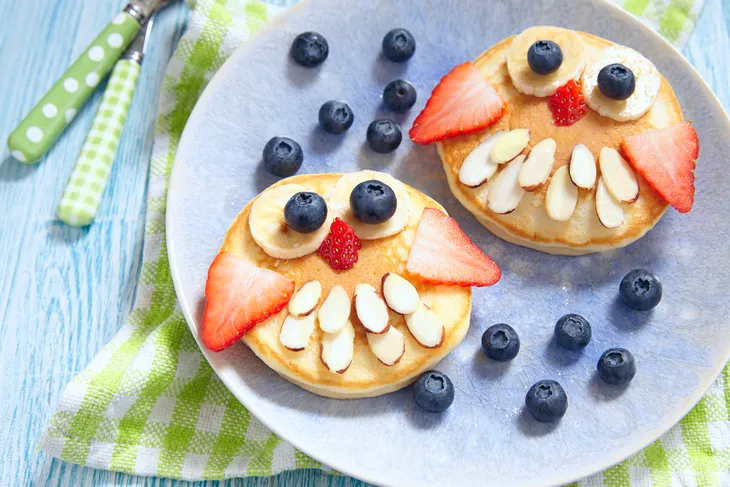 Chicken & Nest
Cock-a-doodle-doo! What better way to wake up and start your little one's day than with this super cute breakfast spread! Cut two slices of bread into a circle to create the chicken's body and the nest. Spread some cream cheese and top with slice pieces of beta-carotene rich carrots to complete the look. Garnish the plate with parsley, or again, maybe some sliced avocado would be a great healthful more palette pleasing alternative.
Lastly, add a handful of grapes to represent eggs and this tasty creation is complete! Grapes are high in antioxidants called polyphenols, which are know to help fight free radicals in the body. They would make a great nutritious addition to this meal, and are sure to go down without complaint. Remember to slice the grapes into smaller pieces (before eating) for young children to prevent choking.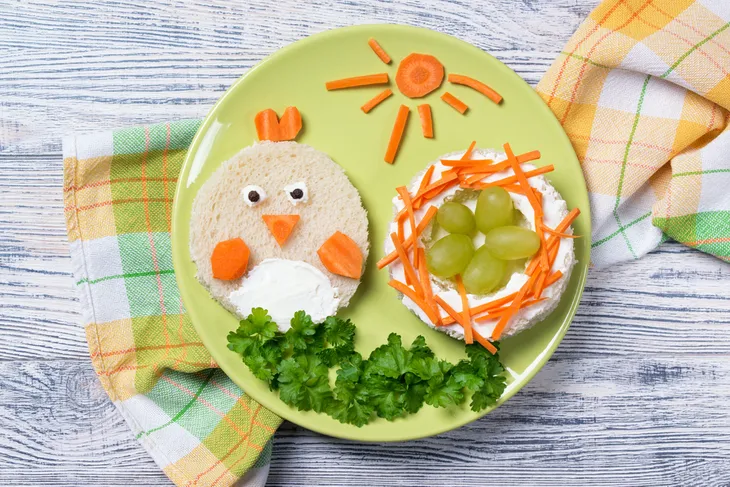 Peanut Butter Owls
Your children will have a hoot when eating these tasty owl themed treats! This alternative owl shaped design can start off with an English muffin sliced in half or a slice of bread cut into a circle shape.
Spread with your favorite nut-butter and top with fresh apple slices (for wings), blueberries and bananas (for eyes), cantaloupe (for the beak) and a small handful of Cheerios to represent the owls furry chest! So cute, and looks tasty too!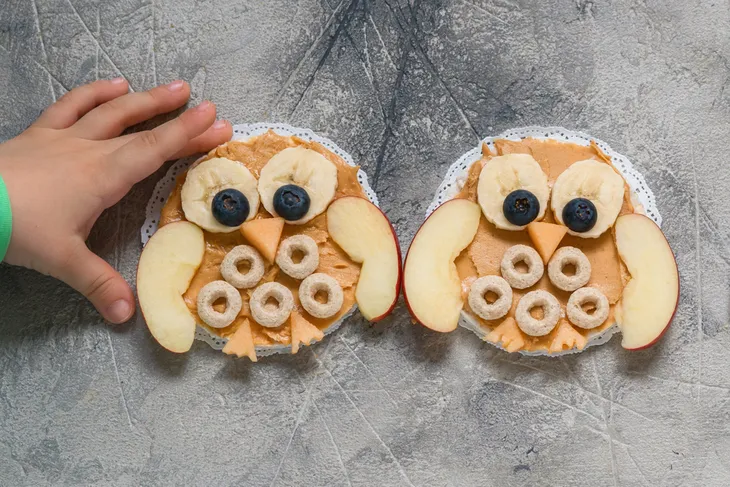 Teddy Bear Toast
Two slices of whole-grain toast topped with peanut butter is the perfect backdrop for this simple teddy bear toast! Sliced bananas are perfect for the bears ears and snout, and three raisins complete the teddy bear face just perfectly. Despite their small size, raisins are packed with energy and are rich in fiber, vitamins and minerals.
They are naturally sweet and high in sugar and calories though, but they are beneficial to your health when eaten in moderation!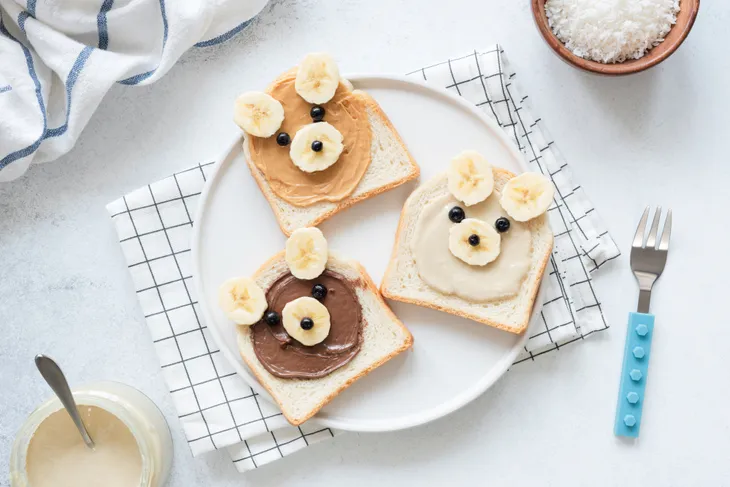 Chunky Peanut Butter Creature
Thought it may be a bit hard to distinguish what this creature is supposed to be, I am sure your child will appreciate your creative effort! This tasty treat is comprised of a slice of bread, spread with a chunky peanut butter for a little added visual (and edible) texture.
Whole almonds will add even more protein, fiber, and healthy fats into the mix, while bananas and blueberries complete this fun little creatures face that is sure to bring a smile to your child's face!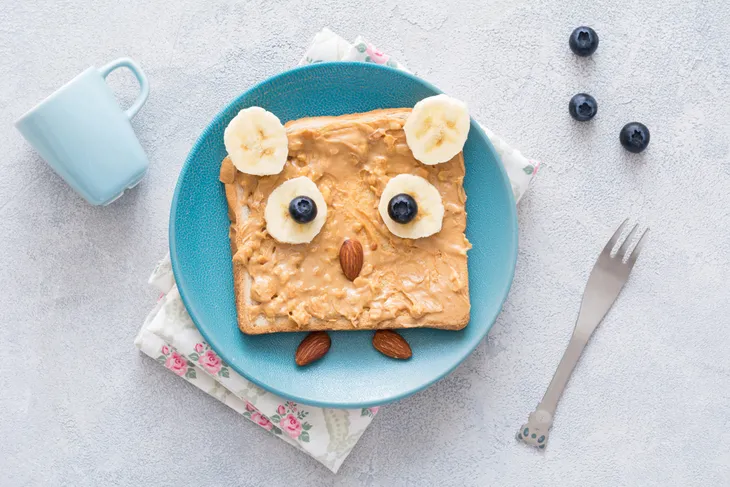 Bird On A Branch
Super easy and creative, this is a tasty treat that will have your child's belly full and satisfied in no time! A pancake body, strawberry wings and beak, raspberry feet and kiwi and blueberry eyes bring this little bird design to life.
Get creative by adding a pretzel stick and some delicious green grapes on their vine to create a tree branch that is as beautiful as it will be tasty.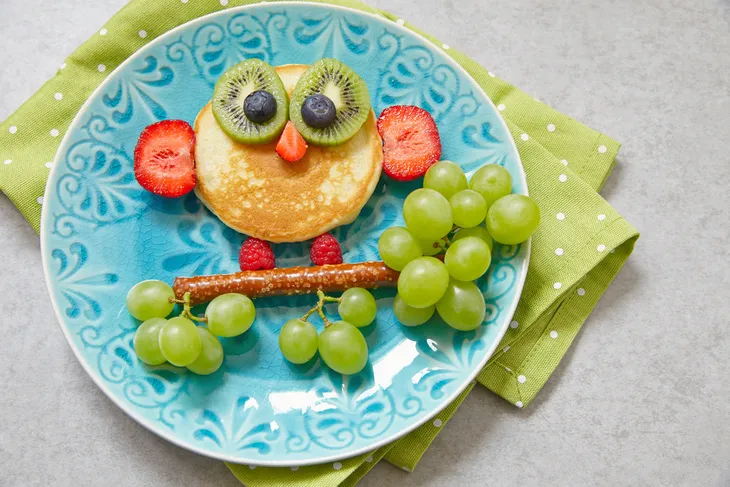 Grilled 'Fish' Cheese Sammy
Cuteness overload. Now this a grilled fish that kids can get behind. This cheese-filled sandwich will go down with no hesitation or complaint from your little one. Bust out your grill pan to achieve these grill-mark lines to really bring this tasty design to life.
Orange slices make the perfect fins, and a blueberry and slice of banana make for the perfect fish eye. Garnish the plate with some thin slices of granny smith apple to emulate seagrass, and a small handful of Cheerios make cute little bubbles. This would really pop on a blue plate if you have one!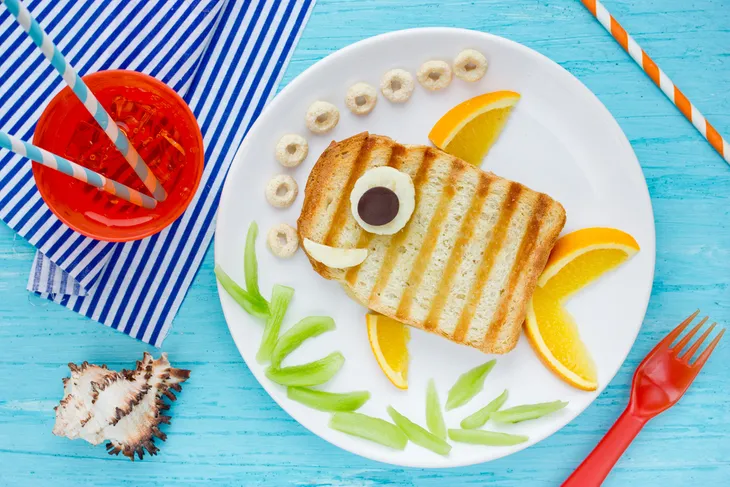 Silly-faced Sandwich
What better way to get your child to eat some greens than this silly-faced sandwich with leafy green hair. Go for it parents! Try serving up a handful of spinach! Spinach is such an excellent source of vitamins and minerals, that in all honesty, it would be an exhausting list to write. Niacin, zinc, folate and protein – are a few things to note, but spinach really is loaded with good things for every part of your child's growing body.
Fill this sandwich with sliced deli ham or turkey breast and cheese, then top with cucumber slices, red bell pepper, carrot and blueberries. Add some berries to the plate for garnish and a little extra nutrition, and your child will have a very well balanced meal!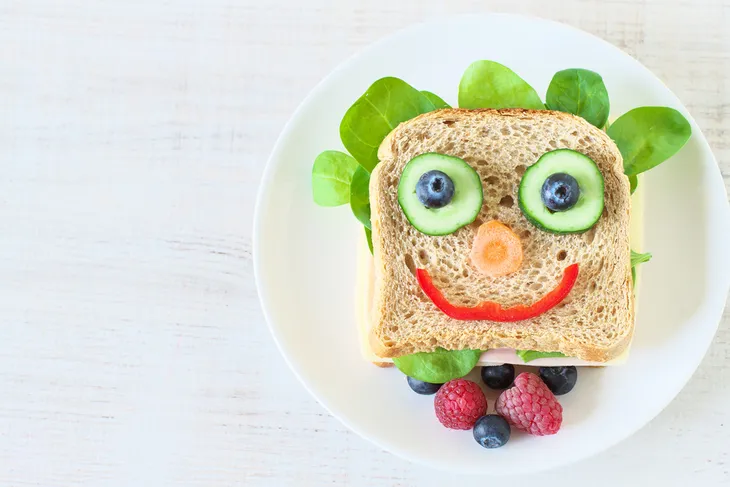 Ants on a Log
You have probably seen this tasty snack or enjoyed it personally when you were younger. Ants on a log are a healthful snack that is sure to please! Celery is an excellent source of vitamin K, and is a very good source of folate, potassium and dietary fiber — to name a few.
Spread peanut butter and line with raisin 'ants'. Your little one will be inspired to count the ants as they march one by one into their little mouths!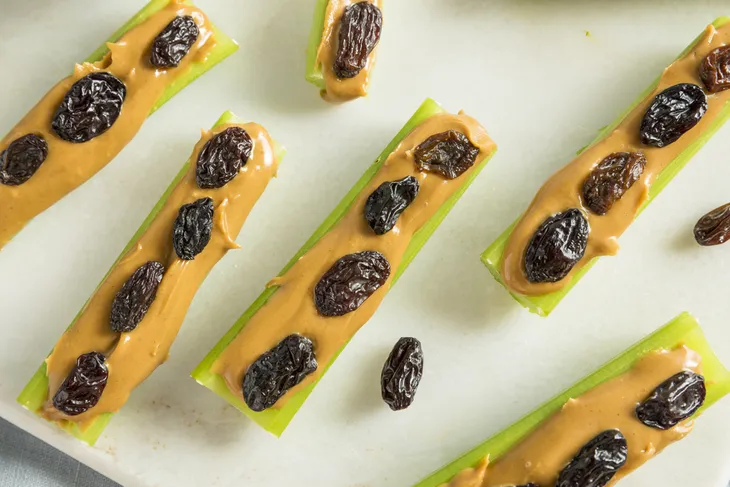 Lion Face
Last but certainly not least, you might want to try this adorable lion designed option. Create this sweet lion face out of pancakes, then surround the face with peeled slices of clementine oranges — you will probably need about two. Banana slices, chocolate chips, and a blackberry finish off the design.
So creative, and so delicious, your child will have their full days worth of vitamin C with this meal alone! Happy creating!