You might not be able to bring your Thanksgiving holiday feast out of doors if the weather is too chilly. However, these nine fall superfoods are hot! Superfoods are beneficial for your health, don't leave you with guilt when diving into your holiday feast, and make for some truly great dishes to elevate your Thanksgiving dinner. There are many superfoods to enjoy all year, but some are particularly good in the fall as the holidays approach.
Create true splendor on your holiday table with this colorful array of farmer's market finds…
Winter Squash
It's difficult to find a vibrant yellow, orange, and deep rust-colored veggie to take you into the cold winter months. But squash—from acorn to pumpkin and butternut to spaghetti—offer a delicious nutty yet sweet flavor that can be used in a variety of soups, salads, side dishes, stews, and even pureed into dessert breads.
Simply spice your squash with a bit of nutmeg and cinnamon for a true ode to autumn. You might not have known that winter squash is a little known source of omega-3 fatty acids as well as vitamin A, to promote eye health.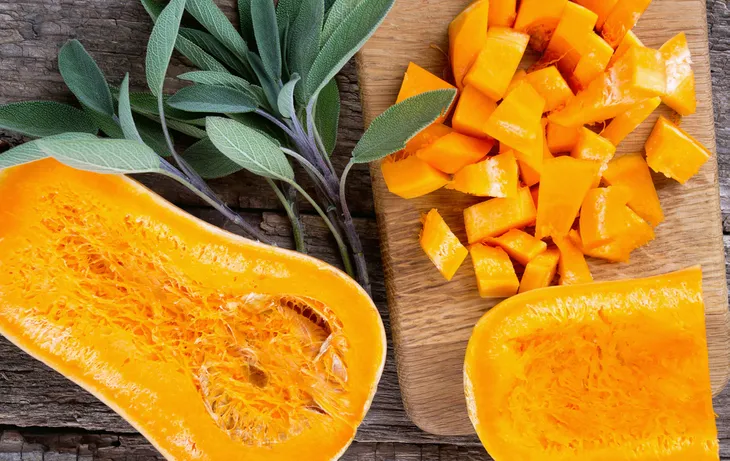 Sweet Potatoes
These sweet potatoes, or yams, are a traditional Thanksgiving casserole treat. Plus, they offer a nutritionally rich boost to the white potato.
Filled to the brim—yes, including the skin—with iron and vitamin A, sweet potatoes can be mashed, purred, roasted, and grilled to retain the most nutrients. Whatever you do, just avoid boiling all the good stuff out.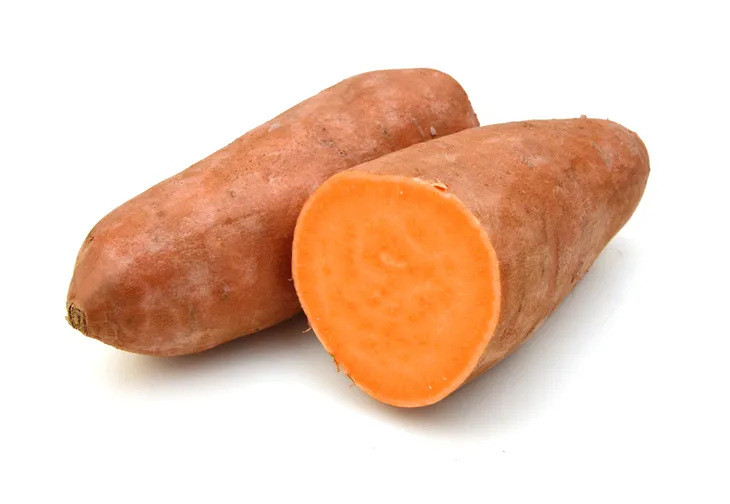 Tangerines
Many reserve the basket of sweet citrus for Christmas. However, the crisp chill in the autumn air calls for a juicy tangerine tang. Plus, tangerines, and other citrus fruits, are loaded with vitamin C—in preparation for the cold and flu season.
My favorite fall salad mixes apples, dates, raisins, pears, plums, and tangerines with a light cinnamon and lemon dressing. I sprinkle it with sliced almonds—and a healthy dessert is served.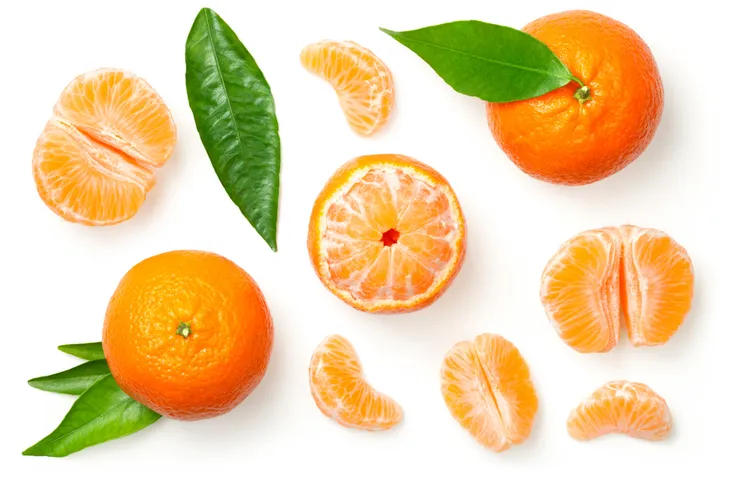 Turnips
I look forward to turnips at Thanksgiving that I offer to bring this dish every year (just in case someone else doesn't). However, these root vegetables offer excellent culinary potential—from leaf to root tip—and they're super high in vitamin C.
Peel and mash your turnip roots with a bit of olive oil, thyme, and fennel or use cinnamon and brown sugar for a sweeter side dish. But don't discard those vitamin A, K, and folate-packed leaves. Leafy turnip greens have a tangy, mustard-like flavor, which is perfect with spinach, kale, and raw salads.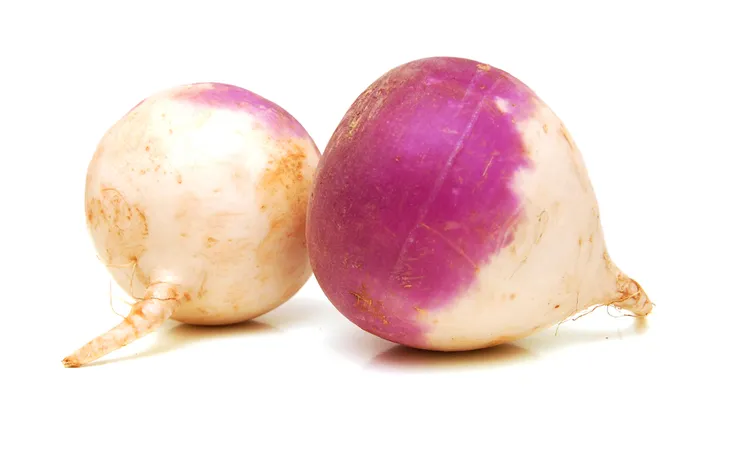 Pumpkin
When it comes to a vegetable that typifies autumn in all of it's glory—the pumpkin springs to mind! However, this winter squash deserves a category all on it's own.
Sure, you can make yours into a jack-o'-lantern, but why waste the best parts—the sweet, moist flesh and the seeds. Pumpkin flash can be fashioned into a potassium and vitamin-B rich side dish (i.e., risotto), muffins, cakes, breads, and of course, pies. The seeds are an excellent source of plant-based chemicals phytosterols that support heart health and lower LDL (bad) cholesterol.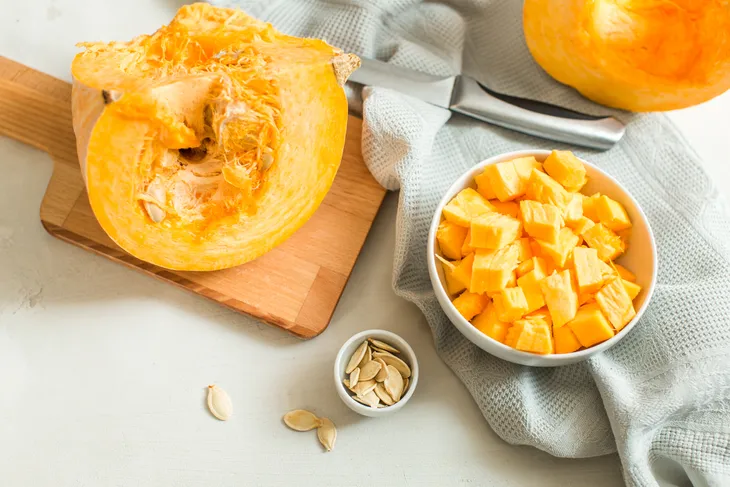 Pomegranates
Nothing stands out on a Thanksgiving table like the juicy, crimson pomegranate. You likely already know that this fruit is overflowing with antioxidants. However, according to researchers at University of California, Los Angeles (UCLA), pom offers more free radical-fighting antioxidants than red wine.
So make your signature Thanksgiving drink pomegranate-based. Mix the slightly sour juice with sparkling water and other sweet fruits and berries. And set aside the seeds for side dishes, desserts, and salads.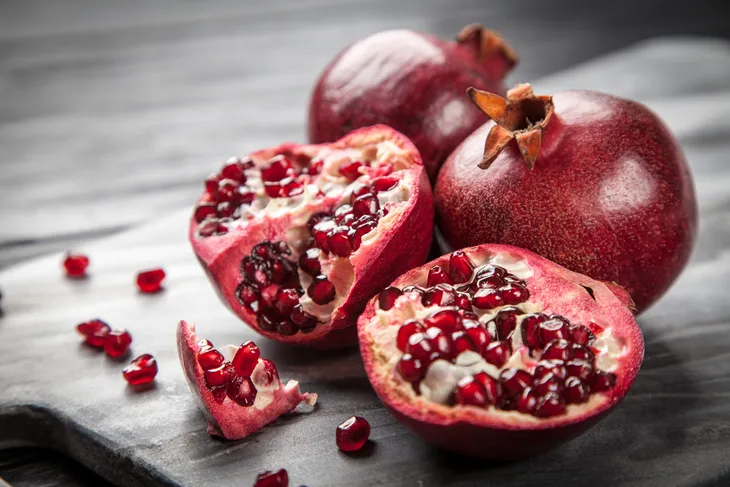 Apples
Apple pie, apple cider, apple spiced stuffing—tart, sweet, or a little bit of both, apples are on the menu in fall. And with good reason as they come into peak bounty in September to November.
The superpowers in apples are found directly in the skin. This is where you'll find the majority of dietary fiber. Plus, apples pack an antioxidant crunch so satisfying that they can be featured in almost any breakfast, main course, side, salad, dessert, or drink. So bake them, grill them, sauté them, and eat them raw—just don't peel away the fibrous benefits!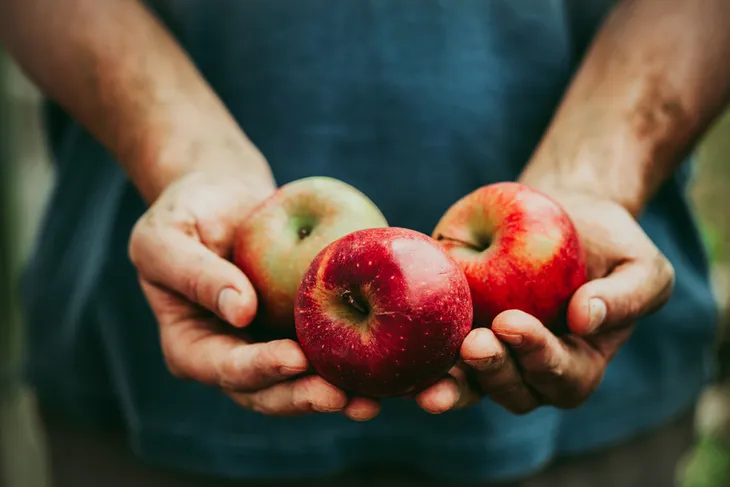 Cauliflower
Cauliflower is a very versatile vegetable. Plus it's rich in vitamin C. It gets big props for its ability to combine seamlessly into soups, casseroles, stews, stir fries, and more—without giving kids the chance to turn their noses up.
Steamed on it's own cauliflower lends dishes a sweet, slightly nutty scent and taste. If you're looking for a lighter Thanksgiving feast, substitute pureed cauliflower inside dishes and soups for potato—the texture is very similar.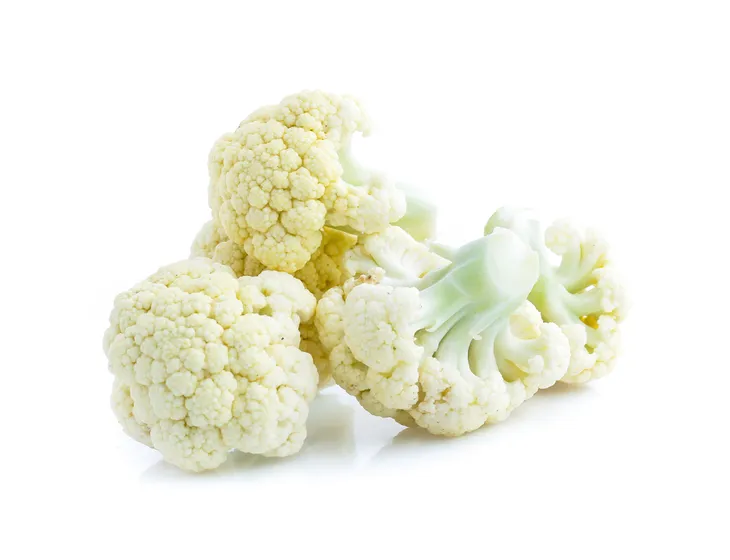 Parsnips
It didn't take me very long to develop a love of parsnips. Sure, this veggie kind of resembles a sick, pasty carrot. However, despite the parsnips pale complexion, the rich, nutty, almost sweet flavor mingles well with other root veggies when it's roasted.
Of course my holiday table features a heaping bowl of root veggies, featuring parsnips. But like potatoes, the less starchy parsnip harbors a lot of potassium and fiber.