Pumpkins are an essential Halloween decoration. Visiting a local farm to pick one out and carve with spooky faces is an annual activity we all love to partake in, but what should we do with our pumpkins when the holiday is over? More often than not, our pumpkins end up in the trash. What a shame! There are so many ways to reuse pumpkins that aren't wasteful and allow you to get the most out of this festive fruit.
Pumpkins are packed with health benefits that can be incorporated into cooking recipes, beauty regimes and can even be a homely decoration outside of the typical doorstep jack-o-lantern. Here are some great ideas of what to do with your pumpkins after Halloween…
Make a Pumpkin Puree
Pumpkins are loaded with vitamins, fiber and antioxidants that are great for our diet. So the first thing on our list is to take that leftover pumpkin and turn it into a useful cooking ingredient (plus it'll come in handy for some of our other ideas on this list). Pumpkins that haven't been carved or tampered with should never be thrown away, they are still ripe with use!
The first thing you need to do with those uncarved pumpkins is make a pumpkin puree. Creating a puree is a basic way to incorporate pumpkin into various recipes. Start by sawing the pumpkin in half, right down the middle from stem to the bottom. Pluck out the seeds and set them aside (save for later). Place the pumpkin cut-side down on a baking dish and bake at 300-degrees Fahrenheit for 90-minutes. Once the flesh is tender and soft, scoop it out and blend it all in a food processor. Store it in the fridge and use for cooking, or freeze it for later.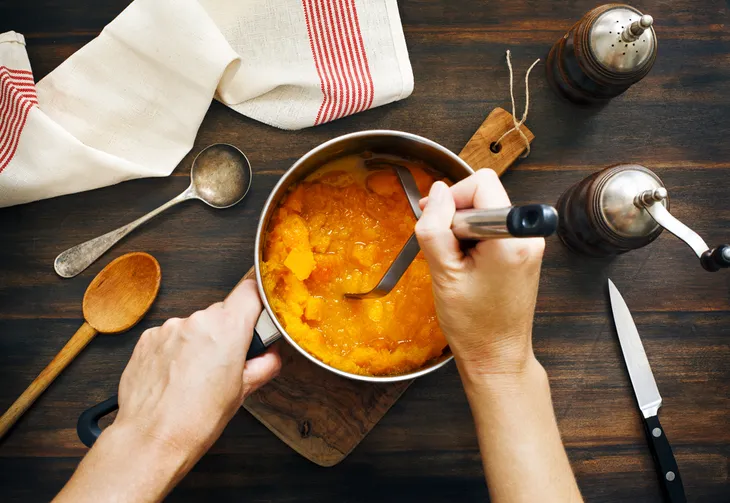 Make Pumpkin Butter
Grab that puree you just whipped up. It's time to put it to use. One of the most delicious things to do with pumpkin puree is make some pumpkin butter. Put 2-cups of pumpkin puree in a saucepan with 1-cup of brown sugar and 1-cup of water or apple cider. Add any other spices you desire, like cinnamon, nutmeg, and a pinch of salt.
Then, stir it all together so it's mixed well and bring it to a boil. Once it has come to a boil, turn down the heat, and let it simmer for 25-minutes. Once it has cooled, store it in a glass jar in the fridge and ta-da! You have a new addition to morning breakfast! Try it on oatmeal, pancakes or toast.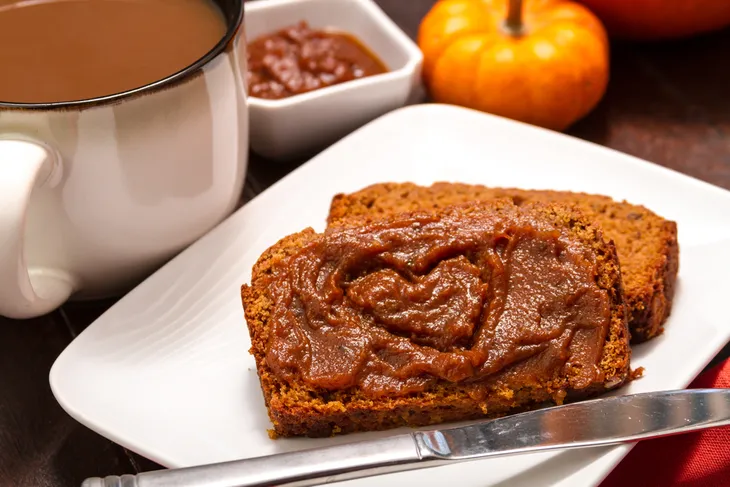 Make a Pumpkin Stock
Here's another great idea for those uncarved pumpkins! Not only is pumpkin a tasty treat, but it also has a fresh harvest flavor making it the perfect seasonal addition to our favorite hearty recipes. You'll need to carve a circular hole in the top around the stem so that you can easily access the fleshy inside of the pumpkin.
To make the pumpkin stock, separate the seeds from the guts. place the stringy guts in a pot of water and bring to a boil. You can also add other unwanted vegetables like celery tips or carrot tops to add even more flavor. Boil for 30-minutes (or until the water changes color), strain it, reserve the broth and store it in the fridge until it's ready to be added to your next recipe!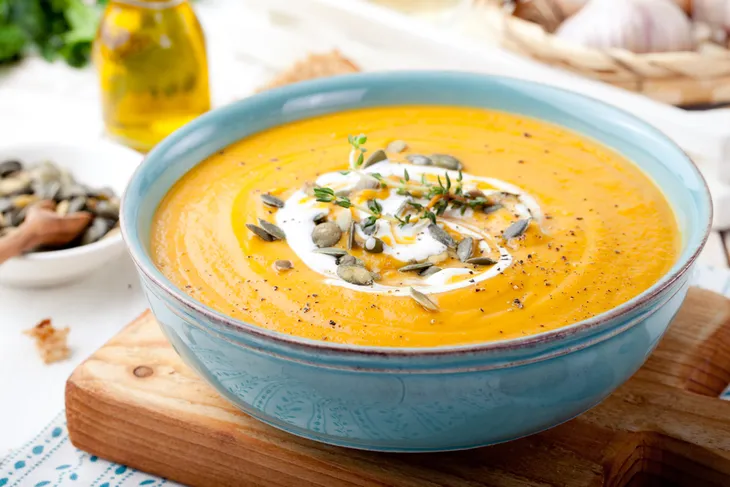 Make a Smoothie
We now know that pumpkin is a great fruit to eat, but it can also be used for drinks like smoothies, shakes and even alcoholic cocktails. Kids might not be so inclined to eat their jack-o-lanterns, so the best way to get them to enjoy all the healthy benefits of pumpkins is to serve it as a milkshake for dessert. They'll never guess this delicious shake was made from their pumpkin! All you have to do is combine vanilla ice cream (two scoops), with half a cup of milk, a teaspoon of cinnamon, and 3-tablespoons of pumpkin puree. Then toss it all together in a blender. It's no pumpkin spice latte, but it's a good way to get that festive spice in a tasty drink, plus it's much healthier and less expensive.
Another great way to incorporate it into a daily diet is to add it into your morning smoothie. This ingredient will give you a big boost of vitamin A and fiber that will help keep you feeling full for longer. You can even take some of that pumpkin puree and add it into the cocktail shaker and make a festive beverage for a party. You'll be sure to impress your friends when you serve them a homemade pumpkin spice liqueur.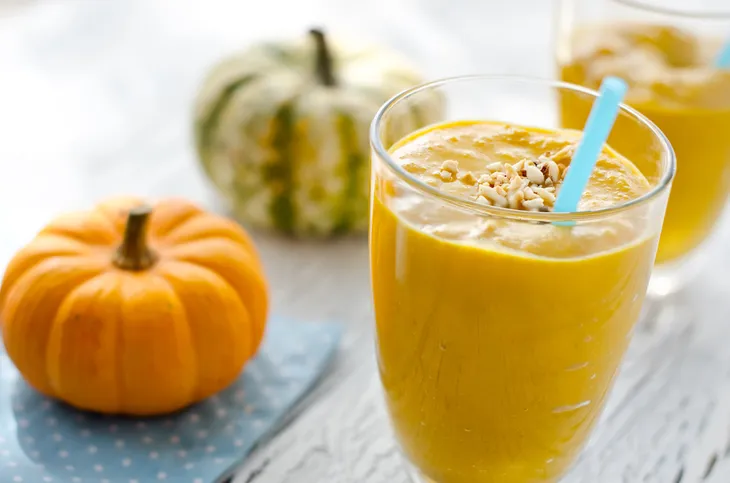 Make a Facial Mask
We've talked about how to incorporate pumpkins into recipes, but they can also be an essential part of your beauty regime. You can easily take those uncarved pumpkins and use the gooey insides to make a great exfoliating mask for your skin. Essential components of the pumpkin like vitamin A, C and E are all known to fight wrinkles, while the beta-carotene, zinc, potassium and antioxidants will help eliminate redness and give your skin a beautiful complexion. It will also fight against age spots too!
To make the mask, combine 2-tablespoons of pumpkin puree and half a teaspoon of milk and honey. Apply using your fingers or a medium sized brush and avoid the eyes. Allow the mask to set for 20 minutes then gently wash off with a warm, damp washcloth and follow up with moisturizer. It'll leave you feeling and smelling pumpkin pretty!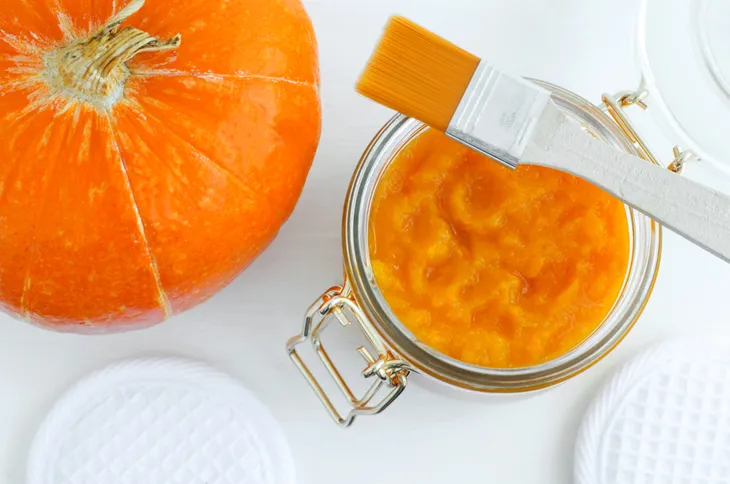 Roast the Pumpkin Seeds
We've talked so much about pumpkin puree, it's time to shift the focus to the little edible kernels inside the pumpkin. Roasted pumpkin seeds are so easy, it's hard to believe that they end up tasting so good. Plus the seeds are a concentrated source of benefits like vitamins, antioxidants, minerals and essential amino acids.
First step is to separate the seeds from the pulp of the pumpkin and rinse them under cold water in a strainer. Then, place them on a lightly oiled baking sheet and put them in the oven at 350 degrees so they can dry for 30-minutes. Once they are done, drizzle on some oil and sprinkle some seasoning on top. Our favorite is chili powder, ground cumin and a little bit of salt. but if you want something a little more sweet, try some cinnamon and brown sugar. Toss them around so that all the seeds are coated and place them back in the oven for 20-minutes so they can get nicely roasted. You can eat the seeds on their own, use them in baked goods or even as a garnish on salads!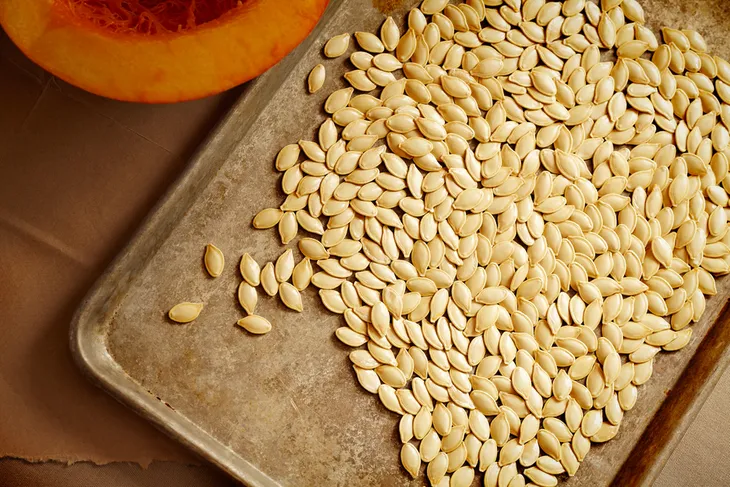 Make a Pumpkin Planter
Pumpkins can still be decorative when Halloween is over. Simply make a festive pumpkin planter! It's a quick and easy project: start by cutting off the top of the pumpkin and removing the seeds and guts. Then, pack some potting soil into the pumpkin so that it's about a third full. If the pumpkin has been carved, don't worry, this just means you'll need a little more soil to keep it from spilling out. Turn the pumpkin over and cut a drainage hole in the bottom, this will prevent water from sitting in the bottom of your planter and rotting the pumpkin. When choosing a plant to put inside, consider one that drapes every so slightly to cover the hole and make sure it's a seasonal plant that will thrive in the chiller temperatures.
It's important to note that this planter will only last a couple of days. Despite their size, pumpkins are still a fruit with a limited shelf life. Once the pumpkin starts to go bad, simply plant the whole pumpkin into the ground and it will naturally decompose without any mess.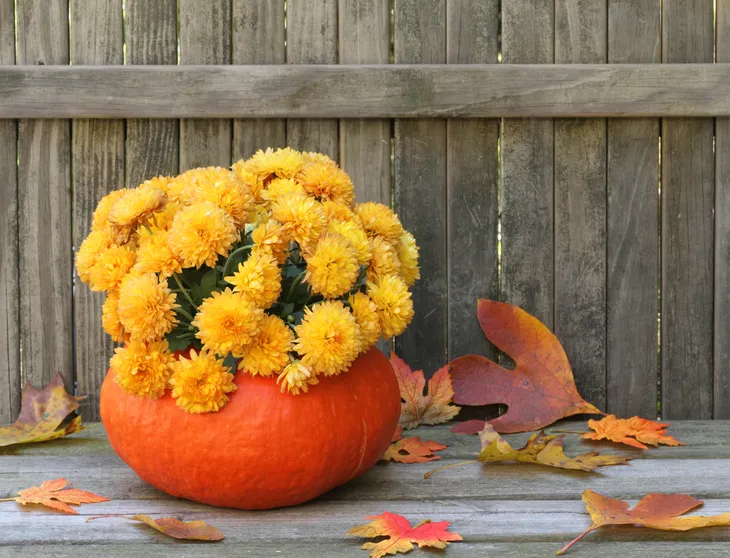 Plant the Seeds
Planting pumpkin seeds is a great way to ensure you'll have more for next year! Remove the pulp and seeds from inside the pumpkin. Rinse the seeds in a colander under cold water and then spread them on a baking sheet to dry. You'll have more than enough seeds, so just go through and pick out the biggest ones (perhaps keep the rest for roasting).
Once the seeds have dried out store them in a planting envelope, in a plastic container in the fridge. Put some holes in the lid so that condensation doesn't build up inside. Pumpkins are very sensitive and can only be planted if the weather is just right, so you'll have to save them for the next planting season which is generally in the spring. Just remember when you're planting that pumpkins need plenty of space to grow!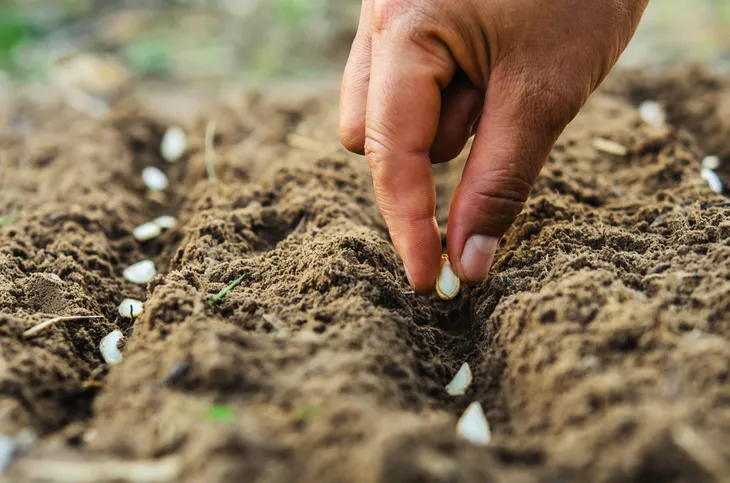 Feed the Wildlife
What better way to reuse a pumpkin than to give back to nature! This reusable idea is only possible for residents outside the city and unlike other ideas on this list, you can do this one even if your pumpkin has been carved. All you have to do is cut the pumpkin into pieces and stash them around the yard. Make sure they are far away from the house and easily accessible for animals. If you don't have enough space, but still want to provide a nibbly treat for the wildlife, donate them to a farmer who can make use of them by feeding them to animals.
Keep a pair of binoculars near the window and you might catch some glimpses of deer or foxes as they emerge from the bush to indulge in this pumpkin treat! You can also take out the pumpkin seeds (if you're not going to eat them yourself) and place them in a bird feeder for the birds.