Steamed, sautéed, stir fried, boiled, blanched, and raw—you likely have a favorite method for preparing vegetables. However, if you struggle to get you daily requirements (that's 3 to 5 servings according to national guidelines from the Department of Nutrition at the Harvard School of Public Health), the plan calls for new and creative veggie strategies that border on genius.
Don't fret, here are eight unique ways to infuse veggies into meals (that you probably haven't ever thought of)…
Make a Veggie Bowl
If you're not eating the lettuce in your salad—turn the lettuce upside down into the actual bowl. Simply cut a head of iceberg lettuce in half, scoop out the inside leaving a rim of about 2-inches and fill with your favorite fajita or taco fillings (chicken, shrimp, lean ground turkey, taco spices, low fat shredded cheese, tomatoes, onions, peppers, mushrooms, and cilantro) and top with plain Greek yogurt and salsa.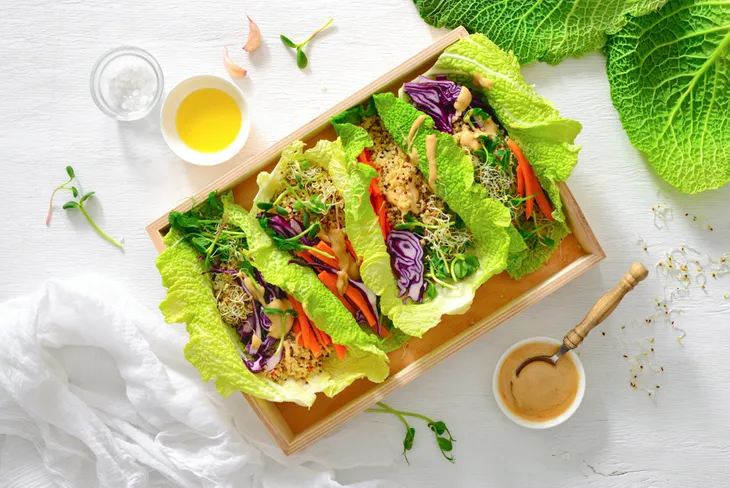 Swap Veggies for Grains
Who needs bulgur wheat in tabbouleh salad, really? You won't even miss the chewy grain when you swap it for grated squash or cauliflower then add your lemon juice, minced parsley, tomatoes, and olive oil. I'm in the habit of increasing the protein levels by adding a can of chickpeas as well.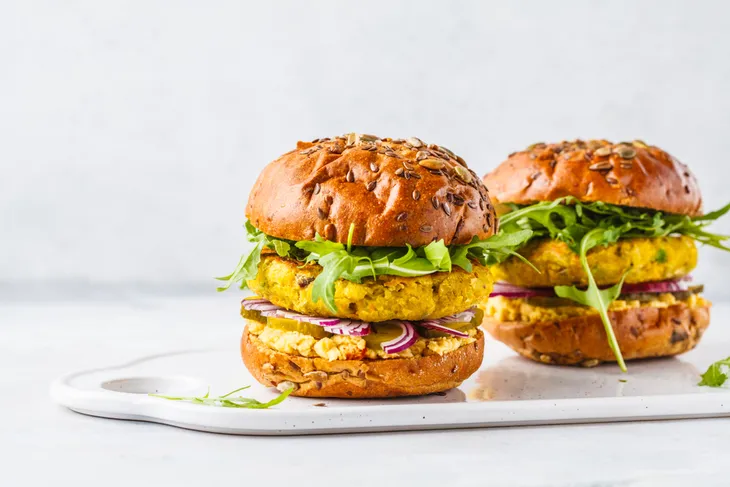 Ribbons of…Vegetables
If you put cooked fettuccine noodles and sautéed zucchini ribbons (long, thin slices) side by side, you'll notice that the shape and texture are almost identical. Try adding them to a pasta or stir fried noodle dish and guests will barely notice the difference.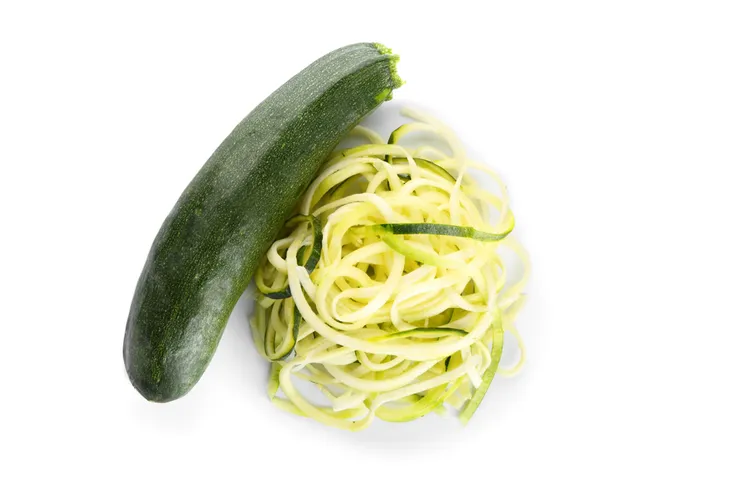 Wrap Things Up
It's difficult to separate the spinach or cabbage from your wrap when you use a giant leaf as the wrapping itself! Instead of a flour or corn tortilla, wrap up your lunch in a giant Romaine lettuce, spinach, kale, or cabbage leaf. You can even make smaller wraps with smaller leaves and dip them into a homemade dressing (i.e., balsamic and olive oil, homemade hummus, or guacamole).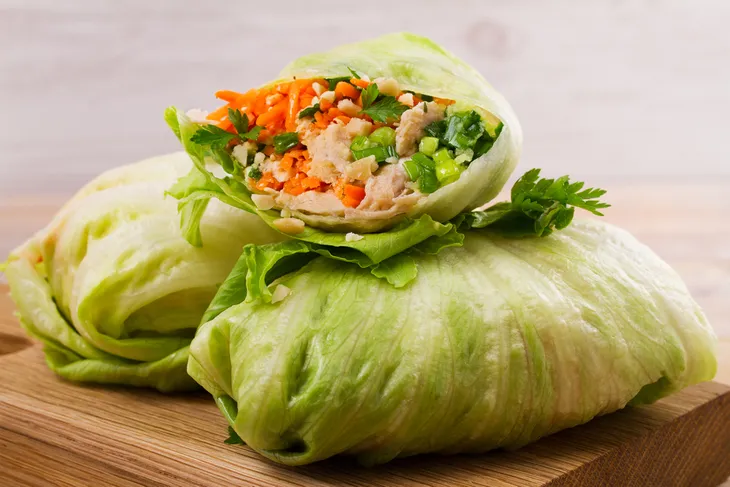 A Low-Carb Alternative to Pasta
If you're trying to make dinner a carbohydrate-free occasion, you can still have pasta when you swap dry spaghetti or linguine for spaghetti squash. It tastes very similar in taste and texture to wheat spaghetti, but drastically cuts both carbs and calories. Just slice a full squash in half and bake in the oven. Loosen "noodles" with a fork and spoon on a homemade tomato sauce.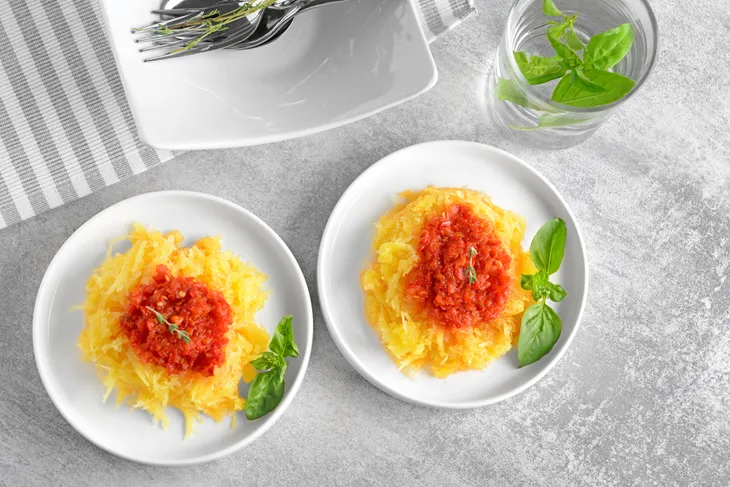 Roast the Whole Head
If you could imagine your kids picking out pieces of broccoli or cauliflower from their salad or stir fry—just roast the whole head. The trick it to make the veggie the showpiece and you can do so by marinating an entire head of broccoli or cauliflower in yogurt and spices marinade (i.e., cumin, lemon, garlic, olive oil, and garam masala) then pop it in the oven on high.
Serve it whole on a platter and let dinner guests help themselves to as much as they like. Trust me; they'll want seconds.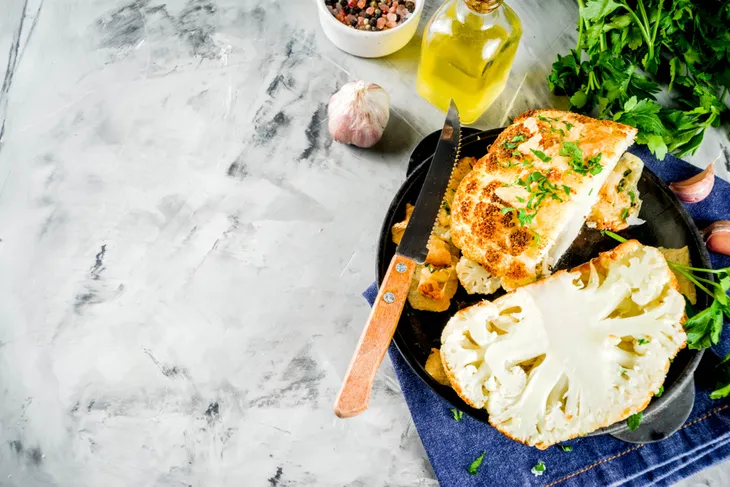 Buns Galore!
The calories and carbohydrates in a burger can quickly add up if you're serving it on thick, crusty buns. Luckily, Portobello mushroom caps grill up nicely and provide the perfect shape and size for hugging chicken, turkey, veggie, or lean beef burger toppings. Not only that, but the mushroom will absorb much of the flavor of the meat.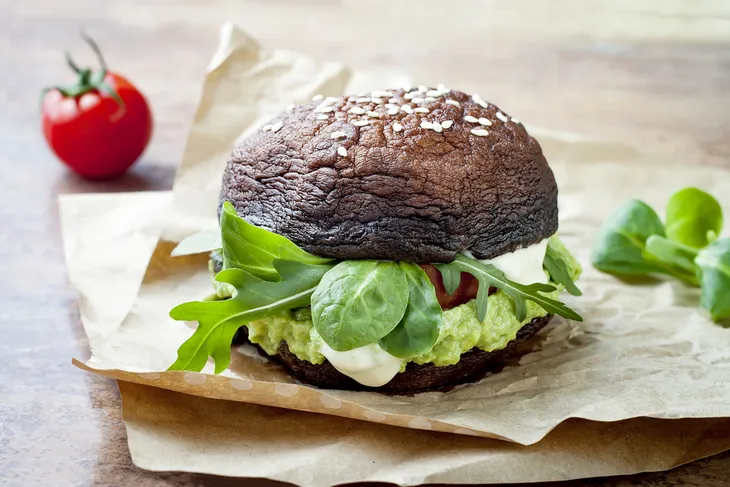 Roll a New Kind of Pizza Crust
I'm always on the lookout for healthier pizza crust options for a convenient weeknight meal. Well, it turns out I can make a quick all-veggie, thin pizza crust with cauliflower, a much lower carb substitute for flour. Simply process an entire head of cauliflower in a food processor, sauté with olive oil and garlic, and spread evenly over a greased pizza stone to bake. It's done when the edges turn golden brown like regular flour pizza crust. Top with your choice of healthy meats, veggies, and cheeses.