Halloween potlucks, parties, and trick-or-treating is scary business, especially when considering all the unhealthy ingredients that go into our favorite classic go-to candies. Luckily, it doesn't have to be that way. For parents of kids with allergies or those just wanting to offer something a little healthier, these 12 treats are the way to go!
Not only are they all super delicious, but in our opinion they are a lot more fun and creative. You can style these treats into spooky Halloween characters to make it more exciting for kids. They won't even notice that they're eating a healthier snack (and in some cases — vegetables!). Here are 12 healthy Halloween treats for kids…
Silly Apple Bites
It's fairly easy to give classic Halloween candy the fruity treatment. When creating DIY treats, parents have the freedom to get creative and make spooky shapes and characters. It is much more festive than a pre-wrapped packaged candy! Use your imagination to create something unique by combining different fruits and foods together.
One of the most popular fruit-inspired Halloween treat are these silly apple bites. You can find the recipe on Fork and Beans, but essentially all that's needed is a little nut butter, apples, sunflower seeds, and strawberries! You can either buy googly-eyes or make some homemade ones (that are also vegan).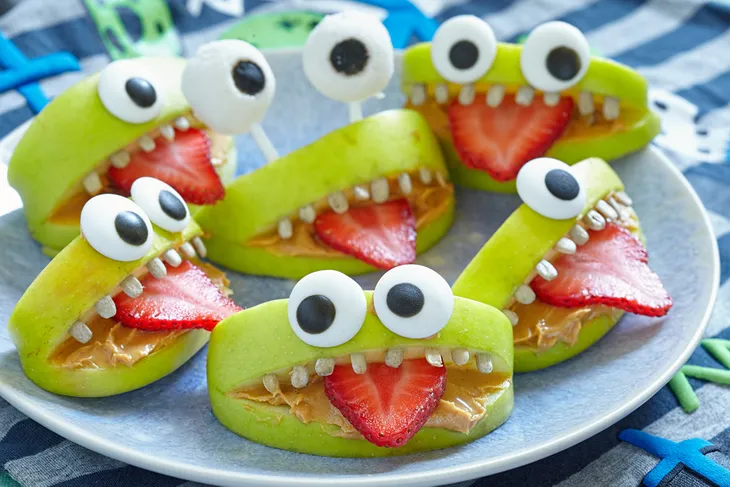 Homemade Treat Bags
I know that the kids love Halloween for the candy, however it's not the healthiest thing for them to be eating for the following weeks. Not only that, but parents of kids with allergies can have a really hard time finding pre-packaged treats that are safe for their child. A way around this is to make homemade treat bags. You can put candy in them, along with some dollar-store toys.
To make them even more fun and Halloween themed, craft the bags into spooky faces or shapes. Then fill them with homemade candies, like pumpkin spice pretzels, chocolate bark, or store-bought allergy-free candy. Some popular options are lollipops, bunny fruit snacks, and sour worms.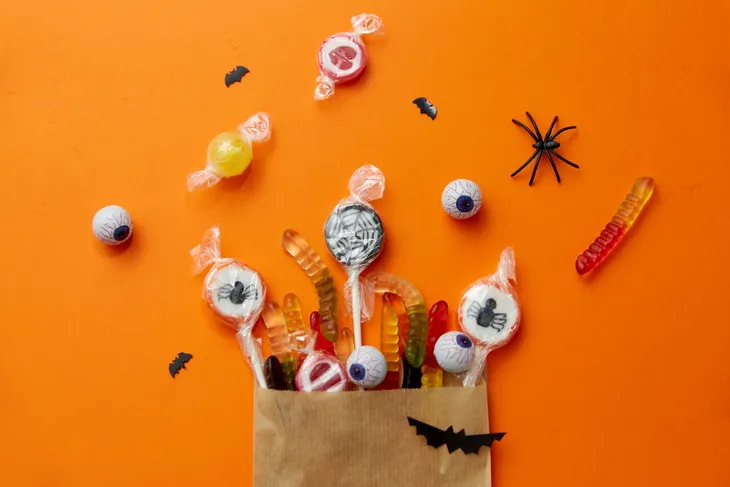 Boo-licious Banana Ghosts
Sometimes there can be just too many sinfully sweet ingredients in Halloween desserts…ahem double chocolate tombstone brownies. However, we can still satisfy our sweet tooth without sabotaging our diet. All it takes is a little creativity! For example, it's easy to make spooky bananas by using two dark chocolate chips (eyes) and a dark chocolate kiss for the mouth.
Another boo-licious banana treat is to make Halloween banana popsicles! You can use the same design with the same ingredients, but dip them in some greek yogurt (dairy-free options if necessary). When that's finished, insert a popsicle stick in the bottom and lay them flat on a baking sheet (slice once more length wise so they'll lay flat) with parchment paper or slip mat. Leave in freezer until frozen.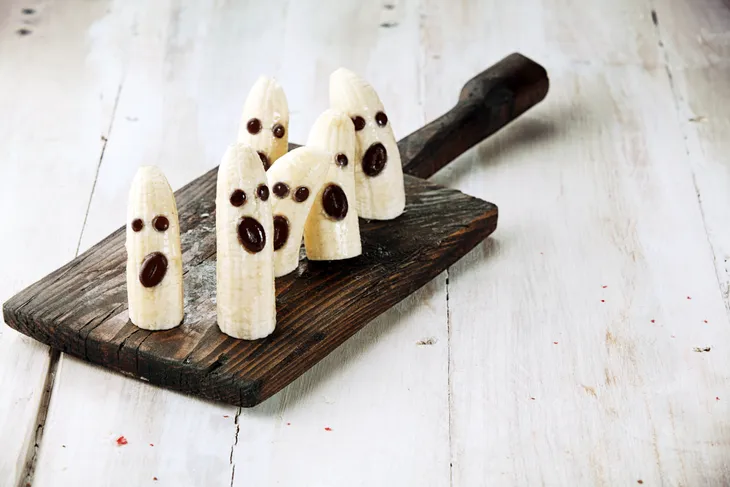 Jack-O-Lantern Clementines
Jack-o-lanterns are a Halloween staple so it's no surprise they'd make their way into one of our Halloween themed treats. You can easily make either a pumpkin or jack-o-lantern from oranges, clementines, or mandarins. To make a pumpkin, just peel the orange (or clementine) and put a small piece of celery in the top for a stem.
To make a jack-o-lantern, carve the peel like a pumpkin, or simply draw on the peel with a black sharpie! Since the peel gets tossed anyway, it's no problem. Another option is to peel the orange, take it apart and arrange it into a shape like a spider or other creepy crawly! The best part of this treat is that it's healthy, allergy-friendly, and only involves one or two ingredients!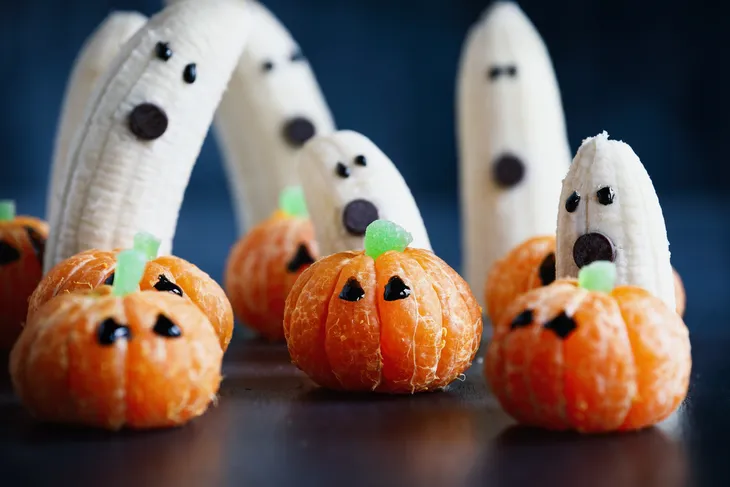 Pumpkin Inspired Sweets
For a sweet treat that will satisfy your haunted Halloween cravings—try whipping up batches of pumpkin inspired cookies, brownies, cakes, and muffins. Pumpkin is actually a nutritionally fuelled substitute for butter, margarine, and oil in a lot of lower fat recipes.
Have we spooked an interest (see what we did there)? If so, give this Blender Pumpkin Spice Muffin recipe on Frugal Nutrition a try. They are super sweet, even though there is no added sugar and loaded with fiber thanks to all the oats! Another added bonus is that they are gluten-free and can be made vegan by using flax eggs.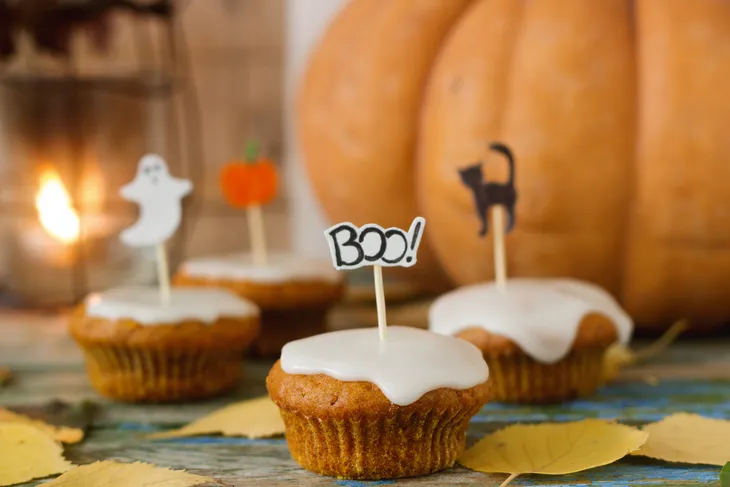 Carve Up Spooky Veggies
Who says that vegetables can't be festive? In addition to buckets of candy and chocolate at your Halloween party, feature a platter of carrots, cucumbers, and pepper pieces cut into spooky shapes—such as ghosts, witches hats, bats, cats, and pumpkins for dipping into healthy hummus, salsa, and guacamole. Or spoon salads into cored peppers carved into mini Jack-o-lanterns.
While this recipe on Super Sister Fitness is called Spooky Turkey & Veggie Stuffed Bell Peppers, isn't a snack, it's a neat idea for a Halloween potluck or dinner party! Carve the peppers like pumpkins and stuff them with even more healthy veggies like zucchini, broccoli, tomatoes, onions, and ground turkey. Being healthy has never been so fun!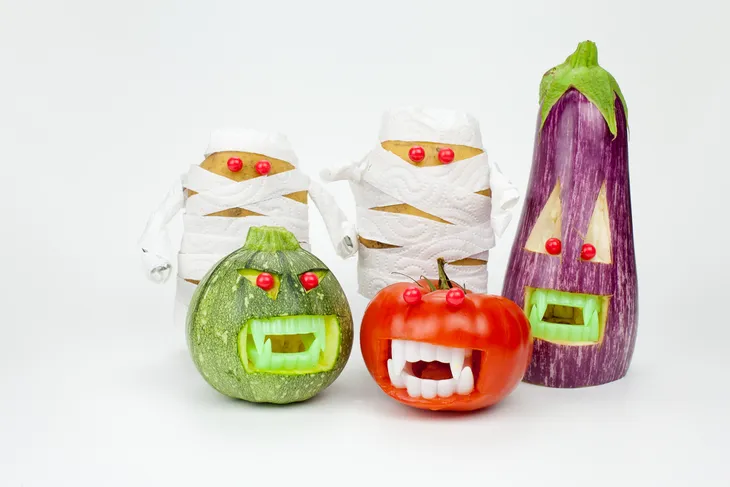 Chocolate Boo! Bark
Chocolate bark is such an easy and delicious treat to make at home. We love it because it's super versatile and interchangeable. Put whatever candy or toppings you'd like! You can also change it up for any holiday. In this case, we're doing Halloween which means we can play with different designs like spider webs, ghosts, or just putting Halloween themed candy on top.
You can make this recipe allergy-friendly by using dairy-free chocolate and vegan toppings. It's also gluten-free which is even more inclusive. Have some fun by playing around with different designs. You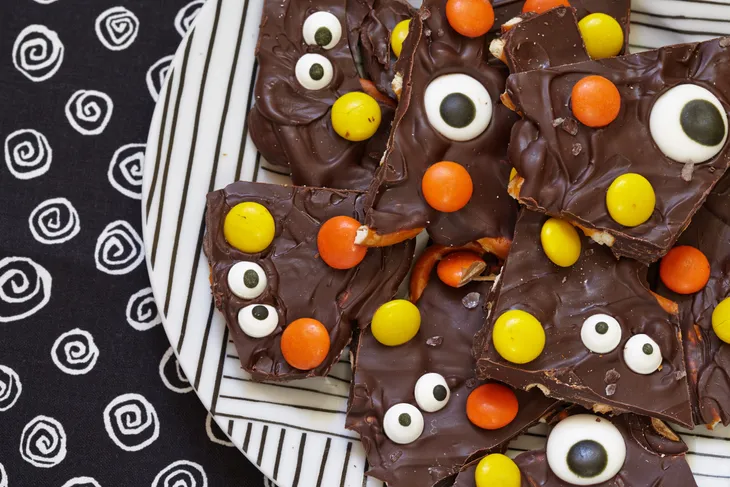 Monster Wraps or Sandwiches
While this isn't necessarily a treat, we thought it was too cute not to include it! Your kids will get a kick out of seeing their lunch on Halloween when they find out they're eating a Frankenstein shaped sandwich or wrap! They might be so taken with the design that they forget it's made almost entirely of fruits and vegetables.
The ingredients for these can be whatever is on hand in the fridge. Play around with different colors, shapes and textures to build a face on their bread. We found a recipe on Land O Lakes that offers some ideas on how to build a Frankenstein sandwich, but there's also this super healthy Monster wrap on Women's Day. Try them both!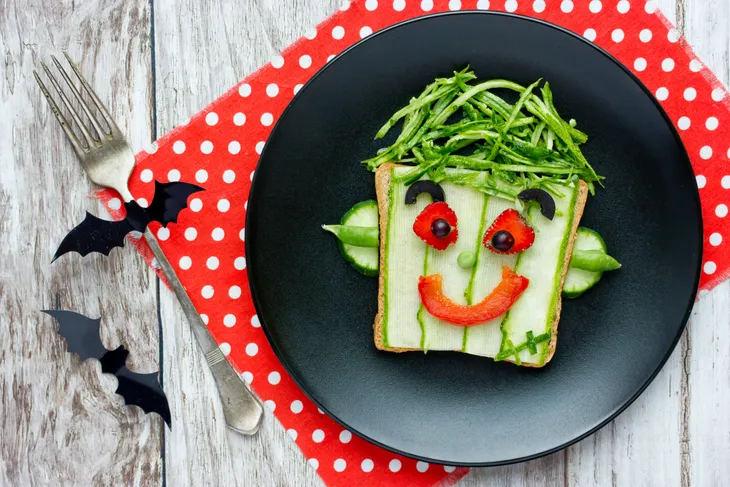 Cheesy Witch's Broomstick
Cheese and pretzels go together like witches and broomsticks! This snack makes that a reality by creating this cute little broomsticks made with just cheese and pretzels. The pretzel is the stick and then the cheese can be sliced into little fringes to make the broom. To make them even healthier, substitute the pretzels for a veggie stick (i.e. celery or carrot).
Again, another allergy-friendly snack. You can make these dairy free by using lactose-free cheese and even purchase gluten-free pretzels. They take about 10 minutes to make and are sure to be an absolute hit among all the little kiddies! Find the recipe here on momfoodie.com.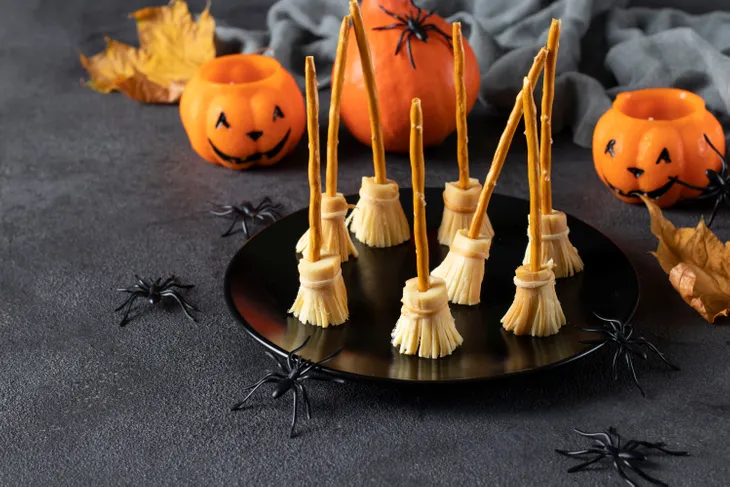 Witch Finger Cookies
We are blown away by the creativity with this Halloween snack. Also a little disturbed, but hey…Halloween is all about being spooked. Your kids will be blown away by how real these cookies look and possibly a little freaked out! Don't worry, once they take a bite they'll forget they are eating witches fingers.
You can find all kinds of different recipes for these online with a variety of different ingredients and looks. Some might include raspberry jam to make them look a little bloody, while others are more healthy and have almonds for fingernails. Here's just a basic recipe online from the Food Network, as well as one that is paleo, gluten-free, and vegan.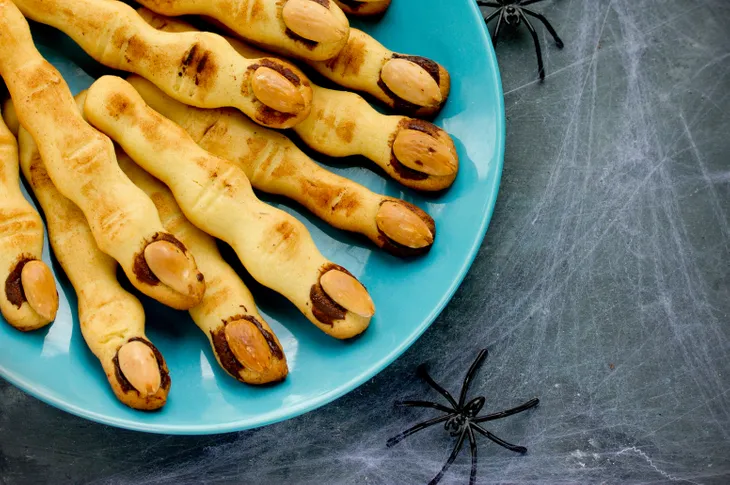 Allergy-Friendly Frankenstein Krispies
If there's one snack I just can't resist, it's rice crispy treats! However, instead of getting mine from a box, I choose to make a healthier version in my own kitchen. I use nutritious ingredients—like raw almond butter and whole-wheat rice crisps—to redeem my Halloween sins.
Another versatile Halloween treat, these can easily be made with different designs and alternative ingredients to make them more allergy-friendly. We found a recipe that is not only gluten-free, but also dairy, egg, soy, peanut & tree nut free! There's even a vegan option by using candy without gelatin.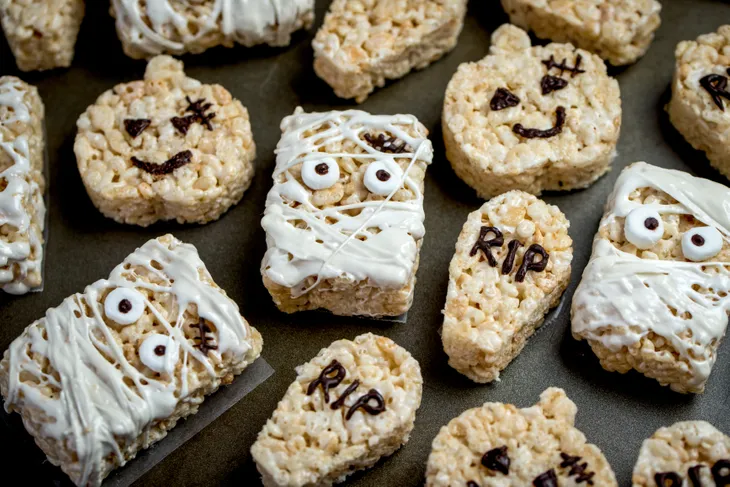 Swap Candy Corn for Air Popped Corn
Air popped corn (especially whole grain corn) can provide a filling foundation for something sweet, salty, and even a little crunchy without feeling guilty for weeks afterwards. For those who have a sweet tooth, throw some Halloween candies in the bowl. You could also drizzle it with some honey, dark chocolate, or maple syrup. Make it healthier by adding raisins or chopped nuts.
If it's for a Halloween party or to hand out to trick or treaters, portion it out into small goody bags that have fun Halloween-themed designs on them.