Admit it; kids aren't the only ones who want to play with their food. You should be happy to know playing with your vittles can be fun and embraced by adults too if you know the many options out there. Thanks to social media, you've probably seen some interesting ways to have fun and try new things when preparing, serving, or eating food.
Playing with food doesn't mean you need to instigate a food fight at your next social gathering. Instead, you can use unique presentations and different cooking techniques to infuse some creativity into your next dinner party or potluck. From fun with jello molds to trendy small appliances and socially intriguing dinner parties—here are eight healthy ways adults can play with food…and get away with it…
Raclette
The raclette is a small appliance that has become very trendy as the center-piece at dinner parties. This tool has a grill on top and tiny plates with handles sticking out underneath. Slice up your favorite vegetables, pre-cook chopped potatoes, and slice several types of meat and seafood. Use marinades for flavor or sauces for dipping. Grill the veggies and meats while melting cheese and heating potatoes in the lower portion, and transfer food to your plate as it finishes cooking.
Raclette grills aren't very big, so each person only has a small surface to cook on. The idea is that you eat slowly, allowing for socialization with your guests. Raclette parties can last hours and provide a great excuse for adults to play with their food. Originally from Europe, the raclette is used differently across the ocean with cheese and meats being the only things cooked on the grill. Cooked foods are served with slices of cold cuts and pickled foods. But no matter which way you do it, the raclette provides a healthy dinner option prepared on a relatively inexpensive appliance that your dinner guests will be talking about for weeks.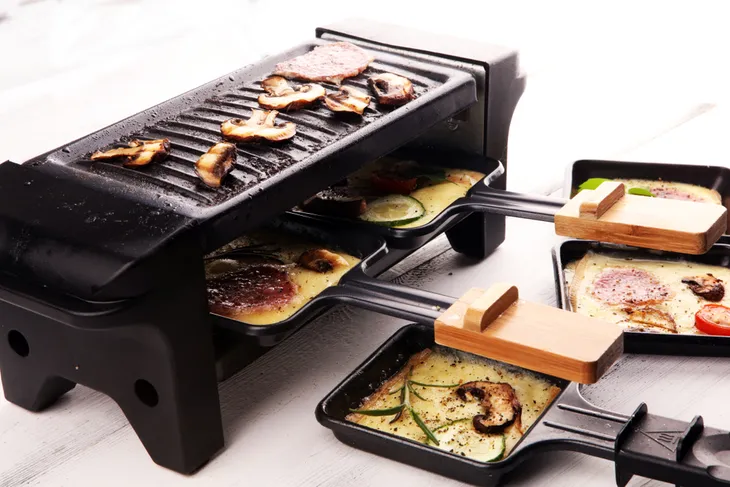 Carved Fruit
Fruit trays are a staple at just about any type of get-together, from backyard barbeques and dinner parties to wedding and baby showers. While fruit trays are certainly healthy and easy to put together, it's much more fun to play with fruit by cutting and carving it into different shapes or even faces. It might sound difficult and some carvings take practice, but there are easy ways to do it too. Melons are easier to carve and play around with. Adding exotic fruits for a summer party transforms the standard fruit tray to something that looks just as delicious as it tastes.
For your first time, start with a watermelon—they're big, making them ideal for carving out. Plus you can place a wide range of other fruits inside if you carve a hollow boat. If you want something really detailed, but aren't skilled with knives, you can always find a vendor that can do it for you. Carved fruit has become so popular that places sell them as bouquets delivered just like flowers. Instead of a basket of chocolate, carved fruit has become a unique and healthy gift or a great addition at parties.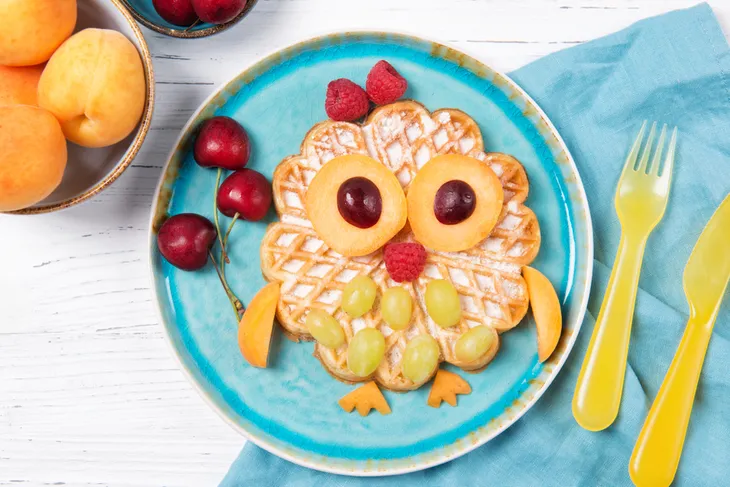 Fondue
Fondues have been coming back in style along with other do-it-yourself tools for the dinner table, making them a healthy alternative to how you serve and eat food. For meat fondues, the two most popular options for the dip are oils and broths, both of which you can tweak and make very flavorful by adding spices. Oil fondues aren't as healthy and you need to make sure you have the right type of fondue to cook safely. You can add vegetables and potatoes or finger foods to complete the meal. If you want to dip vegetables, cheese is typically a favorite, and you can keep the meat and other foods healthy to balance the cheese.
And why not end the night with a dessert fondue, dunking strawberries, pineapple, and melon in warm dark chocolate. It's healthier than many other types of desserts and keeps the socializing going for longer. Whether you have a big family or group of friends to share in a night of fun, or desire a romantic dinner for two, fondues let you experiment with many different foods at once and can be tailored to your guests dietary needs.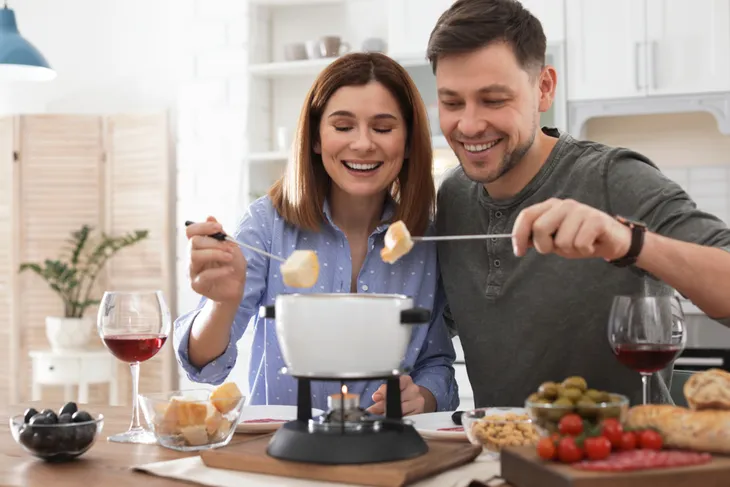 Jello Molds
There's no better excuse to do something different for your dinner or party than for a holiday, like Halloween. And because of the popularity of this typically children-focused holiday, there are tons of fun ideas and tools that make it easy for adults to play with food. Although Halloween involves a lot of sugar and chocolate for kids, adults can still enjoy many of the fun aspects while being fairly healthy. After all, there aren't many people who have the willpower to avoid a few treats here and there!
An easy but fun way to play with food is to use themed jello molds. For Halloween, you can purchase a brain mold and mix food dyes to make it brown and more life-like. For Christmas, think Santa or reindeer. For Easter, mold an Easter bunny. Jello molds can provide a healthy dessert at holiday parties otherwise filled with baked goods. Use a sugar free, low calorie jello pack and make your mold more interesting by adding in some freshly chopped fruit for a chunky texture. Trust me, Jello moods are way more interesting than just a fruit plate at potlucks.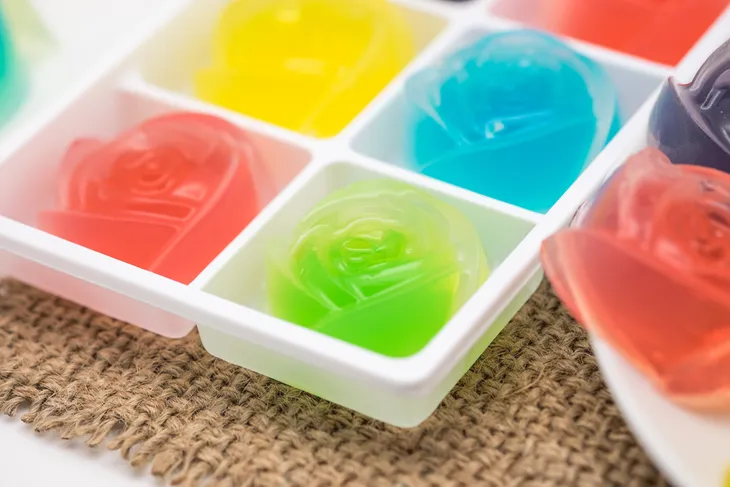 DIY Taco Bowls
Restaurants aren't the only places where you can dive into a taco bowl. This delicious meal can be made at home and it doesn't take much skill in the kitchen to whip it together. Taco bowls typically include rice, beans, and some kind of meat, and then a variety of different typical taco toppings like cheese, salsa, and sour cream. You can place all of it in a hard taco shell shaped like a bowl or just use a regular bowl. Some popular toppings are corn, tomatoes, peppers (both sweet and hot), onions, and cheese. Overall, this meal can be quite healthy, as long as the cheese and sour cream is used in moderation.
Taco bowls are very versatile and cater to picky eaters. By separating and setting out all the toppings, beans, and rice, you can let each person create their own bowl. It's also a good option for larger parties because you can adjust how much food you need very easily. Crockpots range in size and can be used to keep the meat and beans warm. You just need flip on the crockpot switch and cut up the toppings, and let your guests have fun arranging their own bowls.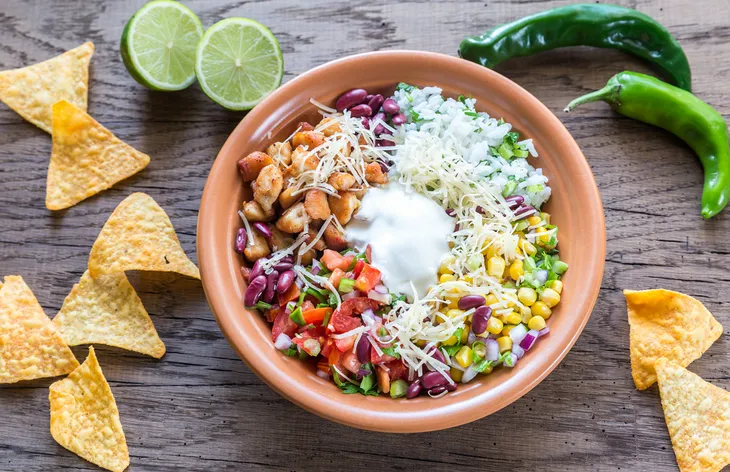 Make-Your-Own Sushi
Other than the deep fried items offered at many sushi restaurants, sushi can be very healthy. And making your own sushi can be a fun and experimental opportunity to try new things and share around the table. There are a few different Japanese-style dishes to choose from, including maki or sushi rolls (seaweed stuffed combinations of vegetables, fruit, and sometimes fish with rice on the inside or outside), sashimi (usually slices of fresh raw fish), and hand rolls (seaweed wrapped in a cone shape, stuffed with similar items as sushi rolls).
Although many items offered on sushi menus include raw fish, there are a lot of other options. So don't be turned off by the idea of sushi because it usually includes diverse items fit for vegetarians and those who don't dig raw fish. Sushi is another type of dinner that you could have fun making with friends. It's admittedly difficult to make your sushi rolls look nice, but it's fun and makes for an interesting evening that allows you to choose your own ingredients. Plus, you don't need many items to make your own sushi, mainly a bamboo mat, plastic wrap, the right kind of rice, and seaweed paper.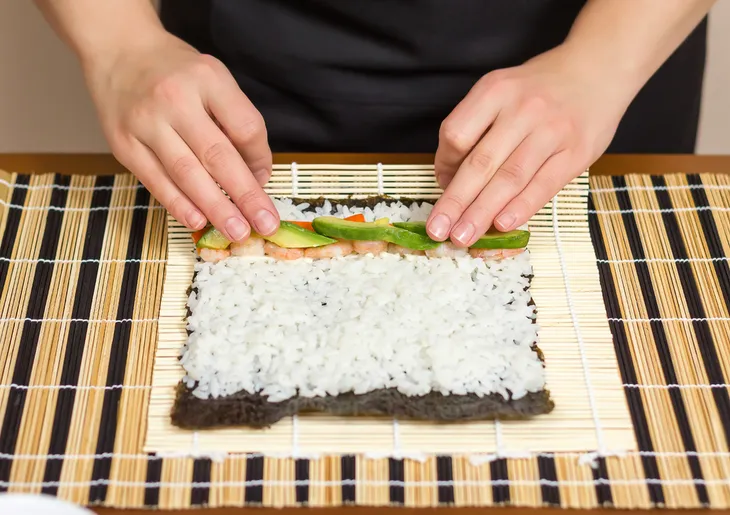 Grilled Fruit
The first outdoor get-together or family dinner of the spring season can bring a smile to your face and add a bounce to your step, especially if you've just survived a downright freezing winter. So it's good to have some ideas to infuse your BBQ with fun while you enjoy the outdoors. Grilled fruit is a healthy and tasty, but unexpected, option for dessert. You can also use grilled fruit as a side that welcomes guests to skewer their own fruits and play around with flavors, spices, and toppings.
Peaches, apples, pineapple, watermelon, bananas, and even strawberries (on skewers) are all fruits that are easily grilled. You can add brown sugar before grilling, or whip up a sauce to drizzle over. Also provide an assortment of dressings for tossing fruit afterwards. These sauces and dressings can be made to suit your taste or to complement the flavors of the fruit you used. Be creative—whether it's sweet, simple, or out of your comfort zone. Popular ingredients that compliment fresh fruit include honey and cinnamon, Greek yogurt, and balsamic vinegar.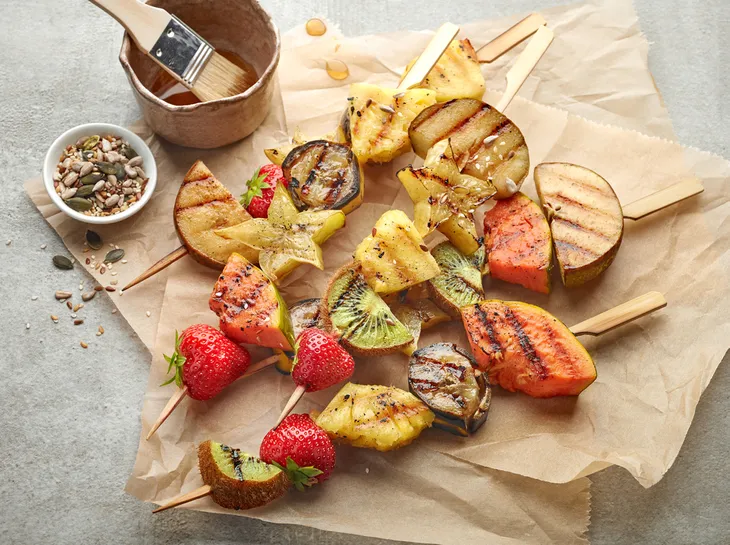 Shish Kebabs
If you're interested in making dinnertime a fun, engaging excuse to play with your food, shish kebabs can do the trick. Shish kebabs are small, bite-sized pieces of vegetables, seafood, and meat that allow you to create tasty combinations for ravenous guests. Using barbeque-safe wooden or metal skewers, slide on onion, peppers, zucchini, and mushrooms, cherry tomatoes, sliced eggplant, and whatever other veggies tickle your fancy. You can skewer meat and seafood as well (i.e., beef, chicken, pork, shrimp, salmon, and scallops) and then place the skewers on the grill to cook.
Shish kabobs also encourage playfulness with marinades if you include meat or seafood. Citrus marinades are often a crowd-pleaser and are extremely tasty with chicken or shrimp. Just make sure you allow enough time for the marinade to absorb your shish kebabs. Most recipes call for meats to marinate for a few hours or even overnight to pick up full-bodied flavors. Dessert could also be done in kebab-style by using chopped up fruit (similar to the previous slide). Fruit kebabs can be left cold or grilled for a healthy alternative to dessert without sacrificing flavor. And as more fruits and vegetables come into season, your kebab options will keep growing.