If there's one meal of the day where it's important to get a healthy, balanced diet it has to be breakfast. Of course all the other meals are important as well, but your breakfast is the one that's going to kickstart your day and set the tone for things to come.
Choosing a healthy balanced breakfast can be tricky, especially for those busy mornings, but if you want to stay full for longer, look for foods with a high amount of protein. Eggs are an obvious choice and while they're a great breakfast option, I wanted to give you some high protein breakfast choices that go beyond the barnyard. Here are eight healthy high protein breakfast ideas to kickstart your day…
Quinoa Porridge
I know that quinoa is usually a lunch or dinner time kind of food, mostly served in savory dishes, but it also makes a great breakfast porridge with eight grams of complete protein per cup. Quinoa is also rich in fiber, healthy fats and essential vitamins and minerals meaning it's going to fill the nutritional gaps that may be left by the other meals of the day.
To make quinoa porridge add 1/3-cup of dry quinoa, 1/4-cup of chopped apple, 1 tablespoon of golden raisins, 1 tablespoon of smooth almond butter and 3/4-cup of whole milk to a saucepan. Add a dash of ground cardamom and cinnamon and cook according to the quinoa specifications. To make this a non-dairy breakfast, just swap out the milk for coconut or almond milk.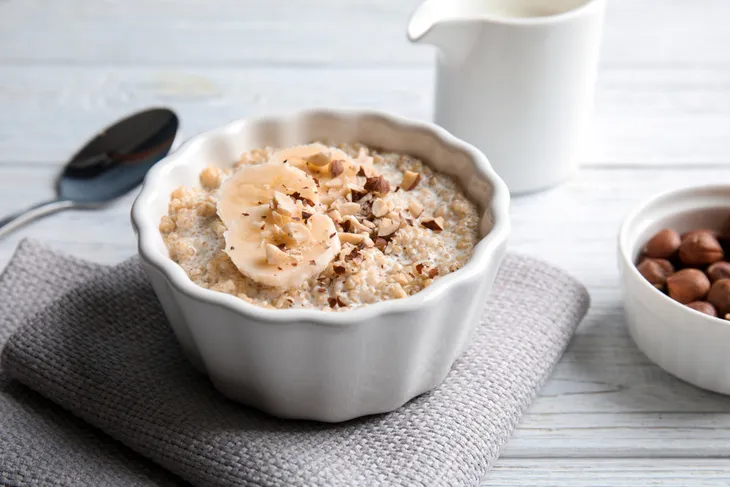 Nutty Chocolate Smoothie
For those busy people on the go, or those who would rather drink their breakfast rather than eat it, smoothies are a great option for a quick, but nutritious breakfast. The protein content of any smoothie can be upped just by blending in your favourite protein powder, as is the case with this recipe.
To make the nutty chocolate smoothie, combine 1-tablespoon raw organic cacao powder, 1 scoop of chocolate protein powder, 1 peeled frozen banana, 1-cup of plain kefir, 2-tablespoons raw pecans, 1 cup of spinach and 3 ice cubes in a high speed blender. Add enough water to get things moving and blend until everything is smooth. Not only are you getting protein and healthy fats from the protein powder and pecans, but the kefir provides healthy bacteria to help keep your digestive system happy.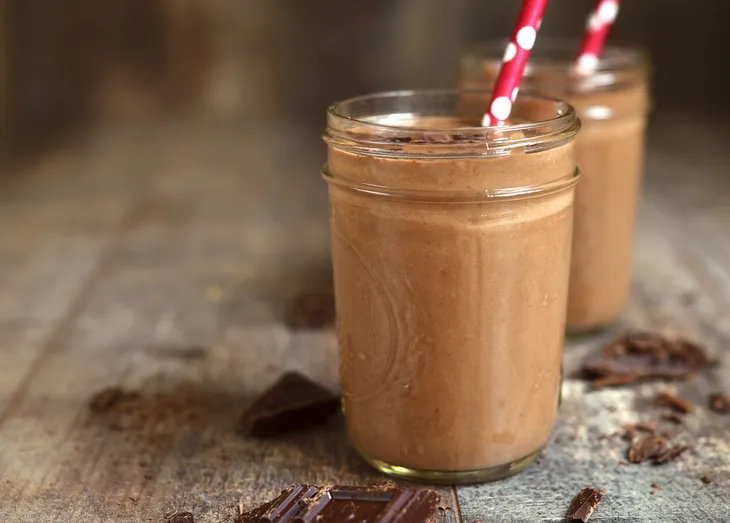 Smoked Salmon and Avocado on Toast
In some parts of the world smoked salmon is a staple in every household, but around these parts is doesn't seem to get enough love, which is a shame because it's a nutritious breakfast option with tons of protein and omega 3 fatty acids. When paired with avocado and sprouted grain bread, this easy breakfast option will provide over 20-grams of protein to start your day.
To whip up some smoked salmon and avocado on toast, place two slices of sprouted grain bread in the toaster. Once toasted, spread each slice with lightly mashed avocado. Season with salt, pepper and some herb and garlic seasoning and then top with three ounces of smoked salmon for a breakfast that almost looks too good to eat.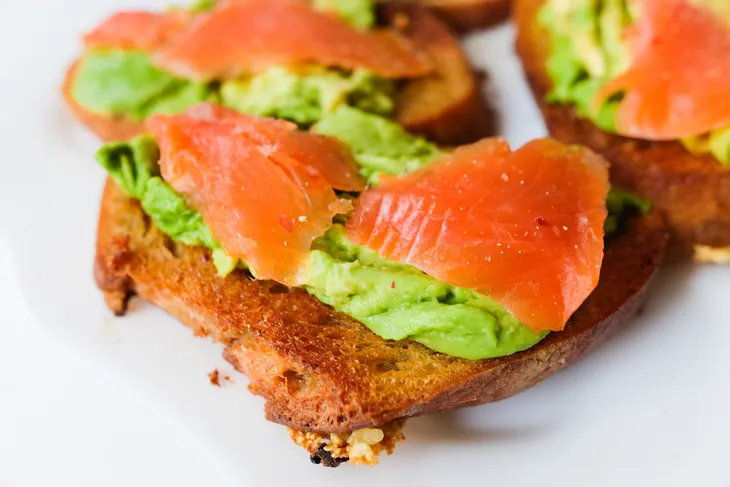 Bircher Muesli
This amazing breakfast option has been enjoyed by the Swiss for decades, but finally the secret is out here in North America and I for one couldn't be happier. While most supermarket mueslis are packed with all the wrong things (sugar, trans fats, sodium), this easy bircher recipe is packed with good ingredients like unsweetened greek yogurt, rolled oats and apples. The best part is that it's made the night before which leaves you with nothing to do in the morning but eat and enjoy!
To make Bircher muesli combine 1/2-cup rolled oats, 3/4-cup plain kefir, 1/4 cup diced apple, 1/2-cup plain greek yogurt, 1 tablespoon golden raisins, 1-tablespoon hemp hearts and 1-tablespoon slivered raw almonds in a bowl and mix well. Cover and refrigerate overnight to enjoy in the morning.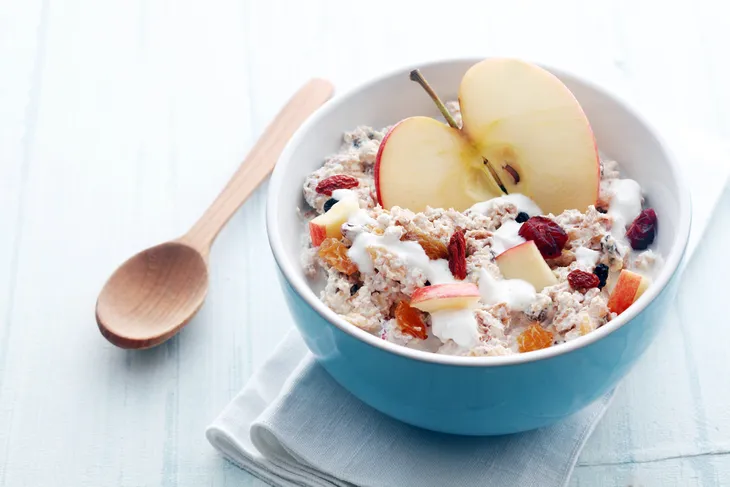 Sunshine Smoothie
I mentioned how easy and nutritious smoothies can be for an easy breakfast idea and another great benefit is how many different flavors and combinations you can make. You're only really limited by your creativity so it's easy to make a new flavor for every day of the week. This sunshine smoothie offers over 35o-grams of protein thanks to cottage cheese, kefir and almonds and it tastes great.
To make the sunshine smoothie, add 1/2-cup of plain kefir, 1 cup of frozen mango chunks, 1-cup of cottage cheese, 1-teaspoon of pure vanilla extract, 1-ounce of raw almonds and a few ice cubes to a high speed blender. Add a splash of water to get things moving and blend until everything is smooth. If a thicker consistency is desired, just add a few more ice cubes and re-blend.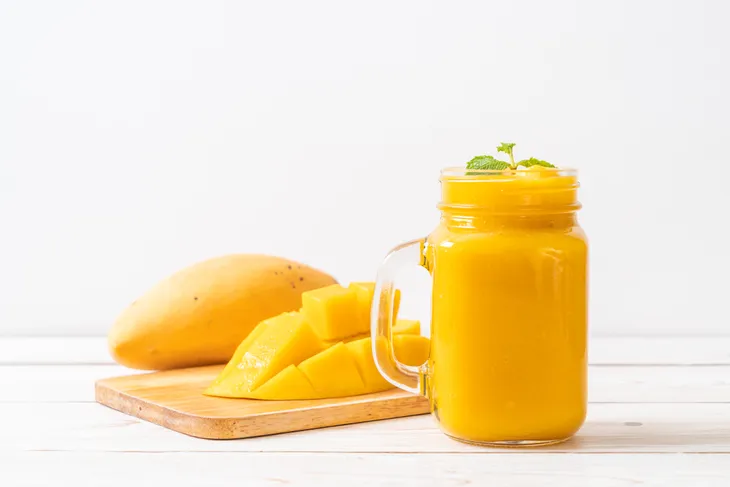 Berry Parfait
If you're like me, berries make a frequent appearance in your breakfast line up and with their delicious fresh flavours and high amount of antioxidants, they're truly some of the best fruits out there. This easy breakfast parfait offers nearly 20-grams of protein and can be assembled even under the tightest of morning timelines.
To make this beautiful berry parfait, add 1/2-cup of fresh blueberries to a bowl. Top with 1/2-cup of cottage cheese, then 1/2-cup of fresh raspberries. Top with one ounce of flaked almonds and a dash of cinnamon and enjoy as an easy, protein-packed breakfast that can be taken on the go.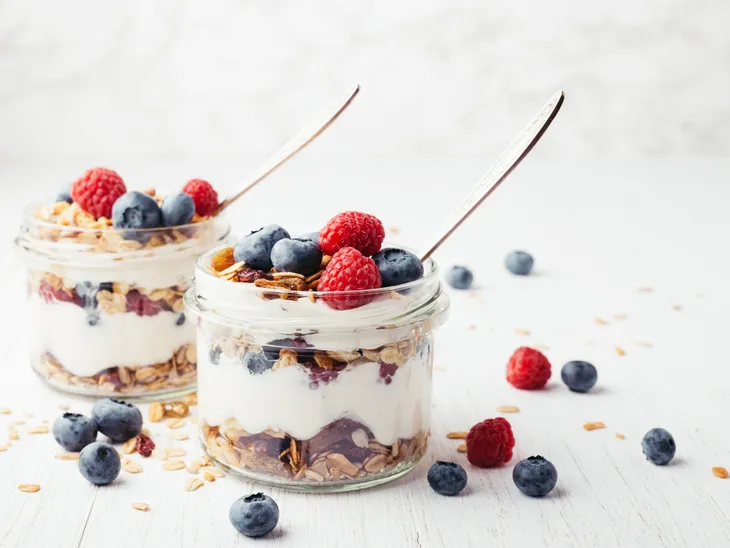 Breakfast Burrito
This delicious burrito makes a nutritious breakfast option that you can easily enjoy on the go. It's a great way to use the leftover meat from the previous night's dinner and is a hearty, satisfying breakfast option with 35-grams of protein to keep you full for longer.
To make this tasty breakfast burrito, add 1 medium chopped sweet potato to a large skillet along with 1 tablespoon of taco seasoning and 1/4-cup of water. Cook until tender crisp and then add two teaspoons of cooking oil and sautée sweet potatoes until browned. Add in 3-ounces of cooked sirloin steak or chicken breast and stir until warmed through. Combine two tablespoons of greek yogurt with two tablespoons chopped fresh cilantro or parsley and a few dashes of hot sauce in a small bowl and mix. Add the meat and potato filling to a sprouted tortilla and roll up into a burrito. Top with the greek yogurt mixture and enjoy!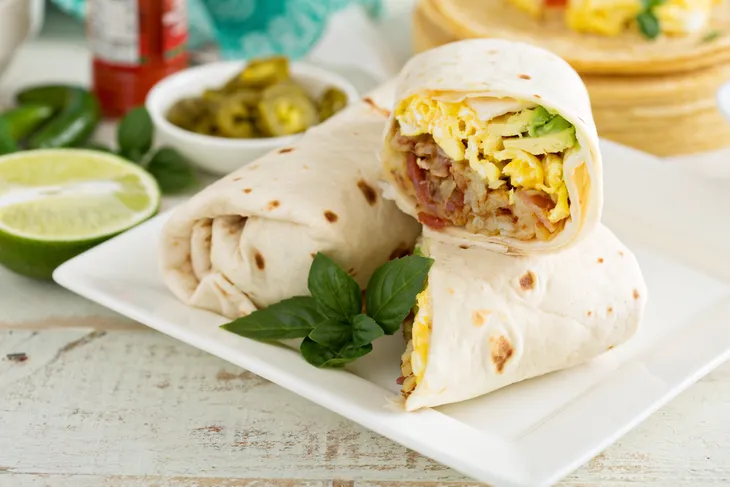 Blueberry Baked Oatmeal
Baked oatmeal is a hearty, nutritious breakfast idea that can easily be made ahead of time leaving you with plenty of time for your other important morning tasks. This recipe packs a super protein-filled punch thanks to ingredients like eggs, nuts, milk and rolled oats. You can make a large dish of this warm, satisfying oatmeal and reheat each morning for an easy breakfast solution that will last throughout the week.
To make this blueberry baked oatmeal combine 2 diced bananas (ripe is best), 1 1/2-cup of fresh blueberries, 1/4-cup of honey, 1-cup of uncooked minute oats, 1/4-cup of chopped walnuts or pecans, 1/2-teaspoon baking powder, 3/4-teaspoon of cinnamon, 1 egg, 1-cup of whole milk and 1-teaspoon vanilla extract in a large bowl. Add a pinch of salt and pour the mixture in a greased 8 x 8 or 9 x 9 inch baking dish. Bake at 375° F for about 30-minutes or until the top is golden and the oatmeal is set.